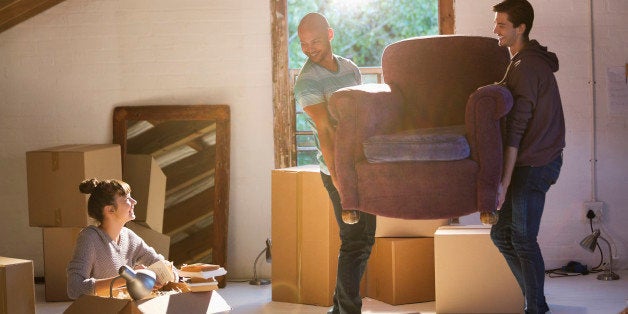 As of today, I have sold almost all of my large furniture (and some small furniture) using Craigslist -- and I wasn't murdered! Ok, ok, I know not everyone is afraid of being murdered while selling things on Craigslist. But I was -- at least, I wasn't too keen on meeting strangers at my home over and over just to make a few bucks. But when I started to realize how much furniture we just couldn't take with us, I decided to do some research and safely make some decent cash.
Because we moved just three years ago -- and bought our furniture new at that time -- we were able to make a decent chunk of money reselling it. We tried recouping 50% of what we paid for each item. Some items we even made more, and some a little less. But even if your furniture or other items are not nearly as new, you can make decent cash from Craigslist.
There are some tricks I've learned to sell your items quickly and safely:
Only List Expensive Items or Items in Bulk
Time is money -- and this is even more true if you're on a timeline. Don't waste your time selling things for $20 here and there. Instead, list large items like pieces of furniture as well as groupings of items. For example, if you have a lot of small kitchen items you're trying to get rid of, list them all together and put in your listing that the buyer must take all (or half depending on how much you have) of the items.
Set a Pick-up Time Window
If you're really short on time, or don't want to bother with setting up individual pick-up times, put a window for pick-up in your listing. For example, you can list ten different items and on each one say "available for pick-up between noon and 3:00 p.m. on Saturday." You may lose a few potential buyers, but in my experience, a Saturday afternoon will work for most with enough notice.
Make Listings Short and Sweet -- with Photos
Good photos and listings can make or break your sale. On Craigslist you will be competing with thousands of others in your area also trying to grab attention and sell their items. If you have a couch for sale and 500 other people in your area also have one for sale, yours has to stand out and look enticing. Your listing should have a clear, descriptive title, a short description, dimensions, how old the item is, what you paid for it originally, and what price you are asking for.
Do Research Before Pricing -- and Then Price Slightly High
I know this one sounds a little strange -- why would you price high? But I always do my research to see what is already available on Craigslist and at what price. I then weigh how my item compares and decide on a price I would be happy selling at. From there, I add a small amount to my asking price. Almost everyone shopping on Craigslist will haggle. It is part of the culture of bargain hunting. So with that in mind, build that into your price slightly -- in a similar way a store prices items knowing they will put them on sale. At the end of the day, you want to sell your items, but you also want to feel like you sold them for a fair price.
Schedule Listings Near Garage Sale Weekends
Each spring my town has a citywide garage sale weekend. While timing doesn't always work out, if your town has a similar event, schedule your listings the week before. And make sure to mention that they can pick up their items during the citywide sale. More individuals will be willing to drive out to pick up your items if they know they can also stop off at many sales while they are in the area.

Don't Waste Your Time Answering All Inquiries
I know I may get some backlash to this one, but I don't answer all the inquiries I get about my listings. For example, I had someone offer me 25% of what I was asking for on a large furniture piece. And not nicely either, just an email with "I'll give you X amount." While most emails aren't like that, a few are, and they are not worth my time. Another example is if I can tell the buyer didn't really read the listing. If I receive a question that is easily answered by looking at my listing -- from the first few sentences or the photos, I generally don't answer those either. If they are not serious enough to pay attention to the listing, they generally won't be worth responding to.
Link to Other Listings

If you're listing multiple things at once (and I would suggest doing so if you know you have more than one item to sell) make sure to link back to your other listings in each post. I do this by listing all my items, opening each link and in a word document pasting each into a list -- with a title of the item and then the link. Once I have my link list put together, I go back and edit each listing and place this list at the bottom of each.
Be Smart About Pick-up Details -- and Have a Buddy

When I find a buyer for an item, I make sure to follow a check-list of information when setting up a time for pick-up. I request the buyer's name as well as cell phone number. I then finalize details over text message with the buyer -- that way there is a trail of who I am speaking with and when they will be coming. The pick-up time is always scheduled for day-light hours and I make sure to schedule when someone else can be home with me. This is generally my husband, but on occasion I've asked a friend or family member to swing by. And most of the time, I will move the item into my garage ahead of time. This way when the item is being picked up, I am in an open garage where neighbors can see me, with another individual, and my house is locked. I know this may seem extreme to some, but erring on the side of being overly safe is worth it.
I've also found that being open about this set-up has helped others feel more comfortable buying my items.
If you do decide to utilize Craigslist to sell your unwanted items and make some money, keep these tips in mind and good luck! And if you're selling your furniture because you're moving, make sure to check out my other moving tips here.
Feel free to comment below if you have any questions or tips of your own. I would love to hear from you!
Support HuffPost
A No-B.S. Guide To Life
Related
Popular in the Community