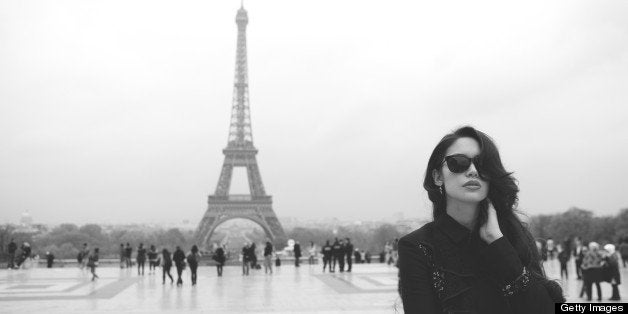 To quote Audrey Hepburn -- the godmother of all things chic and patron saint of many a blithe, LBD-clad fashionista -- "Paris is always a good idea." I always had a sneaking suspicion that the French -- Parisians in particular -- have a knack for building their lives in a beautiful way. The notion really hit home during my first pilgrimage to the City of Lights. Simply put, these people have joie de vivre (indulgent late-night suppers, Poilᅢᄁne, fleeing the city en masse for all of August) down to a science. They do so armed with a signature blend of understated elegance, confidence and a subtle aloofness that make them radiate unmistakable...well, French-ness. The fundamental pillars of Parisian style are hard to peg down: Indifference to fleeting fads, minimal (but never boring) classics and a liberal use of hues residing at the dark end of the color spectrum, should rank pretty high on that sacred list.
Over the years, I've strived to steer my personal style in that general direction: I rely heavily on stripes (which I believe in all their incarnations are the crux of any well-rounded wardrobe) tailored separates and a healthy supply of skinny-pants. Clearly, I should tread lightly - I'm a baguette and one beret shy of being a walking clichᅢᄅ. I'll readily admit that nailing it does not come entirely naturally; it's a daily game of mix-and-match I have yet to fully master (I am not actually French, after all). Of course, it all boils down to matters of taste. Stocking my closet with a selection of simple, make-any-outfit-infinitely-chicer pieces to have at the ready certainly helps the cause. Short of dropping everything and taking on expat status, a solid WiFi connection and a high-limit credit card is your next best bet for compiling a killer French-inspired wardrobe -- IF you know where to look. Herewith, three quintessentially Parisian online shopping experiences -- that conveniently offer worldwide shipping:
Sezane
There are a few brands out there -- international or otherwise -- that I would be perfectly content wearing exclusively every single day, forever. Sᅢᄅzane, brainchild of Paris-based designer Morgane Sᅢᄅzalory (formerly of Les Composantes fame), is one such unicorn. The line -- a perfect mix of everyday separates, bags, shoes even cocktail dresses -- is available strictly on a first come, first serve basis. The seasonal collections get snatched up lighting fast by a loyal following both in its hometown and abroad. The price-point, Euro to Dollar conversion and all, is not too bad: The Mister T. scoop-back tee (clever, right?) will run you a little under $80. Oh, and the best part -- with two semesters worth of college French under my belt, I had a fairly easy time navigating the predominantly French site. The language of fashion is universal, after all.
Centre Commercial
Stocked with lifestyle brands native to France, England and Denmark, this place is the essential one-stop-e-shop for everything cool. The super-casual vibe of the rue de Marseille brick and mortar store seamlessly translates into the online outpost, judiciously curated for folks who know what they like. Plus, the shoe collections of both guys and girls can greatly benefit from any one of the classic Derbies from Centre Commercial's stellar in-house footwear line. Did I mention they offer free international shipping if you spend over 100 euros? Considering the massive amount of quality offerings, that shouldn't be too difficult of a number to hit.
French Trotters
In the land of online shopping, places that lend that mythical je ne sais quoi not just to your entire family's closets -- le bebe included -- but every room in the house, are few and far between. The medley of candles, kitchen linens and paper goods (Papier Tigre notebooks are what my desk has been missing all this time) is only made better by the fact that the owners, Carole and Clarent, literally travel the world to curate the selection (FrenchTrotters is a play on "French" and "globe-trotters". Cute, non?). In the Prᅢᆰt-ᅢᅠ-Porter department, distinguished French lines like A.P.C. and Les Prairies de Paris mingle with the FrenchTrotters house line of casual separates for both men and women.
Beso.com is the site devoted to shopping