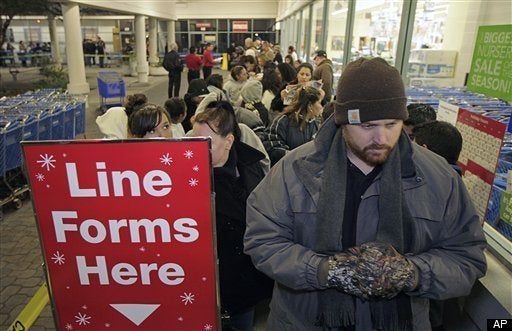 The 2011 holiday season is fast approaching and, as with tradition, off-shore factories are kicking into high gear to meet American's mass consumer needs, but this year's Occupy Wall St.'s War on Poverty has brought a new form of enlightenment to shopping, and believe it or not, it's possible to shop for the upcoming holidays like an heiress while boosting the middle class.
In the past, shopping local may have conjured up visions of fruits, vegetables and farmer's markets, and if you're the type that loves to give fresh baked goods to friends and family for the holidays, by all means wrap up those cookies and help out a local farmer. However, there are far more options than just fruits and vegetables. Farmer's markets often have fresh hand made wreaths, jellies, baskets, hand made cards, soaps, everything you need to put together the perfect basket of goodies for your child's teacher or boss.
If farmer's markets just aren't your style and you want to have the full-fledged shopping experience, check out craft fairs this season. Local crafters offer unique, often one-of-a-kind hand made goods for rock bottom prices that reflect the economic times. My last big find was a gorgeous 11x14 photo, matted and framed, for $35. You won't be able to find that at the mall. If you're new to the craft fair scene and don't know where to go, visit either festivalnet.com/craft_shows.html or www.fairsandfestivals.net/ to search events near you.
If you're looking at these options and thinking, "Not possible. I work, have kids, and just can't shop beyond my computer." Have no fear, boosting the middle class is just as easy online.
Etsy.com is an online shopping mecca filled with options handmade from U.S. artists. Even better, by shopping directly you've cut out the middle man and can find quality goods for inexpensive prices, such as silver chain and charm necklaces for $2.50. This is also the absolute best place to find customized jewelry ranging from stamped name pendants to upcycled earrings made from bottle caps with any image your heart desires, all for quality prices.
Want to give and get? At Etsy, you can find shops supporting good causes such as hgracejewelry.etsy.com that has all proceeds go to assisting cancer patients with their medical expenses.
You can even find your holiday cards there, too, instead of running to a big department store, paying a sitting fee for pictures, and printing them out yourself. The options to help locally with holiday cards are endless. Why not try the local photography business for your Christmas pictures? Every town has one, and often they infuse far more character into photos than the bland surroundings of shoppers, cash registers and fluorescent lights. You can even find small businesses via the net to have customized cards created such as www.storkie.com.
Christmas cards are also a great opportunity to give back. If you're not interested in customizing, most nonprofit foundations sell Christmas cards as a fundraiser. The Sam Fund, which helps young adult cancer survivors to "live again" is selling sets of 21 for $25 with free shipping at www.thesamfund.org/holiday/cards.html.
For the avid reader, createspace.com allows authors, musicians and film-makers everywhere to publish their works independently, getting their masterpieces to you for middle-man-free prices. Shopping is as simple as going to createspace.com, selecting member spotlight on the toolbar, and clicking review new work. You can even find new, quirky Christmas tales such as A Ghetto WaterFront Christmas Or Herbie's Mysterious Christmas Adventure.
If you're still lacking ideas, the go-to gift certificate does not have to be from a big business. You can give a gym membership, certificate to the spa or salon, a gift certificate to the local restaurant you've been wanting to try, money to get your husband's car detailed, a membership or rounds at the golf course, hire a housekeeper for a day or even pay for snow plowing for the season.
Shopping to boost your local economy or middle America does not have to be more expensive, stressful or time consuming than braving traffic to a crowded store and elbowing other desperate shoppers for the must-have toy on sale. It's actually much easier, friendly, and you'll leave feeling good, not just because you missed out on the elbowing, but from knowing you've made a difference.
Calling all HuffPost superfans!
Sign up for membership to become a founding member and help shape HuffPost's next chapter