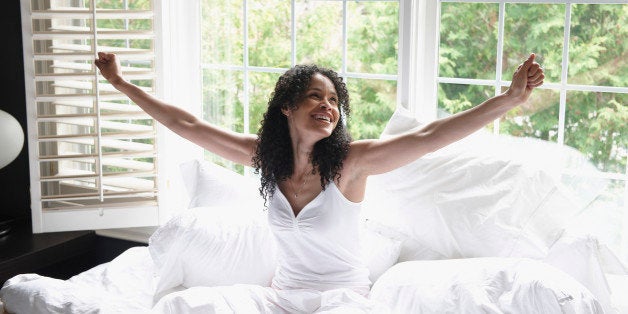 Today we are encouraged to live every part of our waking lives to the fullest and get by with as little time as possible devoted to sleep. People who claim to need only a few hours of sleep each night are envied, even admired. Sleep is often treated as wasted time, and those who get a full night of Zs are considered old-fashioned, or even lazy.
For a culture obsessed with health and wellness, this is a bizarre inconsistency. We count carbs and reps fanatically; we monitor steps and biometrics. Yet sleep remains an afterthought.
Which is why people sometimes look perplexed when I introduce myself, "My name is Shelly Ibach, and my SleepIQ score last night was 82." As CEO of Select Comfort (which makes Sleep Number beds), they might think I am just an executive marketing my products. But it goes deeper than that. I start conversations this way because I believe in quality sleep -- it's a core part of my identity.
We're facing a sleep crisis in this country. The Centers for Disease Control and Prevention recently reported that about 35 percent of us are not sleeping at least seven hours a night, the recommended minimum. The sleep we do get is often marginal, disrupted by caffeine and alcohol, poor sleeping surfaces, and by artificial lights that alter our brain patterns even after we're unconscious.
Nowhere does sleep matter more than among our leaders. And yet nowhere is the macho mentality of celebrating sleep deprivation more deeply entrenched. A recent article in Harvard Business Review linking sleep with effective leadership reported that 43 percent of business leaders surveyed said they do not get enough sleep at least four nights a week.
Quality sleep matters, even -- or perhaps especially -- for high-performing individuals. The article notes that effective leadership in any setting depends on "executive functions": higher-order cognitive processes like creative problem solving, seeking out and synthesizing different perspectives, and interpreting emotional cues from those around you. These are controlled by the prefrontal cortex, a part of the brain that fares particularly poorly without enough sleep.
The first half of a night's sleep restores the body; the second half replenishes the mind. The catch is, there's no shortcut to get to that second half. You have to go the long way, through about four hours of deep sleep where blood pressure drops, breathing slows, muscles relax and your system bathes in restorative hormones. During this period of sleep, your body recovers from -- and realizes the full benefits of -- that last five-minute push at the gym.
Then you will experience calm, dream-state sleep (also known as rapid eye movement, or REM, sleep), where your mind can sort through the day's jumble of tasks, information and emotions to rejuvenate those executive functions for tomorrow. If you want to lead a team, write a poem or disrupt an industry, REM is the sleep you need.
So how to get a full night of it? Here is my advice:
Keep your bedtime firm -- Changing when you go to sleep and when you wake up, even a little, causes problems. On work nights and weekends, keep these times consistent.
Ban the screens -- The best sleepers turn off all their devices at least an hour before bed to calm the brain.
Ditch the caffeine, and the alcohol -- You might swear you can drink coffee after lunch or even dinner and still fall asleep later, but don't be fooled: This is junk sleep. The same goes for alcohol before bed, which is especially hard on REM sleep.
Stay cool -- The optimal environment for quality sleep is 65 degrees and 65 percent humidity.
Lock Fido out -- Some sleepers think a beloved pet at the foot of the bed helps, but usually they cause you to be restless throughout the night without knowing it.
Check your sleeping surface -- Firmness, elevation and breathability are all important qualities in a mattress. Sleep Number's SleepIQ technology even monitors your biometrics and scores your sleep from 0 to 100.
Our daily routines can be so demanding, but we can't ignore our bodies' sleep needs. As a CEO, I understand the temptation to fit more into my day. There will always be another issue that could use my attention. It takes discipline to organize my day around my bedtime, to let emails wait until tomorrow and allocate appropriate time to sleep.

I believe in sleeping well at night in order to dream big during the day. A full night of quality sleep is the most restorative and holistic biological process in nature, and is essential to a healthy mind, body and soul.

Sleep Number® is committed to helping you get the restorative rest you need so you can be at your best every single day. Sleep Number® beds with SleepIQ® technology track your sleep and allow you to make adjustments, so you can get the quality sleep you need.

Related