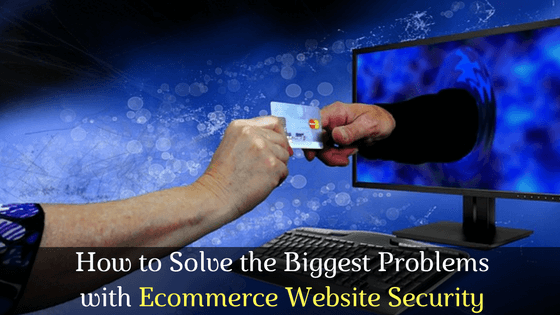 With the online market is on the increase with each passing day, the threats and security attacks are on the rise.
While the process and all fundamentals of maintaining the security have been the same, there are several aspects which the security providers are aware of.
With the changing times, new threats and security risks are developed and each day we are hearing about the threats security breaches concerning several eCommerce websites.
However, the best thing is that with the hackers who are developing their scheme of things to hack websites in several new ways, there are counterparts that are learning new ways to provide websites more security and hack proof.
Here are some of the ways to solve the biggest problems with eCommerce website security issue. Ready?
Never, in any case, save customer data or details which are not needed
The major sources of resources for hackers are the platforms, from where they can extract data of customers.
Remember a fact that "the hackers cannot steal something, which you don't have." When it comes to the processing of credit cards and other cards for payment modes, always try to use encrypted methods or checkout tunnel.
There are some providers available in the market which have a range of products and services for you at affordable cost. I'd like to recommend you Comodo and SSL2BUY.
Update SSL/TLS of your eCommerce solutions
In order to encrypt browser communications, try to update your eCommerce solutions' SSL or TLS.
Hackers always try to crack the code and keep them away from such activities, try to maintain current and updated encryption algorithms. Try to avoid all vulnerable encryption library versions.
Keep on checking your website's security and search for all flaws and security breaches in SSL.
Keep a constant tab on vulnerabilities at eCommerce websites
In order to meet several security vulnerabilities at websites, several credit card companies require lots of retailers to test websites.
I'd like to share a list of security checkups with you:
Regular scanning
Regularly check your website and include a list of links to be tested in hand. Ensure that no malware and security risks are being introduced by attackers into any advertisements, graphics and any other contents which are being provided by third parties.
Penetration testing
Just another security checkup, penetration checkup is a process to identify vulnerabilities in the code.
Identify a variety of vulnerabilities, which ranges from XSS and extending to vulnerabilities inside debug code and leftover code. These could prove to be the major source of the data breach of confidential data.
Elimination of risky software
Just carry on the process of the elimination of risky software that could put your website at a major risk of being attacked by hackers. Web development code like HTML 5 can help you in this regard and in case, you are designing a new website, opt for the better and safer choice.
Try to get rid of Adobe Flash and in case, you are bind to use adobe flash; use patching method of software to ensure the regular safeguard of your website.
Layer your security
Try to create a layer of security for your website. You can start off with the firewalls and add extra layers of security in eCommerce solutions and all applications including search queries and contact forms.
Ensure the maximum security of websites through different methods, which you can adopt.
Configure perimeter defenses correctly
Buy a firewall, but give yourself enough time to configure it. There are several security services that you can have either you are hosting your own website or you have a hosting provider. These security services are as follows:
Data loss detection and prevention
Intrusion prevention services
Advanced persistent threat detection
Reputation defenses
DDoS protection
Antivirus/antimalware management service
Encrypt all communications
Encrypt all your communications mainly in the case of credit card processor. You can also adopt the process of encryption of emails.
Always focus on not sending any confidential data over plain text on the Internet, which can prove to be too risky for your eCommerce solutions.
Verification and trust
Verification and trust are the foundations of any business. Trust your customers, but do verify them. Thus, enable an address verification system (AVS), and make it compulsory for all customers to input the card verification value (CVV) number for all credit card transactions.
Make a choice of hosting provider carefully
Do trust on big hosting providers as they are regular in updating their security measures and are concerned about their brand value. There are several good safe bets available in the market; make a choice among them.
You can look the following factors into your hosting providers:
Employs at least 128 bit AES encryption
Which are regular in performing their backups
Which are consistent in keeping comprehensive logs
Which are regular in performing their network solutions
Which provides a well-written policies and terms and conditions with regard to security breach
Offers a single point of contact in case of any emergency needs
Final Words
Never rush into anything concerning your eCommerce solutions. A single mistake can lead to a loss of huge business or even a complete loss of your business and branding.
Make sure, whatever the eCommerce solutions you are providing to the consumers, it's completely safe and hack proof. Regular review of websites from the core is utmost needed for the best security against all hackers.
Now it's your turn - do you want to suggest any security tips? Please share in the comment box below. I'd love to hear from you.
REAL LIFE. REAL NEWS. REAL VOICES.
Help us tell more of the stories that matter from voices that too often remain unheard.
This post was published on the now-closed HuffPost Contributor platform. Contributors control their own work and posted freely to our site. If you need to flag this entry as abusive,
send us an email
.