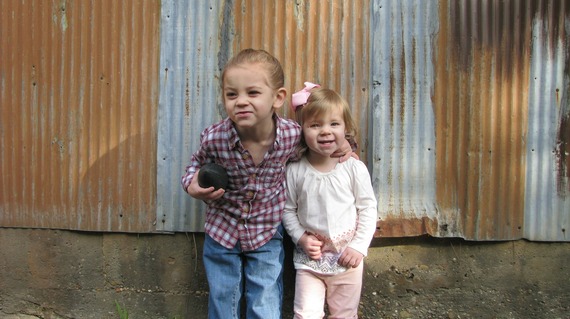 Sibling rivalry is torture, isn't it?
If you have more than one child in your house you know the emotional exhaustion that comes with children who fight.
They can get on so beautifully sometimes, but at others, it's like World War Three.
And worse, you're expected to sort it out.
Which is more complicated that trying to unravel a tangled knot of toddler hair.
What usually happens is that one child ends up getting 'in trouble' for being the cause of the problem, while the others gloat.
The 'winners' bask in the glory of being in favor, and the 'losers' feel resentful -- towards their siblings and towards you.
Plus, you feel awful about the whole thing. Never sure if you've got the right 'offender' or delivered an appropriate consequence.
It's just horrible. You wish it would go away, but you know it won't.
What you need is what anyone needs in a messy, awkward, thorny situation.
A simple solution. Something reliable that really works.
So here it is. How to sort out sibling rivalry without going completely insane.
Step one is to listen in to the conflict. If it's low-level bickering, ignore it.
Don't be too quick to jump in and 'save' your kids. Given them the opportunity to sort it out.
I know it can result in the youngest always giving in to the eldest (at least in my house it usually does), but they've worked it out.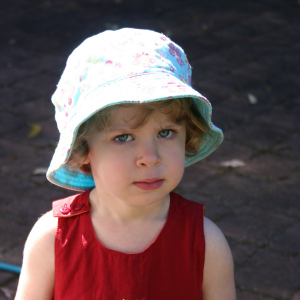 I might not like the fact that my youngest gives in, but I have to respect that she's happy with her choice. It's a technique that works for her.
And I have to remember that she is more than capable of putting her foot down extremely firmly and becoming a completely immovable object.
She might not do it often, but she can do it (as you can see from her face in the photo!)
When my kids are fighting over something and I don't have time to mediate the situation, here's what I do. I give the kids a choice.
I say something like, "If you can't sort out who's playing with the toy, I'll take it from you."
Some might say this isn't 'fair', but it is. You're giving your kids the choice to work it out, or give it up.
If you use this one, use it calmly and matter-of-factly. And you MUST follow through.
Take the toy if they can't work it out and say something like, "You can have this back when you can work out how to share it."
Every time I've done this, one of my kids will say, "Oh, no! She can use it! I'll use it when she's done."
But even if it doesn't result in that outcome, I'm happy to give the message that things will 'disappear' if they can't be shared.
Sibling rivalry is a normal part of growing up, but it doesn't have to get you down. Just follow the process, and it will be sorted out in no time.
Yes, it will keep happening. But with a little time and practice, your kids will learn valuable negotiation skills.
And pretty soon they'll be able to work out their difficulties themselves.
Even when they can't, at least you won't have to be 'piggy in the middle'.
You can avoid the guilt that comes with taking sides and appointing 'winners' and 'losers'.
And your house will be a calmer place for everyone to live in.
So what have you got to lose (apart from a little sanity and stress?)
Give it a go today and you'll be reaping the rewards immediately.
-------------------------------