Last night, in his inaugural address to Congress, President Trump called for a bipartisan effort to rebuild America's infrastructure. The amount he wants to spend, $1 trillion over ten years may not be the full three trillion that America's civil engineers estimate it will cost to renew the country's roads, rails, bridges and wires. But it is real money. New York State with about 6% of the nation's population should be entitled to at least $60 billion. However, New York contributes far more to US revenues than its share of population: $220 billion per year. Let's be generous to other states and call it $100 billion. Here's how New York ought to spend it.
Transportation not only creates construction jobs, but undergirds the broader economy. Fortunately, there is wide agreement among New York's stakeholders and leaders on what we need now.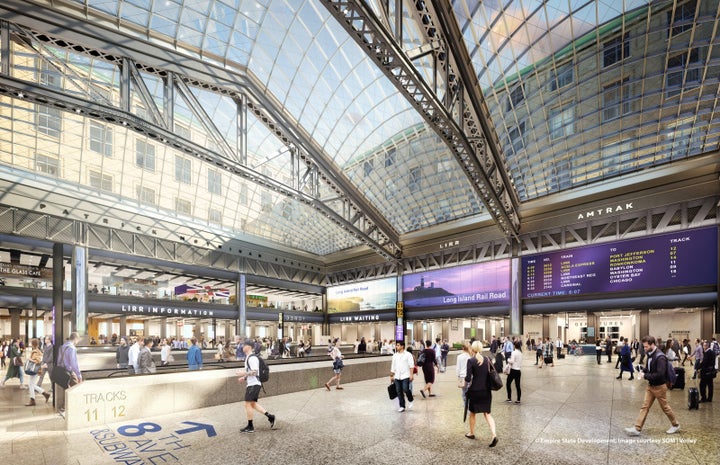 Governor Cuomo, Senators Schumer and Gillebrand and Mayor de Blasio all favor accelerating the Gateway transportation corridor linking the burgeoning West Side of Manhattan to the rest of America. Phase I of Moynihan Station—the new station taking form below the Farley building opposite Penn Station, will open this summer, creating a new mezzanine and expanding platforms for Amtrak, NJT and the LIRR.
However since Senator Moynihan secured funding for a station to replace the old Penn Station that fell to the wrecking ball in 1964 and the Post Office left all but the front of Farley twelve years ago, it has remained vacant. That ten acres of prime Manhattan estate could lie fallow while commuters squeeze into the travesty of Penn Station below is indefensible. Governor Cuomo has proposed a plan to complete Moynihan Station and redevelop Penn Station into a gleaming transportation hub. The governor's plan would complement the Gateway project championed by Senator Schumer to build a new tunnel under the Hudson. All told, this 21st Century corridor will knit together New York and New Jersey into an economic powerhouse. Cost: $1 billion for Moynihan Station, $3 billion for Penn and $16 billion for Gateway or $20 billion.
Governor Cuomo has already begun to rebuild New York's airports. Cuomo's plan for LaGuardia will build a unified terminal in place of the hodgepodge of existing structures. And earlier this month, he proposed to upgrade chaotic Kennedy Airport. Airports are highly profitable due to airline fees so public funds could easily unlock private money: Cost: $14 billion.
No matter how much New York City's airports improve, they lack access to Manhattan, though LaGuardia sits only 6 miles from the Trump Tower. A monorail link from LaGuardia to the Upper East Side would connect travelers to the 2nd Avenue Subway and revitalize Midtown East. The most promising route runs along the Grand Central Parkway and Vernon Boulevard. Cost: $8 billion.
On January 1, the first phase of the 2nd Avenue subway opened giving New Yorker's something to toast. Phase II to extend the line to 125th Street will enhance the value of that line and better connect East Harlem to midtown. Cost: $6 billion.
In the last decade, the Brooklyn and Queens waterfront, has grown from a mass of decaying buildings into a hipster corridor, launching iconic companies from Etsy in Dumbo to Kickstarter in Greenpoint ot Jacques Torres chocolates in Sunset Park. Despite new ferries that link them by water, the waterfront remains starved of land transportation. The BQX connector or hipster highway, a light rail line proposed by Mayor de Blasio would consolidate their growth. Cost $3 billion.
New York needs to reboot its convention business to bring in more global money. The governor has proposed rebuilding the Javits Center and the Mayor has studied decking the Sunnyside rail yards and building additional convention space as the centerpiece of a bustling Queens hub. Cost $5 billion.
While the Made in Brooklyn label is prized worldwide, the borough's Maker economy is hampered by poor freight transportation. Few ships stop in Brooklyn and the closest freight rail link across the Hudson is near Albany! A rail tunnel linking Brooklyn to New Jersey long championed by Rep. Nadler would solve this problem: Cost $7 billion.
Let's not forget about upstate. The Silicon Valley of the early 20th Century when it gave rise to Xerox, Kodak, Corning, IBM and other blue chip American companies, the northern reaches of the Empire State have lagged economically. Some say the problem is weather, but that does not explain how Toronto and Montreal thrive. The region needs an infusion of capital in the form of new roads and improved universities. Governor Cuomo has proposed a package of projects that will help catalyze the rebirth of New York's heartland: cost $20 billion.
Besides transportation needs, the American Society of Civil Engineers has identified a yawning gap in New York's drinking and wastewater treatment capacity. Cost: $17 billion.
Those are the $100 billion in projects that will help New York State the most.
This is a unique moment in the history of public works. Traditionally, Democrats have championed infrastructure while Republicans have for the most part opposed it. Last night, however, the Republican side of the aisle rose to applaud the President's call for infrastructure spending and behind him, Vice President Pence and Speaker Ryan were applauding as well. Whatever else one thinks of Trump, he knows construction. It is not surprising that President Trumka of the AFL-CIO which opposed Trump during the campaign endorsed the infrastructure plan announced last night. Democrats should heed the call to accomplish a goal they have harbored for decades.
It is time to take advantage of a unique political opportunity that could usher a historic revivial of public building and begin drafting legislation and architectural plans.
Related
Popular in the Community