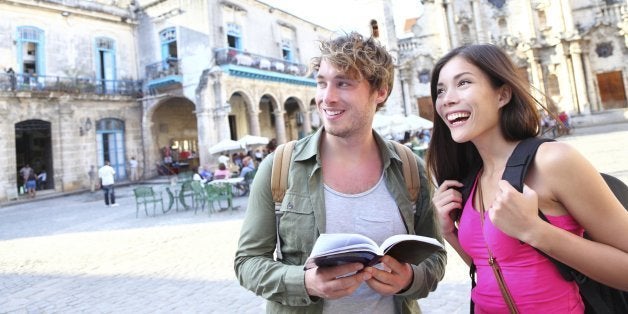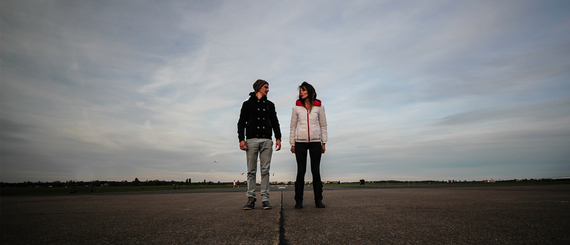 I am smiling a really, really big smile right now. If you could see me, I bet you'd tell me to close my mouth because my whites were blinding you. I'm smiling because I just saw a two-part tweet from a young gent in Lagos who is looking for, as I quote, a
[Part 1]
"Brad Pitt and Angelina Jolie with a hint of Chrissie - John Legend's wife kind of love...."
[Part 2]
"Or the couple traveling the world, running the @howfarfromhome acct on Instagram".
Someone in Nigeria has ranked us in his top 3 #relationshipgoals. That's crazy!
What's also crazy, is that Stevo and I have been inseparable for (nearly) 365 days - quite literally doing e-ve-ry-thing together (besides the obvious bathroom things, and one sailing trip Stevo took without me when we were touring the Greek isles, but that only took a few hours). Other than that, it has been just the two of us, non-stop, glued together, seeing each other's good sides, tired sides, hangry sides and back sides. It's been just the two of us and our desire to create, travel, explore, and see this fantastic world.
I gotta stop and wonder, 'how did I get so lucky?'
It wasn't that long ago (just over a year in fact) when we were living like most serious-relationship-living-together kind of couples, only really enjoying each other's company for a brisk 30-45min in the morning, a couple hours at night, and some time on weekends (when we weren't sleeping to recover from the week, or out shopping or socializing with friends and family). We went from spending 30% of our awake time together, to 99.7% of our awake time together.
One could say we are completely head-over-hiking-boot in love. Hell, even Nigerians thousands of kilometers away can feel the love, and we're not even trying to show it.
For the record, Stevo and I are not married. We've been dating for nearly five and a half years, since the night of the blind date (yes, our amazing-we-need-to-name-something-after-her-one-day friend Ani set us up back in 2010) and we have endured one of the most fast-paced years of our lives, all whilst staying perfectly happy together.
I'm not saying we haven't had difficult times. No, no. We've argued in public, cried, questioned intentions, and then cried some more. But we've certainly come out stronger and more in love because of it all.
We've been asked by friends, family, and even married couples how we manage to do it. As anyone knows, traveling itself heightens stress levels; between the heavy suitcases, constant getting lost, language barriers, strict budget, lack of sleep, and multiple foreign beds, and to be doing it constantly with no place to call home, one could say we are completely nuts, or really hardcore (maybe a bit of both).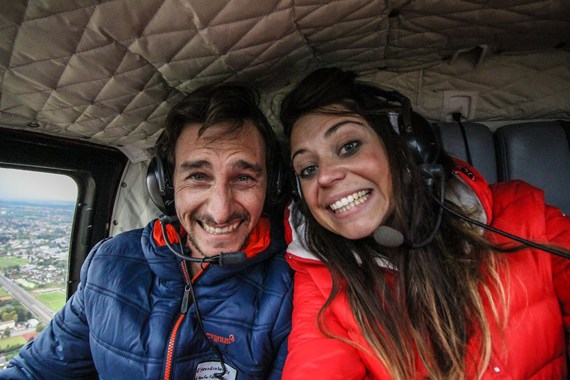 What people don't know though, is that instead of adding stress and increasing the magnitude of frustration, Stevo is actually my stress relief during all of this.
Let's be honest, whenever we did something large in our life, we did it with other people. Learning to walk and talk for example - we watched our parents and they guided us. School, college, work, books, social media - we are surrounded by people and always have the luxury of asking - for advice, for guidance, for encouragement.
Having Stevo by my side, to wipe my tears, to push me, to listen to my whines and my next world-changing idea, to carry the extra packet (because there's always an extra packet), to hold my passport, to hold me in the snow, to photograph me on the mountain, to challenge my thinking, to pump the toilet that was blocked when I was cleaning it that one time in Sweden, to carry the heavy rented sled up the mountain, to cook me my food when I was wo-man down, to open my chip packet when my fingers were wet, and my jam jar when my arms were too girly, to bring me tea and breakfast when I was sick and bed ridden, to catch me when I fell off the bunk bed in the Swedish night train, to laugh at me when I picked up an entire un-cut pizza to take a bite out of it, to write our chalkboard number in the 40 degree heat and negative 20 degree snow, to find my lost glasses, to hold me during every flight's take off, to cycle beside me, to wipe my rear... view mirror in the misty rental, to brainstorm ideas with, to tickle my back while we watch movies, to talk me out of buying that horrible jacket, to enjoy my Noma birthday meal with, to run across train tracks in Florence with, to let me be my absolute true self, and to encourage me to face my fears and come to accept who I am, and who I was born to be, has been the best thing to happen to me.
I would never have taken this crazy trip alone, and I wouldn't have asked for a better human to say yes to the world with.
So what have I learnt from this experience? Quite a lot actually. There's several "rules" it seems, to keeping a relationship happy, fresh and growing stronger, so below are my tid bits of advice after spending 24-7-365 with my Stevo:
1. Compromise.
Whether you like it or not, you cannot have it your way all the time. In fact, things will rarely go your way, so learning to accept that is vital. There's also multiple ways of doing things, so know when to push for something, and know when to meet your better half, halfway.
2. Put the other person first, always.
Whether it's making tea, getting a fluffier pillow, carrying the heavy bag, or simply listening to their opinion or point of view, always put them first and follow second. If you both do it, you'll both end up super happy, all the time.
3. Communication, not assumption.
If you want something, say it out loud and spell it out. Don't assume the other person understands what your funny facial expression meant, or what your exhausted sigh implied. Spelling it out will ensure less confusion, less chance of misunderstanding, and more time to laugh.
4. Laugh.
Stop taking everything so seriously. Honestly. Have fun. Ask your person if they're having fun. If it's no longer fun, for either of you, move on or change things up. Let excitement be your new relationship goal.
5. Take time to reflect.
You're lucky to be spending your time with the best person in the world (in your eyes). Look back often to see how far you've come together - you'll get all the feel-goods in your tummy and it will guarantee a couple of laughs.
- Chanel, How Far From Home