Boasting a vibrant art scene is the city the New York Times called "a desert version of Miami's South Beach," adding that it is one of the "hippest and happening" places in the country. And you won't find a better Mid-Century architecture community than this outside of Palm Springs.
Scottsdale, once voted "America's Most Livable City," is essentially, as Slant3 pointed out in the comments of Part I of this article, a suburb within Greater Phoenix (and to be fair, Tucson probably does deserve its own segment - and I'll highlight one feature below).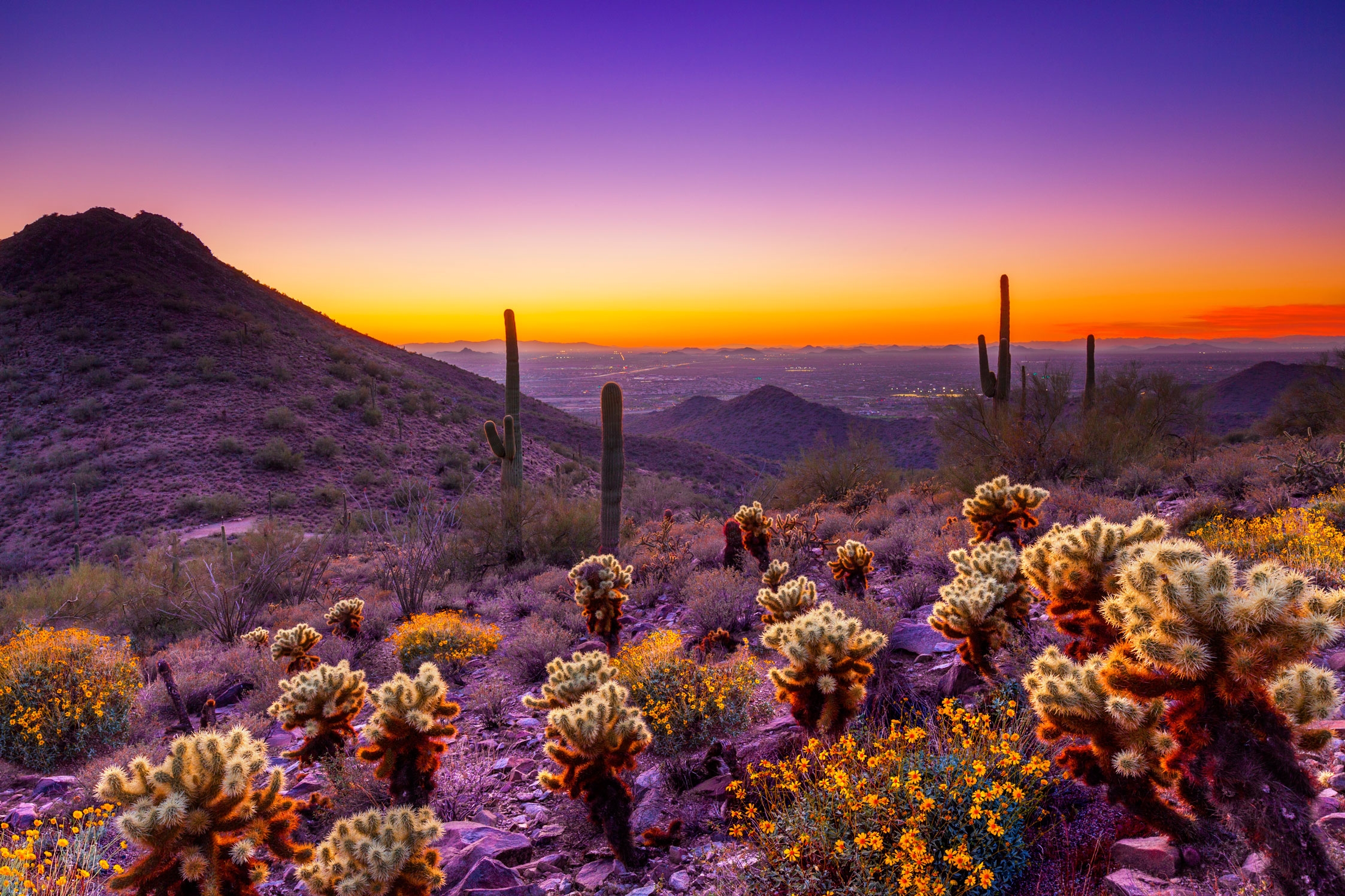 Desert sunset. (Photo courtesy of Scottsdale Convention & Visitors Bureau)
But Scottsdale has a distinct character all its own. The resort town is renowned for its first-class spas, and is practically synonymous with golf. In fact, tourism is the primary economic engine, with only New York and Las Vegas having more AAA Five-Diamond resorts.
Fashion plays a prominent role in Scottsdale, and downtown has developed a fine reputation for its shopping districts, such as SouthBridge, a three-acre retail, dining and cultural center defying strip mall culture with a no-chains-allowed approach to shopping.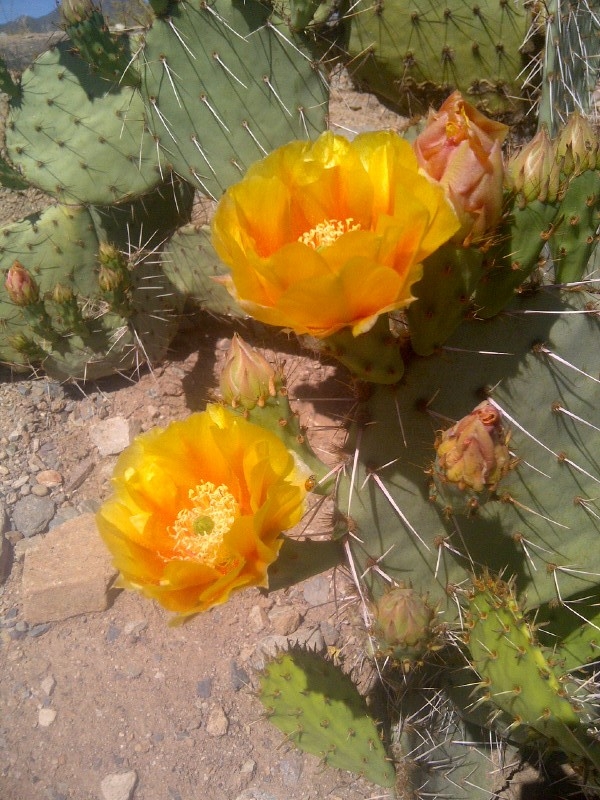 Cactus flowers. (Photo by Scott Bridges)
On the other hand, if you're interested in brand names, there's Scottsdale Fashion Square, the largest shopping destination in the Southwest, with a collection of more than 225 retailers, including the state's only Barneys New York, Burberry, Kate Spade and MaxMara.
For architecture buffs, Taliesin West should be at the top of your itinerary. Groundbreaking by Frank Lloyd Wright and his loyal apprentices began in the 1930s and continued until Wright's death in 1959.
The site, built out of and seemingly into the surrounding terrain, served as the architect's winter home and studio. The 90-minute tour is filled with insights about the man and the legacy he left behind.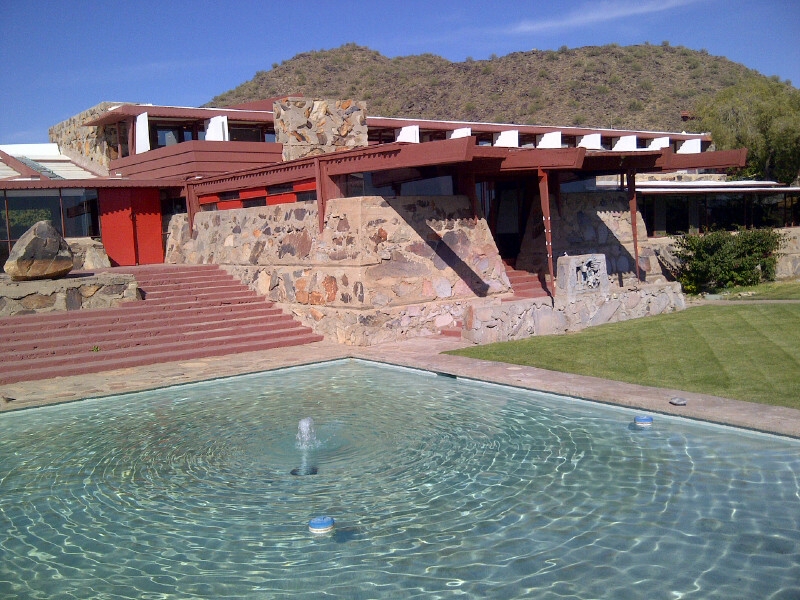 Frank Lloyd Wright's winter retreat: Taliesin West. (Photo by Scott Bridges)
My trip occurred just before the May 25-opening of Butterfly Wonderland -- a museum featuring the largest butterfly pavilion in the U.S., including a rainforest atrium where thousands of butterflies from all over the globe fly freely amidst the plumeria and other fragrant flowers.
Of the many tours available in Scottsdale, the most fascinating one I found was at the Hotel Valley Ho (I'm going to recommend it as a place to stay in a moment). Here, Ace Bailey will guide you through one of the best-preserved Mid-Century Modern hotels in the country, designed by Edward L. Varney, and opened in 1956. Bailey entertainingly dishes the scoop on legendary Hollywood stars who visited in its heyday, including Bing Crosby, Zsa Zsa Gabor, Janet Leigh and Tony Curtis,and Robert Wagner and Natalie Wood, who held their wedding reception at the hotel.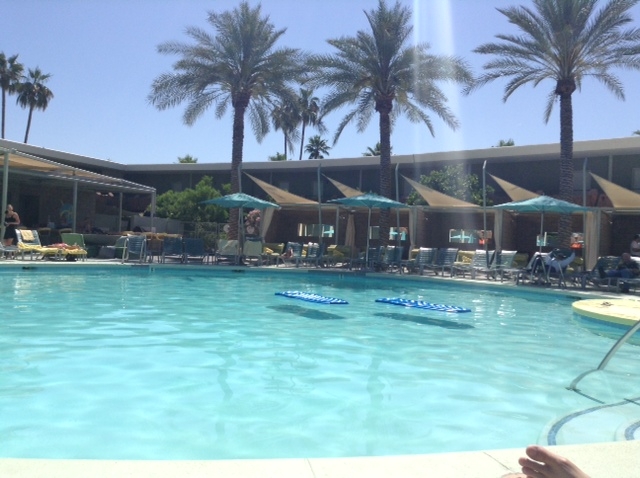 The Oh Pool at Hotel Valley Ho (Photo by Scott Bridges)
For more than 30 years, Scottsdale has played host to "America's Original ArtWalk," where visitors can peruse about 100 art galleries. The event is held every Thursday, the same day the Scottsdale Museum of Contemporary Art opens its doors for free.
Next door to a 115-year-old mission church and across the street from the fifth-generation-owned Cavalliere's Blacksmith Shop is The Mission Restaurant, in the heart of Old Town Scottsdale. The Western-themed section of town represented a frontier one hundred years ago, just as The Mission does in this century.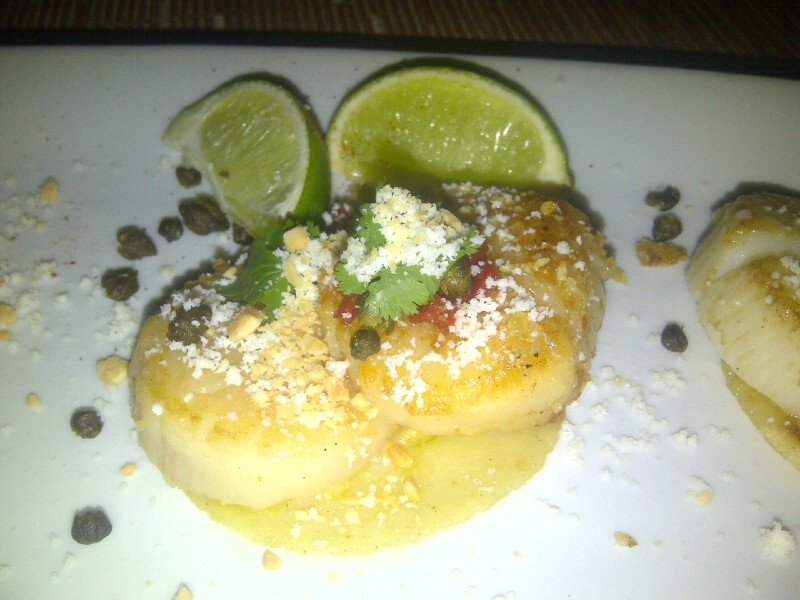 Scallops at The Mission Restaurant. (Photo by Scott Bridges)
The flavors of the Southwest are all on full display in Chef Matt Carter's modern take on traditional Mexican cuisine. The menu provides the opportunity to share small plates or dine course by course, and there are 10 specialty margaritas and as many signature cocktails.
Carter's has an imaginative take on Mexican street food, turning something as simple as tacos into eight varieties of farmers market small bites served in hand-made corn tortillas. The Crispy Cola Pork is a hit, featuring pork belly, cola, lime, chiltepin, peanut and pickled red onion in a leaf of gem lettuce. And on the side, nothing can top the Grilled Street Corn -- a bowl of skewered corn topped with a sauce of butter, chile paprika and cotija cheese.
For dessert, try the Pumpkin Bread Pudding with Tahitian vanilla gelato, topped with pepitas, pomegranate and butterscotch sauce. Enjoy it with a one of the many tequilas. Owner Brian Raab is a connoisseur, and his knowledge of the distilled essence of the blue agave is apparent from the list, showcasing more than 50 premium and boutique tequilas.
Last year, Raab and Carter opened The House Brasserie a few blocks away in the second-oldest house in the city. The menu features a variety of shareable dishes, like poutine, paella and mac n' cheese, which are best enjoyed on a cozy patio near the outdoor fireplace. And for a great story (best told by the staff), ask about the Christmas Tree.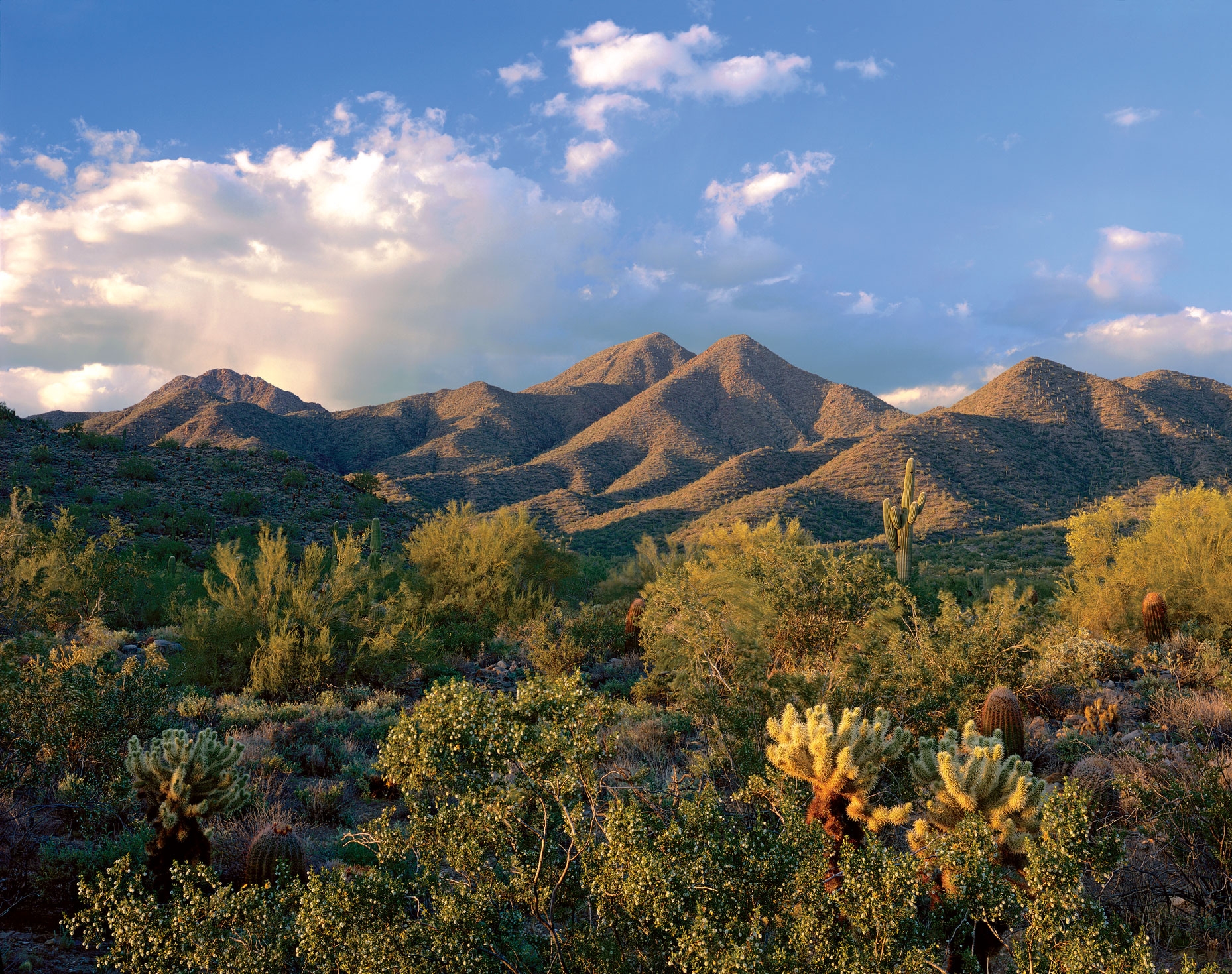 The scenic McDowell Mountains (Photo courtesy of Scottsdale Convention & Visitors Bureau)
Another great patio in town, overlooking a championship golf course and an archipelago of pools, can be found at The Phoenician's Il Terrazzo, which, in addition to offering classic American-Italian fare, offers one of the most comprehensive wine lists you'll ever come across (For the last 15 years, Master Sommelier Greg Tresner has curated the five cellars of The Phoenician, creating a wine list the size of the Bible, with some 30,000 bottles from around the world.)

The foie gras at Il Terrazzo. (Photo by Scott Bridges)
Chef de Cuisine Brian Cooper incorporates local, seasonal ingredients into an array of dishes best enjoyed al fresco in the desert night. His foie gras terrine is prepared with nearby Lehi Valley pistachios, prairie bread and saba (an Italian syrup made from freshly squeezed grape juice).
Just as decadent is the Baked Tomato Soup, with San Marzano tomatoes under a half-inch thick layer of toasty Tallegio cheese. Calamari Fritti is served with jalapenos, squash, olives and lemon. And a word about those olives - the quality of the state's diverse selection of olives are on par with those from California, owing to the hot, dry climate in the southern part of the state.
Breads and pastas are made in-house. I recommend the Spaghetti and Meatballs, which features a thick sauce of San Marzano tomatoes loaded with slices of black garlic. The menu also features Skuna Bay salmon, served with balsamic-roasted potatoes, roasted cauliflower and red pearl onions.
There is one more restaurant I have to recommend, nearer to Tucson but well worth the drive from Scottsdale or anywhere else in the state, for that matter. In a remote area of the desert outside Marana is The Ritz Carlton Dove Mountain Resort. At sunset, the haunting sounds of a pan flute echo across the Sonoran to call you to sup amid the Saguaro forest at CORE Kitchen & Wine Bar.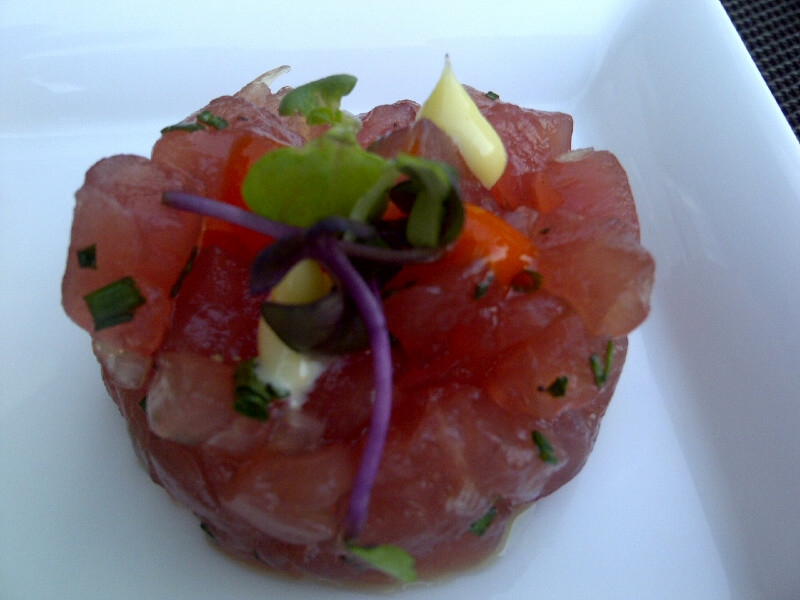 Tuna tartare at CORE Kitchen & Wine Bar. (Photo by Scott Bridges)
Executive Chef David Serus' grew up in Michelin-rated restaurants in France and America, and sources only the finest local and seasonal ingredients into his dishes, like Black Mesa Ranch, Sleeping Frog Farms, Starkey Farms and Wilcox Farms. More than half of the offerings can be prepared gluten-free.
There are 10 entrées from which to choose, mostly surf or turf: Skuna Bay salmon or sea bass; braised short rib; rib eye steak; or for both surf and turf, the beef tenderloin with lobster. A half a dozen sides might best be described as classic American comfort foods, like fried Brussels sprouts and bacon, scallop potatoes gratin, and Cavatelli mac n' cheese.
The wine list is displays roughly 3,000 bottles, and features both classics and hard-to-find gems. In addition to about 40 wines by the glass, there are many half-bottles available, as well.
Despite the Ritz Carlton label, the restaurant is as casual as a day at the pool. Resort wear is the norm, the menu is in plain English, the cuisine is accessible and the restaurant is kid-friendly. Splurge for a room and avoid the long drive back to civilization.
Entering the Hotel Valley Ho is like stepping onto the set of Mad Men. The celebrity-friendly resort is a landmark of Mid-Century architecture located in Scottsdale's historic district. It's also a modern urban resort with a spa and fitness center.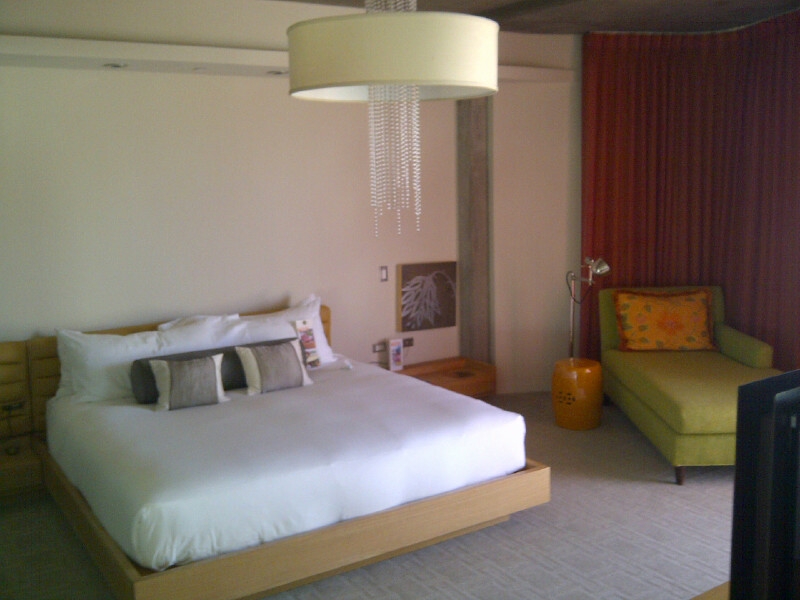 A stylish room at Hotel Valley Ho. (Photo courtesy of Scottsdale Convention & Visitors Bureau)
The highlight is the OH Pool, where the beautiful people recline with drinks in a circle amid cabanas. And on weekend nights, the bar is one of the hottest spots in town, as everyone downtown seems to end up here at the end of an evening.
Here, you'll also find the seasonal American cuisine of ZuZu. The indoor/outdoor dining room is ideal for enjoying the morning sun. Breakfasts near the pool are an ideal way to experience ZuZu.
For something more reminiscent of a traditional resort, there's The Phoenician (home of Il Terrazzo), 250 acres of AAA Five Diamond luxury built into the side of Camelback Mountain.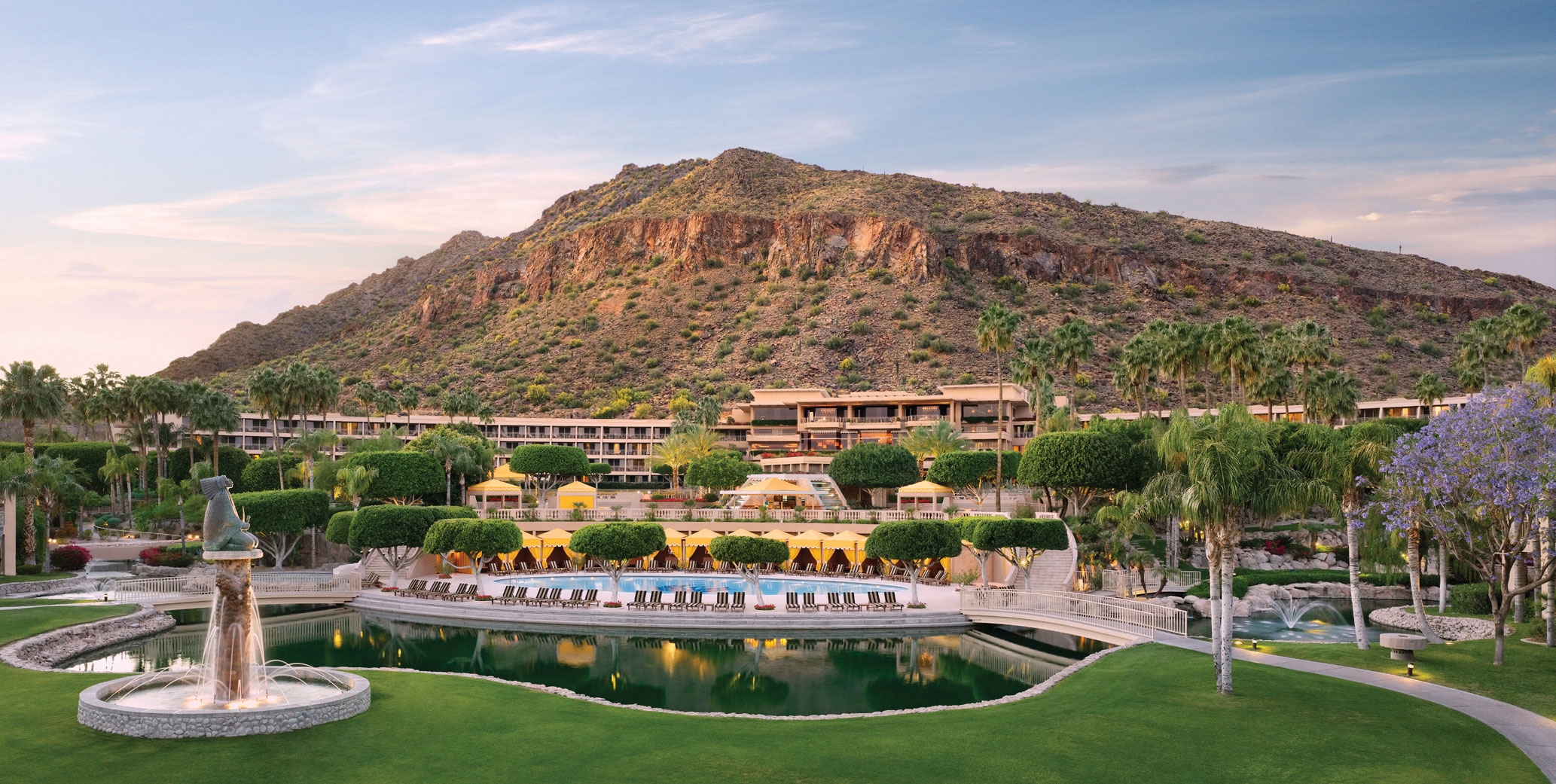 The Phoenician Resort. (Photo courtesy of Scottsdale Convention & Visitors Bureau)
The resort is renowned for its golf, managed by Troon. Three distinct nine-hole courses designed by Ted Robinson, Sr. and Homer Flint create differing 18-hole challenges across 6,300 yards of pristine greens amid the splendor of the Sonoran. The resort was named "North America's Leading Golf Resort by the World Travel Awards, and among the "Top 75 Golf Resorts in America" by Golf Digest.
Other amenities include an 11-court tennis facility, nine swimming pools, a 165-foot water slide, a two-acre cactus garden, a $25 million art collection and the Centre for Well-Being spa and meditation atrium.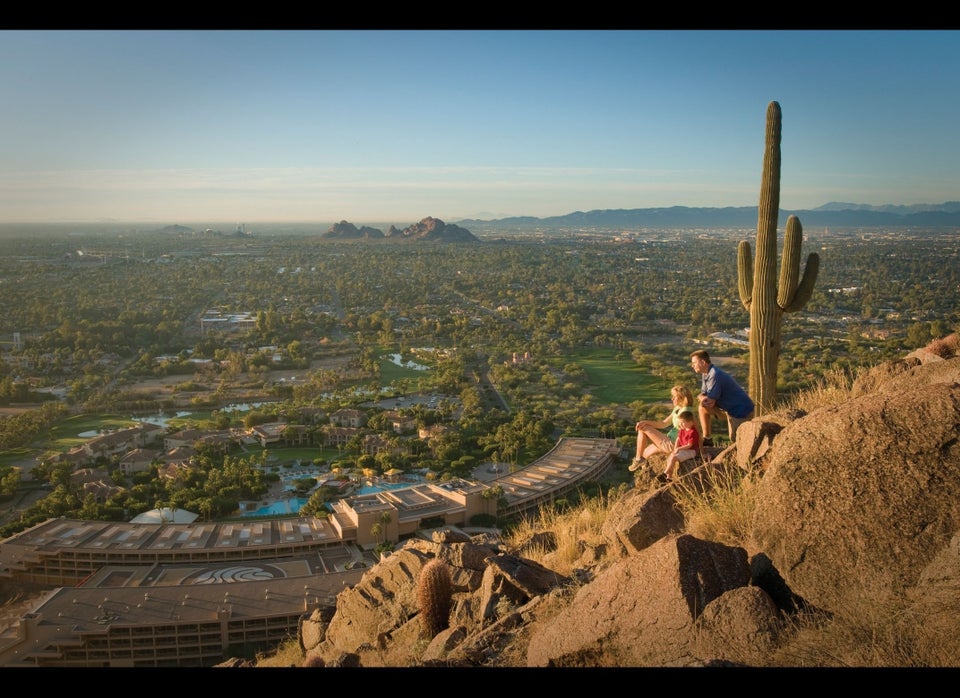 Arizona: Scottsdale
Support HuffPost
A No-B.S. Guide To Life
Related
Popular in the Community