Race season at Del Mar is nearly here. Hordes will descend on the seaside racetrack from all over Southern California to wager on the ponies -- the season opens July 17. This is also the site for the San Diego County Fair, currently underway, where live music fills the salty, festive air as people of all ages feast on summer treats and enjoy the rides and amusements in the coastal sunshine.
And while the recreational opportunities have been well-documented, the restaurant scene has not received enough ink to this point. And there are enough eateries on the main drag that you're going to want to stay in town for a couple or, better yet, a few days to fully absorb the experience.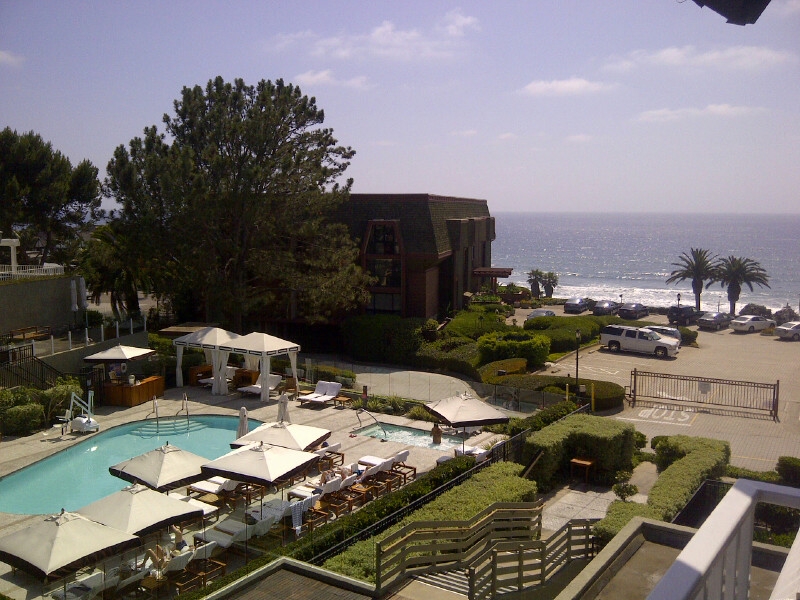 A patio view of the pool at L'Auberge. (Photo by Scott Bridges)
And if you're looking for the most convenient access to dining, while enjoying the amenities of a resort, there are a couple of hotels of which to be aware. First is L'Auberge, across the street yet tucked away from Del Mar Plaza.
It doesn't get much classier than L'Auberge, which seamlessly blends the luxury of a high-end resort with the casual laid-back attitude of a cozy beach community. It's also home to Kitchen 1540, one of the best restaurants in town (more on that shortly).
On the other side of the strip is the Hotel Indigo. The former Stratford Inn recently underwent a multi-million dollar makeover, emerging as an elegant boutique-style hotel designed to reflect the character of Del Mar.
Among its amenities are a full-service day spa, two pools, hot tub and sauna. The pet-friendly hotel (there are no restrictions on dog size or breed) offers stunning ocean views and is built around a courtyard pool. It also features a California-style bistro with live music.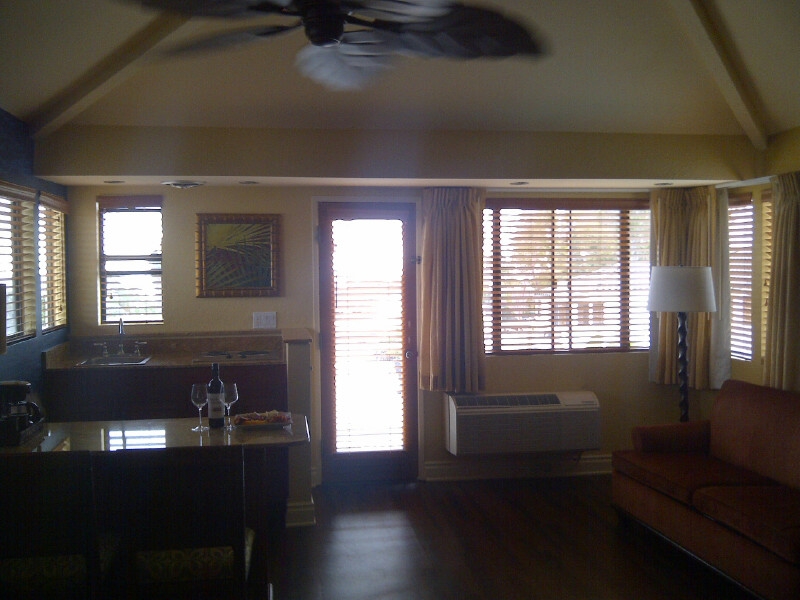 A typical room at Hotel Indigo. (Photo by Scott Bridges)
So what follows is a list of the hottest spots to dine in Del Mar. Enjoy!
Locally sourced farm-to-table Chinese food? Yep. That's what you'll find at Del Mar Rendezvous, where sustainable ingredients and practices are changing the culinary landscape.
In addition to a sustainable space -- energy-efficient lighting, wok ranges and patio heaters, Rendezvous recycles all glass and cardboard, and turns grease into biodiesel at a local plant -- they also offer sustainable foods: The poultry is free-range and cage-free from Mary's Farm. The tofu is organic, GMO-free and made by San Diego Soy Diary. More than 40 menu items are offered gluten-free, vegetarian or vegan, and half the menu is soy-free.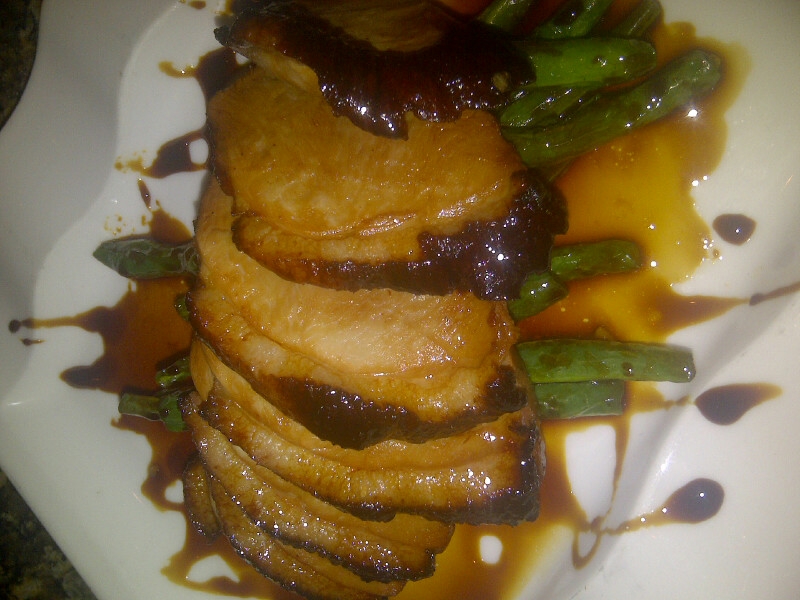 Duck Breast Shangri-La in teriyaki glaze at Del Mar Rendezvous. (Photo by Scott Bridges)
Chef Tony Chu Jung Su's menu is extensive, but divided into categories for convenience. The Dim Sum list includes delicious starters like homemade Boiled Shrimp and Chive Dumplings in a medium-hot sauce.
Entrées are further broken up into seafood, poultry, beef and tofu. A popular signature item is the Seafood Clay Pot, with freshwater Channel bass, calamari, clam, scallop and shrimp sauteed with green bell and red bell pepper, baby bok choy, baby corn and white onion in black bean sauce, and served in a hot clay pot.
In terms of poultry, one of the best items is the signature Duck Breast Shangri-La, which comes in two portions: a 7-ounce single serving and a 14-ounce double-serving. The dish features roasted duck breast over sauteed green beans, with teriyaki glaze.
More than 130 wines are on a list that was awarded Wine Spectator's Award of Excellence. More than 30 beers are available, including some of the county's finest craft selections. And all sakes, wines and beers are available for take-out at half-price every day.
Voted "Best Outdoor Dining" by readers of San Diego City Beat, Prepkitchen is the ideal spot for gourmet comfort food. The restaurant, described by the team as "a restaurant for cooks by cooks," is the same group behind the popular Whisknlade in La Jolla.
The farm-to-table eatery offers a frequently changing menu of tapas and small plates of fresh, seasonal ingredients. One of the tastiest dishes is the Crispy Baby Artichokes with Meyer lemon, gremolata and aioli.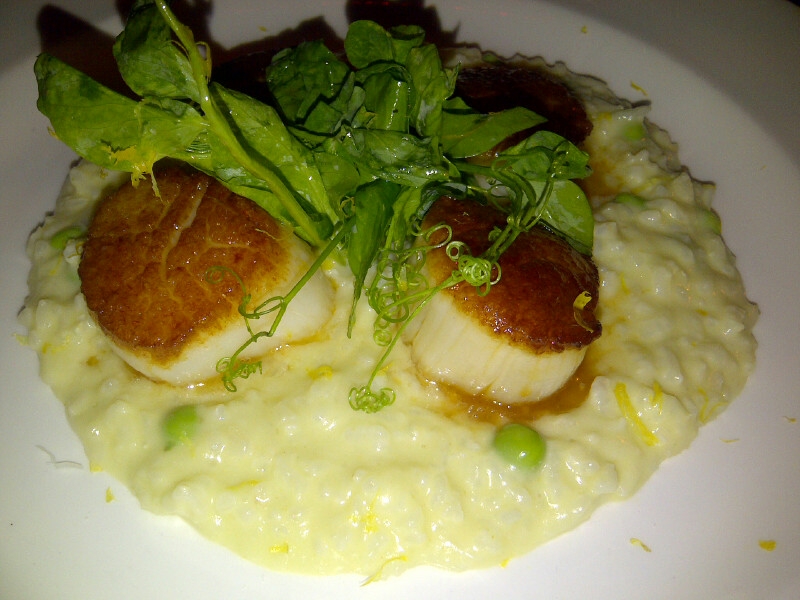 Maine Diver scallops at Prepkitchen. (Photo by Scott Bridges)
Other solid dishes include Charred Octopus with chorizo, Fava beans, chickpeas and sherry; Maine Diver Scallop Tagliatelle with saffron Meyer lemon cream, wild arugula and tarragon; Mary's half-chicken with spinach, caramelized onions, pancetta and fingerling potatoes; and Fusili Bolognese with beef, porcini, tomato, rosemary and Parmagiano-Reggiano.
Standout desserts include the Peanut Butter Budino with caramel, Chantilly and crumbled bits of Nutter Butter cookies; and the Meyer Lemon Cheesecake with blueberry-ginger jam and candied almonds.
Happy Hour takes place from 3:00 p.m. to 6:00 p.m. daily. Bottles of wine are 25 percent off, glasses are $5 and a good selection of tapas is available. The wine list is strong, and best of all, drinks can be enjoyed in the San Diego sunshine.
Located on the white sand beach, the ocean views at Jake's Del Mar are almost as stunning as the sun-kissed bodies playing volleyball outside the bay windows. This is the sort of place locals take their out-of-town guests to show off.
Jake's is a solid choice for lunch, or dinner if you're in the mood for romance. But if you're looking to brunch, there are few places to rival Jake's. And my favorite item on the menu is Torte Milanese, a puff pastry with ham, spinach, roasted red bell pepper, ricotta and provolone baked inside, and topped with hollandaise.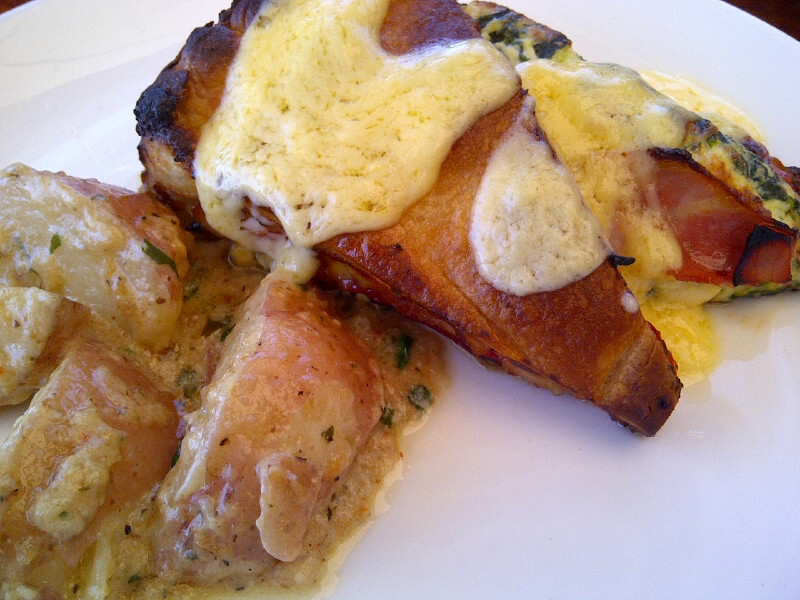 Torte Milanese at Jake's Del Mar. (Photo by Scott Bridges)
Other breakfast choices include Lemon Ricotta Pancakes, Salmon Eggs Benedict, Pacific Crab Omelet, Braised Beef Hash, and Banana-Stuffed French Toast, to name just a few.
On the lunch side of the equation is the signature Jake's Bistro Burger, with grilled onions and Tillamook cheddar, as well as salad, steak, seafood and chicken options.
Specialty drinks are highlighted by the Pink Grapefruit Martini, Sunrise Martini and Orange Blossom Margarita - ideal for a warm day at the beach.
Proof that Del Mar has arrived as a dining destination is perhaps best exemplified by Kitchen 1540 at L'Auberge Hotel. This is one of the most attractive dining locations in a community renowned for attractive dining locations.
Kitchen 1540 is one of the rare restaurants where you really can't go wrong even by closing your eyes and pointing. San Diego magazine calls it one of the "most inspired and ambitious menus ... in San Diego - a little carnivore comfort, a few science tricks and billions of details."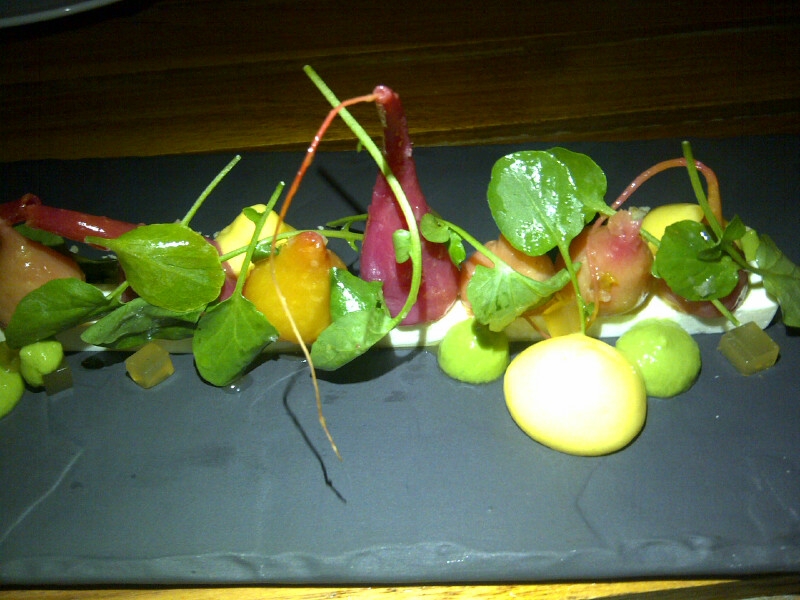 Beet salad at Kitchen 1540. (Photo by Scott Bridges)
The Cool Roasted Beets with fromage blanc and Sausalito watercress and yuzu is somehow even tastier than pretty. Better yet is the Abalone with sunchoke, arugula puree, lemon nutty brown butter and Northern Divine caviar.
One of the most talked-about dishes is the Animal, a gourmet take on the off-menu In-N-Out burger of the same name. Tenderloin with grilled romaine and onion is served with toasted brioche croutons, rather than a bun, and matched with a Southern condiment called "comeback sauce," rather than Thousand Island.
Game meats and wild fish seem to be the specialty, and the menu offers boar, Cornish game hen, duck and lamb, in addition to Steelhead, Red Grouper and Cobia (aka, black salmon).
The bar has a reputation, according to one report, as a "riotous singles scene every weekend after 8." The Horned Mule is a take on the Moscow variety, but made with Zübrowka vodka and house-made falernum (a tropical-type syrup with hints of almond, lime, ginger and/or clove, and possibly vanilla or allspice).
Calling all HuffPost superfans!
Sign up for membership to become a founding member and help shape HuffPost's next chapter