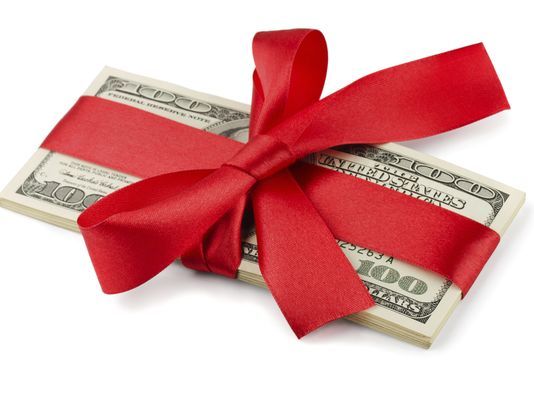 A foolproof guide to holiday tipping and gifting this season
The holidays are a time to express our appreciation for the many people in our lives who help us throughout the year. It would be wonderful to be able to give everyone presents to express our affection and appreciation, however, in the real world, the dizzying number of financial pressures at this time of year make this impossible. How can you spread extra holiday cheer without going broke? Here are some tips to point you in the right direction:
To avoid the January spending hangover, consider giving modest gifts, such as a $5 coffee gift card with a warm note. This will make the recipient feel valued and appreciated, and it is a far better strategy than avoiding running into these people during the month of December!
For babysitters, pet sitters and parents' health aides, consider one day's pay in cash or a gift card. For hair stylists, and manicurists, I like to double my customary tip. If your child is enrolled in daycare, I would recommend deploying most of your tipping budget here. These folks are not paid enough and they take care of our most precious commodities. For dry cleaners, doctors, and dentists, I recommend bringing cookies or other treats for the team as a whole. This will go a long way to brightening everyone's holiday spirit.
Remember that some professions are prohibited from accepting tips. Most notably, trash collectors, mail carriers, and many teachers...I confess to having violated all of these prohibitions. When it comes to teachers, I hope that everyone is prepared to stand up to the controlling and bossy parent who takes it upon herself to organize a group gift with an inflexible contribution amount. You will be a hero to your fellow [more timid] parents.
The most challenging holiday gifting arena is, undoubtedly, the workplace. Many people are confused over which colleagues we are expected to give gifts to, what to spend and what constitutes an appropriate gift.
If this is your first holiday season with your company, ask for guidance from H.R or a senior colleague. If there is no official policy, a good general rule is to avoid buying anyone an expensive gift. Even if you can afford it, you may risk making the recipient feel awkward or inadequate.
The biggest workplace mistake is giving the boss a nicer gift than anyone else — this is just tacky. You might wish to organize a group gift for the boss, such as a gift certificate. This is best done by making a "suggested" contribution amount and letting everyone place their contribution in cash in a white security envelope in a box. This will avoid causing embarrassment to colleagues who are financially stretched.
The bottom line is that with a little planning, you can spread holiday cheer without hurting anyone's feelings...or your financial security.
Ann Margaret Carrozza @mylawyerann is a renowned Asset Protection and Estate Planning Attorney who served for 14 years as a New York State Assemblywoman. She is a TV legal contributor and the author of Love & Money.
REAL LIFE. REAL NEWS. REAL VOICES.
Help us tell more of the stories that matter from voices that too often remain unheard.
This post was published on the now-closed HuffPost Contributor platform. Contributors control their own work and posted freely to our site. If you need to flag this entry as abusive,
send us an email
.