In dense, high-rent cities, having a dining room is a luxury. In my San Francisco apartment, where pretty much any flat surface may need to double as the dining table, I long for the space to host a sit-down dinner with friends. These five creative homes show how it can be done, without a dining room or an expansive kitchen. It's time to pull up a chair.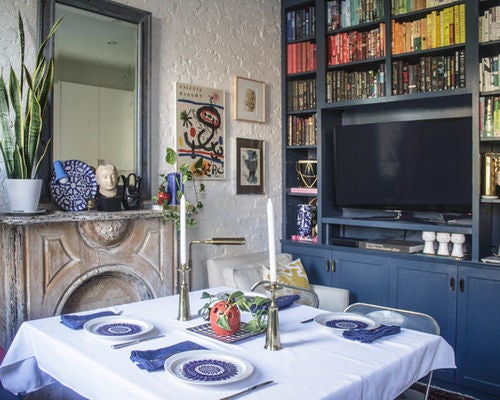 1. Transform the coffee table. There's nothing wrong with dinner around the coffee table with friends — it's what I do most nights — but that doesn't mean we don't crave being able to have a sit-down dinner. Rob and Natasha Habermann's vintage coffee table, shown here set up for dinner, allows them to do both in their 350-square-foot apartment in New York City's East Village. "There aren't a ton of options out there. But I was fortunate enough to find this one that transforms into a full-size table in seconds," Natasha says.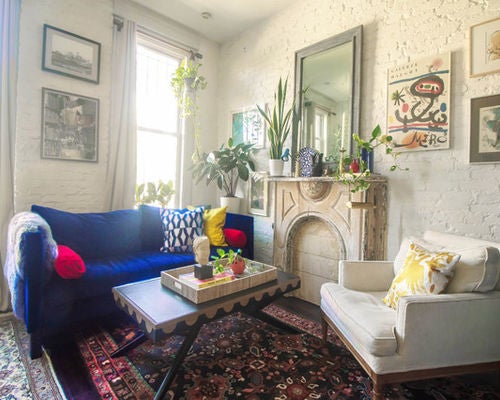 When the table isn't being used for dining, the legs lower to coffee-table height, allowing the couple to enjoy their living room as they normally would. The folding chairs are stashed out of sight.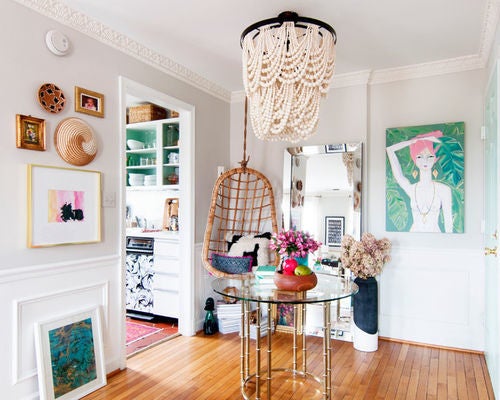 2. Put it in the entry. Interior designer Kerra Michele Huerta converted the room just inside her Washington, D.C., front door into a combination foyer and dining room. She replaced a flush-mount sconce with the dramatic chandelier we see now, and hung a collection of colorful wall decor. The round glass-topped table functions mostly as an entry table, but it can also accommodate at least two people for dinner.
Huerta stores a pair of turquoise ceramic garden stools under the staircase in the living room, just off the entry. They add color and interest to the vignette and can be pulled up to the glass table when she chooses to have a sit-down dinner.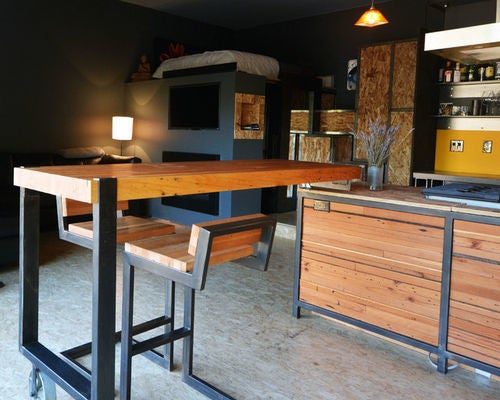 3. Add it to the bar. A few years ago, Bryan and Jen Danger dramatically changed their lives when they decided to rent out their five-bedroom home in Portland, Oregon, and move into their garage, downsizing to a 480-square-foot space. The couple did most of the renovation themselves, transforming the garage connected to the back of their house into a city-approved accessory dwelling unit, where they live full time.
The kitchen sits at the center of the space, with folding doors that open up onto a landscaped courtyard, and serves as the couple's core entertaining spot. "We can have two people over for dinner, or 20 for a wine tasting, or 10 to watch a game," Jen says.
The island serves as a great spot for friends who want to stand and gather around the bar for drinks or wine tasting, or if Jen and Bryan want an intimate dining spot. But for occasions when they want to sit down with friends and look out into the yard, the wood island top was designed so that it can swing out and accommodate six for dinner.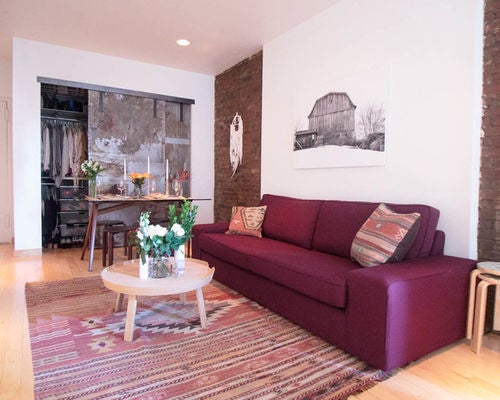 4. Work a desk. When the glass-topped dining table Laurie Sadove bought for her 500-square-foot apartment in New York City's West Village took up too much space in the living room, she decided to return it and buy the smaller desk version instead.
Measuring about 2 feet shorter and 1 foot narrower than the dining table, the desk fits the space better, can accommodate a dinner party and cost less than the dining table. "I love having the ability to have a meal at the table or to be able to catch up on work," Sadove says.
The desk can seat four people for dinner and still fits between the living area and the closet. The glass top allows light to pass through, contributing to a more open feeling in the apartment.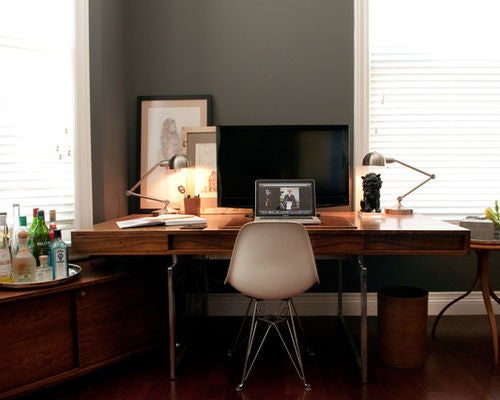 5. Do some repurposing. In a recent college grad's studio apartment in Oakland, California, interior designer Courtney Lake was hired to design a space where the client could work efficiently from home but also host dinner parties and have his parents over to eat from time to time.
The solid-wood midcentury modern desk came from the client's parents, who invited him to take it from their basement. "That desk was really the starting point," Lake says.
Most of the time the desk sits against the wall and functions as a workspace, but the client can repurpose it as a dining table when friends and family come over. The few pieces of art and computer equipment can be moved to the sideboard to make way for table settings.
He can pull the desk into the middle of the apartment, even using some of the desktop accessories, such as these lion figurines, for centerpieces. The dining chairs are also used throughout the apartment: one as a desk chair, another as the entryway chair. The other two are stored in a closet when not needed at dinnertime.
Popular in the Community