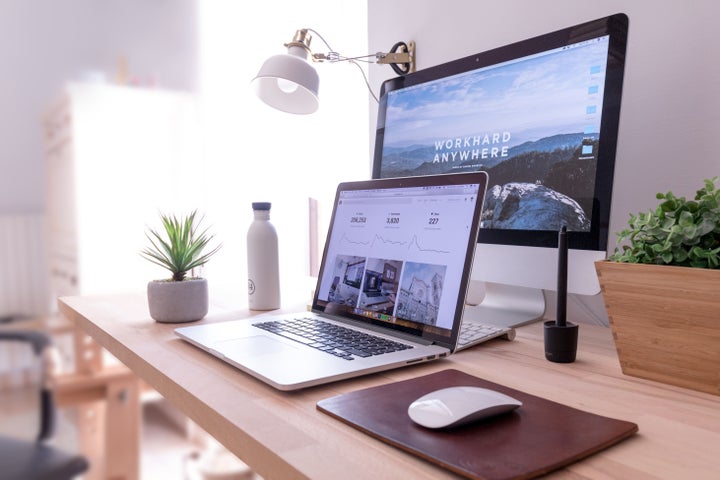 Do you dream of earning a living from your blog?
While making money blogging is not a quick rich scheme, with a clear strategy and perseverance, it's totally possible to make a solid income from blogging.
Here are some basic steps to follow to start earning an income from your blog.
1. Set up your blog the RIGHT way
Starting on a free blogging platform might seem like a good idea to save money, but free platforms often come with strict limitations that prevent you from monetizing your blog.
While you don't have to have a huge budget to get started with blogging, you still need to spend money on buying a domain name and web hosting. See this guide on how to start a WordPress blog for step-by-step instructions.
Spending time planning before you start blogging will keep you from wasting your time and resources on a blog that can't succeed. You can start by asking yourself questions like:
What is the niche of your blog?
Would you create content yourself or outsource it? If you plan to outsource, do you have the budget to spend on content creation?
What is your blog monetization strategy?
How will you grow your blog audience?
Who are the competitors in your market?
2. Create useful content on a regular basis
Once your blog is set up, the next step is to create useful content addressing the needs of your blog audience. To get content ideas, you can refer to popular online forums in your niche to see what people are looking for. You can also read other blogs in your niche for inspiration to come up with unique blog post ideas.
Once you have enough ideas, you can create an editorial calendar so you can create and publish blog posts on a regular basis.
3. Grow your blog audience
In order to make money blogging, you need to make sure that you attract the right audience to your blog.
A few ways to grow your blog audience are:
Search engine optimization (SEO): In most cases, search engines are the biggest traffic source of visitors to your blog. With SEO, you can increase the visibility of your website in search engines and ensure that your content is displayed at the moment your target audience is looking for it.
Social media traffic: Be sure to make it easy for your visitors to share your content on social media. You can also grow a following on relevant social networks, engage with your audience and promote your content.
Networking: Networking with other influential bloggers is one of the best ways to grow your audience. You can find influential people in your niche and build a connection with them by commenting on their blogs and engaging with them on social networks. Once you have a solid relationship, you can ask them to promote your content. Keep in mind that the general rule of thumb is to promote their content first before you can expect anyone to promote your content.
4. Create a connection with your audience
If you want to build a loyal community around your blog, you need to engage with your blog audience. You can do so by responding to blog comments and replying to their social media mentions.
But the best way to build a long lasting relationship with your audience is by growing an email list of your readers, prospects and customers.
Building an email list is essential for your blog for many reasons:
You can attract returning visits to your site.
You can establish yourself as an expert among your loyal audience.
You can nurture your prospects and turn them into customers.
The best way to exponentially grow your email list is to use a lead generation tool like OptinMonster. It helps you create beautiful optin forms that are optimized for high conversions. You can also make use of its exit intent feature that prompts your visitors with a targeted campaign at the precise moment they are about to leave your site.
Once you've built a strong following and engagement on your blog, you can monetize it and start generating revenue. You can monetize your blog in many ways. Here are a few of the most common:
Advertisements: Selling ad space is the easiest way to monetize your blog. You can get started by signing up for Google AdSense, a program that allows bloggers to make money by displaying ads. Once you've built a solid follower base, you can start selling direct ad spaces so you don't have to share your revenue with any ad networks like AdSense.
Sell products: Selling products on your blog is the best way to create a steady stream of passive income. Unlike monetizing with ads, you don't necessarily need to have a huge traffic base in order to make a solid income. You'll have to build trust among your audience and create quality digital or physical products that solve a specific issue they face.
Affiliate marketing: You can also make money blogging by promoting products you don't own. You can earn a commission when your visitors purchase a product by clicking on your special affiliate link. To find relevant products that you can promote on your blog, you may browse through popular affiliate networks like ShareASale or ClickBank.
Instead of focusing on only one monetization method, consider diversifying your revenue sources instead of putting all your eggs in one basket.
If you're truly focused on making money from your blog, make sure to follow all the 5 steps I mentioned above to build a loyal audience and monetize your blog. With hard work and perseverance, anyone can earn an income from their blog if they follow the right steps.
Related
Popular in the Community