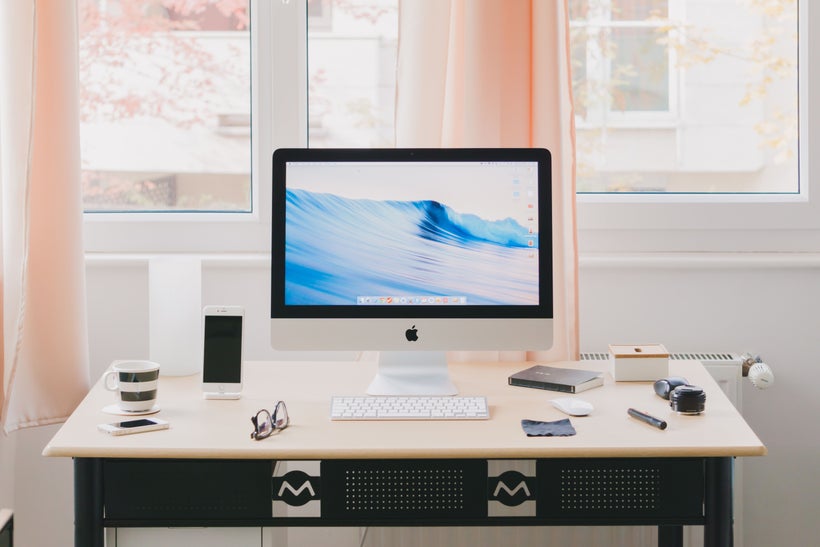 When I started entertaining the idea of blogging, I was sooo overwhelmed by the conflicting advice and the expensive coaching packages. Right after we brought baby number one home from the hospital, my boss cut my work hours in half, at a job that I honestly didn't even like. So, my options were simple: either pick up a second job, or figure out how to make money working for myself. That's when I decided to start a blog.
I already knew what it was like to work in a soul-sucking job that I hated, and now I kinda wanted to know what it would be like to do something that I love every day (and hopefully get paid to do it).
So, I did a ton of research, asked a ton of questions, read a ton of articles, and purchased some helpful training courses. I knew I wanted to be a writer, I just didn't know how to make money doing it. With a lot of time and effort spent, I can honestly say that after two years, I truly know how to start and manage a blog that actually makes money!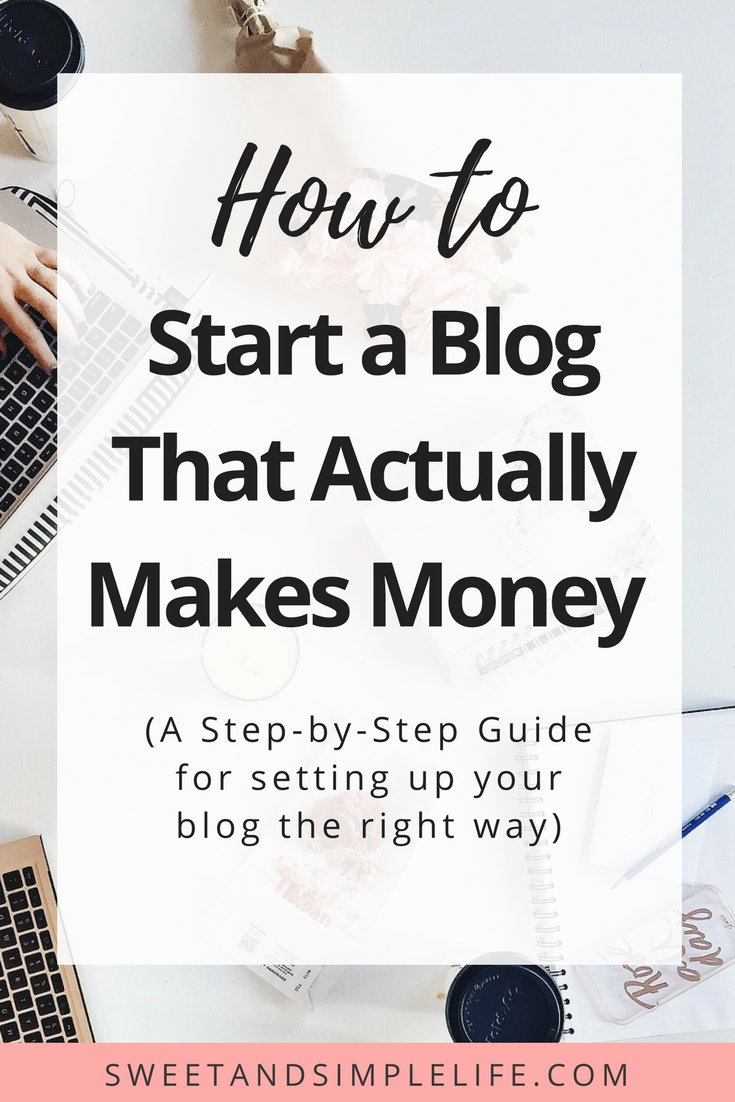 This post probably contains affiliate links. You can read the full disclosure here.
First off, I want to clear up a few misconceptions about blogging, and then I'll go through the five basic steps of starting a profitable blog.
MYTH # 1: It's hard to start a blog.
You guys, setting up a blog is probably the easiest thing you're going to do today! With the beauty of modern technology, you can have your website up and running within minutes. It's so easy, and I'm going to show you how to do it.
MYTH # 2: It costs a lot of money to start a blog.
This is probably the biggest misconception about blogging, and nothing could be further from the truth. You can set up a blog for less than $4 a month. I think I spent around $95 to start my blog, because I paid for a full year (and a domain name) in advance. But more about this in a few minutes.
MYTH # 3: You can't make any money from blogging.
I started making money during the first month that I launched my blog, and my income has grown steadily from there. I'll go through the steps with you for that as well, but just know this: there is A LOT of money to be made from blogging, and the possibilities are endless.
HOW TO START A BLOG THAT MAKES MONEY
This article is going to be all about SETTING UP a profitable blog. If you're just getting started, this is where you want to be. We'll go way deeper than this in my blogging course, and I will show you how to start making money from blogging. But, we have to make sure that you get started on the right foot first.
There are FIVE BASIC THINGS that you need to do to start a blog (the right way, the profitable way). A profitable blog means that you're going to start making money pretty quickly after getting set up. Maybe not the first day, but hopefully within the first few weeks. I'm going to list the five most important things below, and I'll explain them in detail.
THING 1. CHOOSE A DOMAIN NAME
This is super important, because this is going to be your blog address and you're going to be building an online presence around this thing. Example: www.yourdomainname.com
My blog's domain name is: www.sweetandsimplelife.com My blog is all about simple and intentional living in motherhood. I teach moms how to get the most out of life by simplifying life and soaking up the sweet stuff. Obviously, my domain name reflects what I'm writing about and sharing with people.
We're going to assume that, at this point, you already know what you want to write about and who you want to write for. This is called your niche, or the subject matter that interests your audience.
Your domain name should reflect what you are going to be writing about. Blogging is all about sharing your knowledge and expertise with your specific audience. Choose a domain name that will showcase what you are going to be sharing or teaching.
Give this some thought, but don't kill yourself over "the perfect name." There is no such thing. Find something you love, something that fits your style and your subject matter, and roll with it! Perhaps even write down a few options, just in case your domain name of choice is already taken. Using your own name is also an option, so that's something to consider.
Once you have a domain name in mind, you can move on to thing number two.
THING 2: GET HOSTING THROUGH SITEGROUND
Before I actually started my blog, I joined a few blogging groups on Facebook and learned everything that I could about setting up a blog the right way. Everyone pretty much said the same thing, and this is the gist of it: if you want to have a profitable blog, you need to be on a self-hosted platform.
There are other platforms that you can use for your blog too, but you are very limited with monetization, with customization, and you don't own your platform…so I just can't recommend those options. If you want to start a blog that's going to make good money, that's going to represent the real you, and that's going to be protected by your legal rights, you need to be on a self-hosted platform.
I got my hosting through Siteground, and they are the absolute best in the business. The process for getting started is simple, their customer service is incredible, and their prices are super affordable. Like I said before, you can start your blog for under $4 a month (for real).
Siteground's live chat option is top notch. I have never had any issues with my own hosting, but I have helped a few other people with various issues like payment changes, upgrades, and glitches, and I always use the Live Chat option to get them set up. This is why I recommend Siteground over their competitors. They run an incredible business and have a great support team
So, start here. Go to the Siteground website, hit that sign up button, and purchase your hosting package. It's seriously three easy steps.
STEP 1: CHOOSE A PACKAGE, STARTING AT JUST $3.95/MONTH
When you click the link above, it'll take you to a sign page with three options. It's perfectly fine to use the StartUp Plan. You can always upgrade later!
STEP 2: CHOOSE A DOMAIN NAME
Remember, we already know our niche, and we came up with a few domain name ideas before we decided to purchase hosting. Type your domain name into the empty box and click "Proceed" to see if it's available. If all else fails, use your own name!
STEP 3: SET UP YOUR USERNAME, PASSWORD, AND PAYMENT INFO
This is where you'll create your login information for your Siteground account and add your payment information. If you get the StartUp package with NO add ons, I think the total is around $64.
Note: the optional add-ons do increase the price a little bit. But I highly recommend getting the "domain privacy" so that your personal information is protected. Now, hit that pay button, and that's it! You now have a website domain on a self-hosted site! Woo-hoo!
So, where do we go from here?
THING 3. DOWNLOAD WORDPRESS.ORG
WordPress.org will be the dashboard that you use for sharing your content with your readers. It is the "back end" of your blog, where you will write and publish content, add various blog features, and customize your site.
Now that you've set up your domain on Siteground, you can login to your dashboard with the username and password you just created, and follow THESE STEPS to download WordPress.org for free. These instructions are straight from the Siteground website, but if you run into any problems, you can always use their Live Chat to get assistance. Remember, these guys are being paid to help YOU set up your blog the right way…so let them help you.
You will also create a username and password to login to WordPress.org. Write it down, because you'll need this info every day of your blogging career! Once you have WordPress.org installed, you'll be ready to login and design the look of your blog. Just type your domain name into your search bar, and add: /wp-admin to the end of it. For example: yourdomainname.com/wp-admin
This will take you to your login page for WordPress.org
NOTE: You will have one username and password for your Siteground account and a completely different username and password for your WordPress.org account. When you need help with things like your hosting, your payment info, your website backup, and your email systems, you'll login to your Siteground account. When you need to write, edit, publish, share content, download themes and plugins, add widgets to your blog, and communicate with your readers, you'll login to your WordPress.org account.
So, login to WordPress.org and let's move on to our fourth step in setting up this blog!
THING 4: CHOOSE A THEME
There are plenty of free themes that have basic functions and features, so you do not need to spend money on a theme when you start a blog. I promised you that you could set up a blog for under $4 a month, and I meant it.
I STILL use a free theme on my blog and I have no complaints about it. One day, I will probably switch to a paid theme when I'm ready to customize my site even more, but it is not necessary if you're happy with a free theme.
When you login to your WordPress.org dashboard, you'll go to Appearance > and then Themes from the dark grey toolbar on the left side of the screen.
You can choose from one of the themes right there on the Themes page, or you can upload a theme that you have purchased or downloaded elsewhere. Here are the steps for adding or changing your blog theme. Again, you can find this information on the Siteground website, or use their Live Chat for assistance if you get stuck.
THING 5: START WRITING
That's it guys! You just started a blog, and now, you're ready to start writing. You will do your writing through your Wordpress.org dashboard. So, bookmark your login page and save your login information to make it easier to access.
Before you write your first blog post, read this article. It is a step-by-step tutorial for writing and publishing a new blog post. Remember, we're trying to build a blog that actually makes money, right? Anyone can write content on a website, and never make a dime from it…and that's totally okay if that's your hobby and not your business.
But if you're trying to make a steady income from your blog, then you will want to write content that actually makes you money. Here's an article with my top blog-writing tips.
Becoming a Blogger is my comprehensive course that covers everything you will need to know about becoming a blogger and turning your blog into a money-making machine. In this course, I'll show you the most important features of a successful blog, the top three ways to make money from blogging, the most effective way to create and share content, how to set up your mailing list, how to start building up your fanbase, and much more.
This online course opens up just two times per year, and you can register for the course here.
REAL LIFE. REAL NEWS. REAL VOICES.
Help us tell more of the stories that matter from voices that too often remain unheard.
This post was published on the now-closed HuffPost Contributor platform. Contributors control their own work and posted freely to our site. If you need to flag this entry as abusive,
send us an email
.