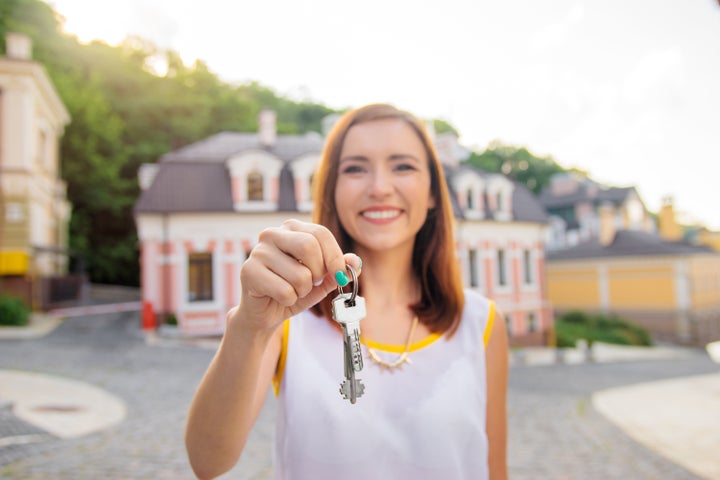 If you think becoming a real estate agent seems like a good idea, you're not alone. There are currently more than 1.2 million Realtors in the U.S., and for good reason. Realtors enjoy flexible hours, the opportunity to be self-employed, a network of interesting people, and of course, the money. But how did all these people become agents? The fact is that most people who work in residential sales were in some other profession first.
Success as a Realtor is determined by your personality. It doesn't matter who you know. Your age doesn't matter. Neither does your education. What does matter is that you are an optimistic, can-do type of person — someone who is caring and interested in others. Successful real estate agents enjoy working with people and are great problem solvers.
In day-to-day practice, there are three functions that real estate agents perform: representing buyers, representing sellers, and building their business. And it's easy to get started, no matter what you are doing now.
Follow these steps and you'll be well on your way.
1. Get licensed in your state
First, you'll need to get a real estate license from your state which will require a certain amount of coursework. The courses are mostly related to ethics, discrimination and other consumer protections. Many online courses are available, but you can take live courses if you prefer. The longest course may stretch over eight weeks, but many courses can be completed in less than a week. The cost of your courses and the state license can vary, but it's usually under $1,000 to get licensed.
A real estate brokerage is a company that is set up to help facilitate the business brought in by their real estate agents. Major brokerages in the U.S. include Coldwell Banker, RE/MAX and Century 21.
A brokerage will provide:
A brand to be affiliated with
A managing broker who can help guide your career
Some tools and light training
Business cards
Website
Signage
A desk
A contract to use
3. Join the National Association of Realtors
A state license gives you the legal right to sell real estate, but you cannot call yourself a Realtor until you have joined the National Association of Realtors (NAR) and agree to follow the rules they set forth. You do not have to join the association, but successful agents often find it beneficial. Most brokerages will require it and in most states this is how you gain access to your local Multiple Listing Services, the database where all the homes for sale is listed.
4. Find a path to get training
Many agents are surprised to learn that their real estate license does not prepare them to do the daily work of a real estate agent. In residential real estate there are many moving parts, from finding customers to closing deals. Real estate agents need to find a mentor, coach or some other form of training in order to be successful. Companies like AgentEDU offer agents the training they need through a series of engaging and informative 10-minute videos. "New agents have to learn a lot of information quickly. We designed courses that teach agents how to do all the jobs that are required of a real estate agent," says Marci Sepulveda, founder of AgentEDU "We know how busy agents get, so we made the training available on any device at any time."
5. Create a business plan
A real estate agent is essentially an entrepreneur. Although it's tempting to skip business planning, or think about it without writing it down, most successful agents say that writing out a business plan helped them out tremendously. You can download a template to create your business plan from training companies like AgentEDU.
6. Build your business using your contacts
As a new agent, most of your initial contacts will be family or friends. For most agents, getting the word out is the best way to use your contacts to build your business. First you create a list of your all contacts and put them together in a database. Then, send out an announcement about your new career and ask your closest people to help share the news. Put out information through your social media, start networking and soon you'll have people interested in talking to you about representing them!
7. Develop your professional image
Real estate is an image-based business, and clients make a quick judgment call on whether or not you're in contention for hire. Your image, which can influence your career more than any other factor, is conveyed by the way that you dress, the way you speak, the way you respond to others, and the way that others speak about you. You should hire a professional photographer and a professional writer to take your headshot and write your bio, which will be shared on your website, through social media and in marketing materials. Don't be afraid to put your creativity to work!
8. Be ready to meet your first client
Seventy percent of real estate customers only interview one agent to sell their home! Leads may come from many places — for example, an office call, a referral, or from someone you already know. Always be prepared to handle the first contact with any client.
The timing of your response and the professionalism of your note or phone call will set the tone for the future. Potential clients are deciding whether to hire you when they first reach out. Remember:
Establish your credibility in every conversation.
Give a prompt reply. Demonstrate your reliability by responding in a timely fashion — 5-to-10-minute response times are best.
Avoid slang, jokes, emoticons or misspellings in emails, texts and any other written correspondence.
Once you get your first client, you are on your way to a career that can bring you joy and success for many years!
Related
Popular in the Community