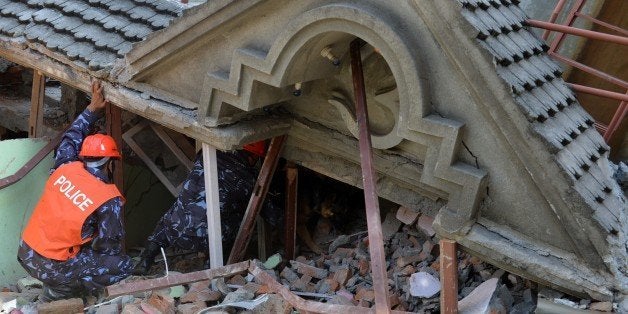 Less than three weeks after the 7.8 magnitude earthquake of April 25, there was a 7.3 magnitude aftershock in Nepal on May 12. Nepal, a country on top of the seismic fault line between the Eurasian and Indian tectonic plates, has long been designated as susceptible to a catastrophic earthquake every 75 years. Before the recent quake, Nepal had suffered the last big one 81 years ago in 1934. Therefore, Nepalis had expected the next major earthquake to be imminent -- however ill prepared they were to face it -- but such a large aftershock only weeks afterwards came as a surprise to many. Predicting earthquakes is not an exact science. Another big earthquake in Nepal could occur weeks or months from today or years or decades later. Scientists are simply not able to predict when the next quake will come or how big it will be.
Such uncertainty makes effective earthquake warning and evacuation next to impossible. Therefore, Nepal must develop sensible ways to minimize the loss of life, livelihood and property when earthquakes occur (because they surely will). There is no better time than now to begin serious thinking on this serious matter because haphazard and ad hoc measures put in place today could deter, or worse, prevent two key requirements for effective earthquake management in the future: responsible rebuilding and practical preparation. These goals may not have been feasible after 1934 given the technology at the time, but they are now attainable if Nepalis are so determined.
In the aftermath of the Nepal quakes, there has been and continues to be enormous effort on search and rescue as well as immediate relief including temporary disaster housing. Primary focus on search and rescue and relief is absolutely necessary in the short-term. In the medium-term, focus will no doubt shift towards providing adequate transitional housing and services -- people should be housed adequately, children should be in school, and sick persons should be given medical care. The long-term goals of responsible rebuilding and practical earthquake preparation come next. But the work of defining what such long-term goals are should begin now because without identifying them, it is hardly possible to build suitable roadmaps that lead to them. In fact, the medium-term goals also depend greatly on what the long-term goals are.
In this article, I would like to engage concerned Nepalis and anybody who wants to start thinking about the long-term goals for Nepal. I am calling on architects, engineers, entrepreneurs, environmentalists, government leaders, planners, scientists and other experts. I would like to warn the readers that this article does not provide many answers. What it does is ask relevant questions in an organized framework to facilitate coherent discussions. However, the questions posed here are not meant to be comprehensive but only the starting point.
1. Architecture and engineering: What types of buildings are appropriate for Nepal in terms of cost-effectiveness, earthquake resistance, environmental and ecological soundness, and also preservation of culture, history and aesthetics? Do prescriptions for construction vary by geography and soil type, and if so, in what way? What are the best practices in other earthquake prone countries such as Japan, and are those methods applicable to Nepal? How can existing buildings be retrofitted adequately? What practices in Nepal have been successful so far? How should builders and construction workers be retrained? How long will it take to build permanent housing for families who have lost homes and how much will it cost?
2. City and village planning: How should cities and villages be designed for rebuilding? What are the best practices for city and village planning from other earthquake prone countries than can be applied in Nepal? Are the existing building and planning codes appropriate, and if not, how can they be improved? Should some areas, such as places prone to landslides, not be rebuilt, and if so, what are appropriate criteria for deciding which areas to rebuild? How can planning, including relocation, be sensitive to local needs and how can it also empower citizens?
3. Infrastructure and contingency planning: Given the difficulty of road construction in Nepal and potential damage to roads during natural disasters, should Nepal build helipads throughout the country? Should Nepal also acquire a large fleet of helicopters for transportation as well as disaster relief? What should Nepal do for disaster contingency planning? Should Nepal build more international airports scattered around the country? Should Nepal also build major hospitals, crisis centers, as well as information and power grids in different parts of the country? How feasible are such goals?
4. Disaster training and preparation: How can Nepal conduct earthquake drills in schools, public spaces and offices on a regular basis? How can security guards and building custodians be thoroughly trained for earthquake evacuations? How can the armed forces, the police, and crisis workers conduct regular simulations and exercises to prepare for natural disasters? How can Nepal partner with India and China on enhancing disaster preparedness? How should the public be provided general disaster training?
5. Scientific research and development: How can Nepal invest in high-caliber institutions that conduct research in geology and seismology? How can Nepal also invest in innovative and collaborative training laboratories that perform scientific work ranging from digital mapping to development of new technology? How can research and development be performed in an interdisciplinary fashion inside Nepal and in collaboration with experts overseas?
Clearly, the government of Nepal should be at the forefront of any effort to rebuild Nepal responsibly and prepare the country for future earthquakes. In particular, the National Planning Commission, as it conducts the post-disaster needs assessment, should also conduct a quick, but comprehensive study in the next few weeks to determine the long-term vision for the country. It should then continue to guide the country to attain the long-term goals established through its study. As the government works towards rebuilding Nepal's cities and villages, can the commission also help strengthen democratic institutions and political processes, and reconcile existing divisions?
To help with the study and effort to rebuild Nepal, the commission should call on experts inside and outside the country for interdisciplinary collaboration. Non-governmental organizations, the private sector, experts, intellectuals and the media can contribute in the rebuilding and disaster preparation efforts by helping answer the questions posed above with competency and integrity, and working collaboratively and effectively. To successfully rebuild Nepal, the government will surely need a large inflow of funds. How can Nepal government work to ensure a sustainable flow of funds? Can it work with foreign governments, multilateral agencies, and international organizations for both funds and technical assistance?
REAL LIFE. REAL NEWS. REAL VOICES.
Help us tell more of the stories that matter from voices that too often remain unheard.