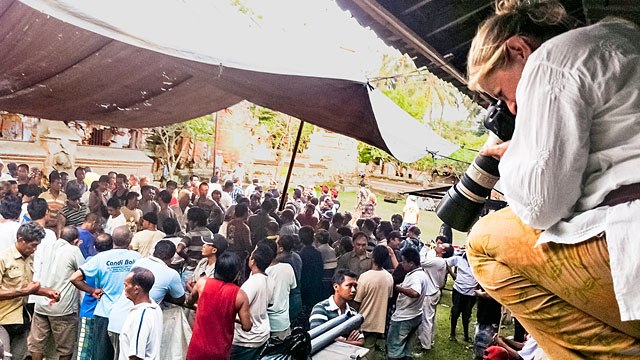 Photograph by Cojo Barnes, Courtesy Tai Power Seeff
Photographer Tai Power Seeff at a cockfight on Bali.
In January 1994 I received my first, and hopefully only, call from the FBI: My cousin Ylenia, then 23 and traveling alone, had made her way from Belize to New Orleans. Her passport and clothes had been found at a hostel, but Ylenia had disappeared. Twenty years later, she has yet to resurface.
My own solo travels began when I was in my teens, and through the excitement, loneliness, and fear I often thought of Ylenia. My parents usually had no idea where I was, whom I was with, or how to get in touch with me. When I think of it now, at age 34, I am astonished by the trust and freedom they granted me. Truth be told, I think they discovered early on that self-reliance was at the core of my being.
That said, I have had my purse cut from me with a machete, a gun held to my head, and my flimsy bedroom door kicked in, which resulted in an unsuccessful bushwhack through the jungle to recover the five months of film and the cameras that were stolen. Still, I count myself lucky that, as of yet, I have never been physically harmed.
Traveling alone, especially as a woman, will test your intuition, confidence, taste for adventure, and sense of self. The people you meet along the way will be a mirror to how you present yourself in that moment. At times it can be lonely and alienating, and you want nothing more than to be safe at home with people who have known you for years. But the thrill of discovering both the world and yourself on your own terms is well worth the challenge. And having lost an adventurous woman I loved and looked up to, I know the potential risks firsthand, so I make sure to follow some important precautions when traveling alone. . . .
This may sound unbearably uptight, but I almost never order mixed drinks when I'm traveling outside of the United States and Europe. It is not uncommon for cheap, deadly substitutes like methanol or ethanol to be mixed into the liquor in parts of the developing world. I might indulge in a couple of beers, but to avoid being slipped a sedative (a friend visiting Havana had $2,000 taken from him after his drink was spiked), I never leave my drink unattended and I usually ask the waiter or bartender to open the bottle in front of me.
If I do decide to have a couple of drinks, I make sure that I'm wearing flat shoes. As a solo traveler, I depend heavily on my own physical wherewithal, and the last thing I want to do is get buzzed and take a hard spill on some charming cobblestoned street.
Walking down a bustling street in Rio's lovely Santa Teresa neighborhood some years ago, I stopped to take a snapshot of a beautiful mosaic. As I was framing the photo, I heard a car stop behind me. I stood stock-still as a young man got out of the passenger-side door and approached me, machete in hand.
I did not resist, but because I was wearing a cross-body bag that was hard for my assailant to remove, he instead slashed it open with the machete and grabbed the contents as they fell to the ground. The experience left me shaken, but after hearing friends' stories of getting slashed, beaten, or tied up, I felt lucky to have come away physically unscathed.
My advice: Always give up whatever they want. Your well-being is more valuable than anything you might be carrying. (Dorky as it may be, a hidden money belt in addition to your purse can be an extra line of defense for cash or particularly important items.)
Even in my own beloved neighborhood in Oakland, California, I always have a keen awareness of my surroundings. I scan the street before I get out of my car or unlock my front door, and I rarely talk on the phone while walking down the street, especially if I have my hands full of bags. I've learned that for most crooks, it's about finding an easy mark and an opportunity to strike, so I try my best to make myself an undesirable target.