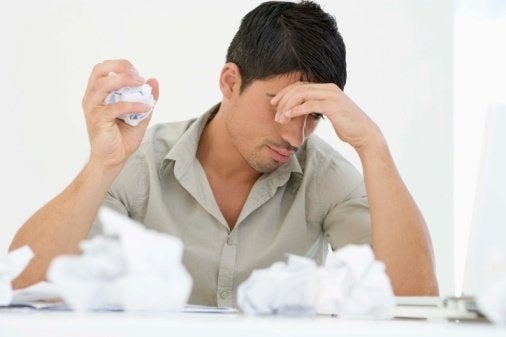 Why are you so hard on yourself? Over the last two weeks I've been exploring this.
What can you do about it? A lot.
The opposite of Perfectionitis is what researchers call "healthy striving." Studies show that healthy strivers set realistic goals that are the natural next step from where they are now. You can too! Go ahead and way you can work smarter, not harder.
Not only that. You get to acknowledge yourself for completing each step along the way. That adds up to a lot of positive internal reinforcement. The more often you declare something done and done well, the more you build your self-image as someone savvy and successful. And that feels great. Instead of rewarding yourself only when you reach the mondo outcome, you savor the delights of the journey. Since it's a pretty fab expedition, you take the flubs and toe stubs into account as part of the adventure.
Stop "Shoulding" On Yourself
Healthy striving goes along with healthy self-esteem. And when your self-esteem is alive and well, you tend to live from the inside out. You "pick a game you can win," as my friend Kathryn Allen says. You go for things that have juice for you inside and are attainable outside. You pay attention to the smarts inside of you. You let go of the "shoulds" and let the dreams of your heart have a say. When you do, you can't help but take better care of you. And, miracle of miracles, you cut yourself some slack and others too.
Contentment can't tell the difference between a Cadillac and a Camry.
Sounds like the perfect way to live? Are you beating yourself up because these three paragraphs don't seem to describe you? Watch out. Perfectionitis may be infecting the way you read this. It's easy to be a perfectionist about not having Perfectionitis! But there's an antidote. Read on.
The good news is that no one is unblemished. As far as I can tell, there isn't a single perfect person on the planet. Everyone has zits or cellulite or both. Everyone gets angry and disappointed. There isn't a person around that doesn't have some weird quirk or secret they'd probably prefer to keep to themselves. Hallelujah! Those vulnerabilities make each of us unique and even more lovable.
There are no perfect people. Everyone has zits or cellulite or both.
Eli Davidson
Who would want to live in a world of Stepford Wives? Not me. So why not give yourself a little break today? Let whatever isn't as good as you want it to be, be okay. Take a few minutes to let yourself just be. Be fab. Just as you are.dream big. Then lay out a set of reasonable steps that
Treatment: The Get a Life Game
Now it's time to kick off your Perfectionitis treatment plan.
Pick one or two of the the following items. Do it for three days and watch yourPerfectionitis. subside.
Please don't try to do this perfectly ... small steps are the surest way to succeed.
1. Center Yourself. Take in three deep breaths of tenderness. Let out three deep breaths of fatigue. Brava! You just took a step toward replenishing yourself. Way to go!
2. Ask for the Greater Good. As Mayor, take a moment and claim your office, and ask that your choices that are aligned with the highest good for all concerned.
3. Set Your Intention. Set the intention to be gentle with yourself and to honor all of you.
4. Just Say No. Take a look at what's on your schedule. Write down what you plan to get done today. How much time have you marked out for each item? Double it. Stuff takes longer than you think. What items on your list need to be removed? Say no to those tasks and renegotiate their timeline. Dr. Andrew Jacobs, one of the country's top sports psychologists, has helped many champions cultivate the mental attitudes that make them winners. He suggests to clients, "Learn to say no. Learn to let go."
5. Get Real. That's not all. Where is your You Time? If you don't schedule in time for yourself, who will? As Mayor, plan a recess break of at least 15 minutes. And make sure you keep it.
6. Get Really Real. Take a peep at your To Do List. Are your goals realistic? Or would you need to clone yourself to get everything done? Take a tip from my friend David Allen. Make a Maybe Someday List of those items you'd like to get to but can't at the moment. Check your Maybe Someday List weekly to see if the status has changed.

7. Get Really, Really Real. Stop being the Lone Ranger. Pick up the phone. Ask for help or advice. You probably have a pal who excels in an area that isn't your best.

8. Keep It Real. Sharing support is a sure sign of being in Perfectionitis recovery. There is nothing like pairing up with somebody to help you get real. Check in with each other. Having a buddy will help you to keep your commitment to take care of you while setting more realistic goals.

9. Praise and Prize. Congratulate yourself often. Even for the silly little things. " Boy, what a good job of flossing I did today." "Bravo, that was a superb meal I prepared for the cat." The more you praise yourself, the less you will be driven to seek praise from others.
10. Thank Yourself. Thank yourself for making any fabulous choice to take back your life.
What have you done to stop being hard on yourself? Please share your tips and tricks with us!
* Excerpted from Funky to Fabulous: Surefire Success Stories for The Savvy, Sassy
and Swamped (Oak Grove Press) with permission.
Eli Davidson is a nationally recognized motivational speaker and executive coach. Her book, Funky to Fabulous: Surefire Success Stories for the Savvy, Sassy and Swamped, (Oak Grove Publishing) has won three national book awards. Eli is a reinvention catalyst, who can transform your professional and personal life from Funky to Fabulous with her 10 trademarked Turnaround Techniques that create rapid and remarkable results. Check out her blog at http://funkytofabulous.blogspot.com/
Popular in the Community