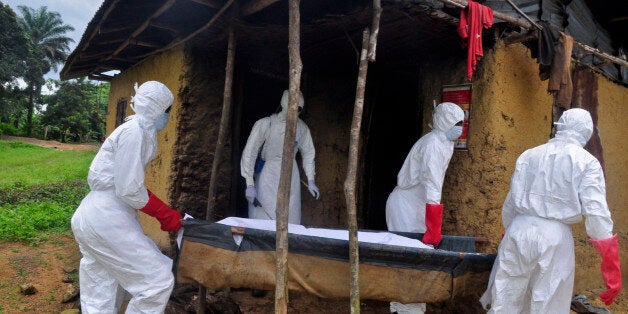 The Ebola crisis has exposed deep cracks in many nations' health systems and a blind spot of international development agencies charged with global health monitoring. The appearance of the disease in Texas and New York is a reminder of the risks that epidemics pose in our tightly interlaced world, as well as the folly of our having underfunded these important agencies in recent years.
The major development agencies have long been supporting the national governments of the three Ebola-affected African countries -- building up their capacity to provide health care, and focusing on a range of specific, non-Ebola-related health risks and vulnerabilities. Yet the agencies have largely ignored primary care and the development of public health protection infrastructure in these countries.
The consequence, as we now know, is a largely under-funded, overworked and disaffected front-line medical staff, backed up -- if at all -- by weak public health systems of laboratories, health communicators, and epidemiology staff who are the detectives of public health. Health system instability ramped up the current crisis. Unless changes come soon, future catastrophic epidemics are all but inevitable.
International development and health agencies need to shift their usually top-down approaches to strengthening their presence at the local level to improve the anemic public health systems of the three affected nations. It is community-led initiatives, in the main, that have stemmed the tide of Ebola thus far -- by attacking the source of the problem at the local level before emergency national government actions began taking hold.
Nigeria illustrates how innovations from the ground up can, and do, matter, galvanizing strong community and public health responses and some surprising ones as well: Nigeria's film, TV and recording artists have taken up the challenge of mass media-based education to help prevent Ebola's spread. Epidemics like Ebola simply cannot take root and thrive in a vibrant, motivated community with a robust health system. If a stronger public health and health care delivery system had been in place at the community level in Liberia, Sierra Leone, and Guinea, the current crisis could have been prevented.
As a powerful first step, global health and development agencies must listen to community leaders in Africa to understand their specific health care and disease prevention needs, rather than telling them what is needed -- and document and disseminate the most successful initiatives. Humility can go a long way, and the agencies will also need to be open to the idea that innovations aren't necessarily technical, but may be related to field operations and marketing. Developing an effective platform to collect and share data and best practices across a multitude of partners in this effort is critical.
The focus of international efforts and proposals also need to be built on durable community solutions, despite the three African nations' history of dependence on global development aid. Universal Health Coverage is one example of an excellent goal for every country, especially if the most deprived are brought on board first within the financial capabilities of the country and its citizens. The coverage must be comprehensive, with high-quality health delivery. Still, it is no substitute for a decent public health system that can prevent illness and stop epidemics before they take hold.
The United States is hardly immune from the conditions that fuel epidemics. Given the country's unique states' rights model, there is one micro public health system in every local health department in the U.S., or more than 1,500 in all, their patchwork nature raising the risk of poor coordination. Few Americans probably realize that the U.S. ranks among the lowest industrialized nations in life expectancy and devotes among the lowest proportion of our health expenditures to public health.
What is more, the Public Health Trust, established through the Affordable Care Act, has been consistently raided since its inception. The Prevention and Public Health Fund was slashed by 37 percent by the 2012 deficit reductions bill. What was to have been a $2 billion a year infusion to shore up the nation's public health efforts over the coming decade is now a shadow of what was originally intended.
The Ebola crisis, and future epidemics, can only be addressed with dramatic changes in direction. This begins with strengthening public health and health delivery systems around the world, including in the U.S., and fully funding the Centers for Disease Control (CDC) and the World Health Organization (WHO). Both have been burdened by budget cuts that can only be seen from the current perspective as having been a tragic miscalculation.

Chris Dickey is an associate professor of global public health at New York University and Cheryl Healton is NYU's dean of global public health.
Related
Popular in the Community