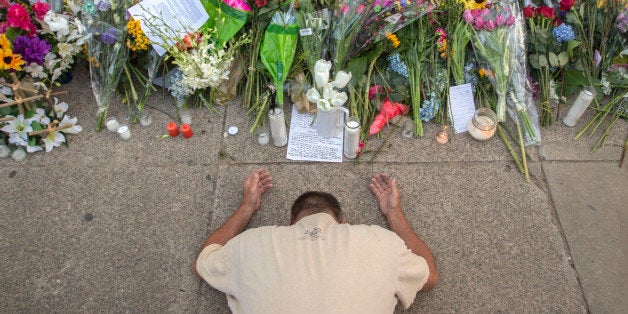 a) movie theaters
b) elementary and high schools
c) military bases
d) places of worship
e) colleges
f) none of the above
Yet most of us are silent as one more senseless mass shooting traumatizes a community, this time in South Carolina. Most of us utter a silent prayer, thankful our families aren't shot and continue on with daily life while blaming it on American gun culture or our broken government or something.
A few break their silence as they blame the Charleston church shooting on "the assault on religious liberty" (Rick Santorum) or "an accident caused by drugs" (Rick Perry) or "a sickness of not understanding where salvation comes from" (Rand Paul). Some have even suggested that more guns is the answer, such as "allowing concealed guns in churches to combat the bad guys with guns" (Mike Huckabee).
Statements like these are designed to garner short lived publicity while most elected officials stay mute. They are silent about our gun violence epidemic, not wanting to upset the gun lobby, who they believe keep them safely ensconced in office. President Obama appears visibly dejected that Congress will remain silent and not act once again after this latest massacre. We are supposed to resign ourselves to inaction and pray our way in silence to some sort of healing.
I am sick and tired of silence.
I am tired of adding new people to my list of gun violence survivor friends who spend their energy trying to keep the rest of us from joining their club. I am sick of public nonchalance that occurs after each mass shooting, as Americans surrender to the successful marketing of the gun lobby's interpretation of our Constitution. Victims are buried, lengthy trials are endured and we move on until the next tragedy rivets us, hopeful that it doesn't happen to our own family.
Last year in 2014, Missouri ballots contained a total of nine state constitutional amendments, including a new and improved right to bear arms provision. Urban prosecutors warned legislators that the proposed amendment would result in violent felons keeping firearms, but it advanced to the ballot anyway. Amendment 5 went to the voters in August 2014 but only 28.6% of Missouri registered voters bothered to show up to the polls and the amendment passed. Voter silence has resulted in mass legal confusion regarding the new amendment, which contains the nation's strictest gun rights protections in the country.
So who is responsible? We are.

Collective silence and dismal voter turnout throughout the country has elected legislators by default, the ones who are now in charge of advancing policy. Because of redistricting, most state legislators in the 39 GOP-controlled state legislatures are essentially elected in primary elections when the majority of voters stay home in silence.
In November 2014, with four serious constitutional amendments but no challenged statewide candidates on the Missouri ballot, a paltry 35.2 percent of voters showed up. Almost 65% of registered Missouri voters stayed away, as legislators endorsed by the NRA were effortlessly swept into office.
Who is ultimately responsible for dozens of gun lobby sponsored bills advancing not just in Missouri each year but in other conservative legislatures? We are. Who is responsible for the many legislators who remain silent during floor debate, even though their districts suffer the most gun violence in the state? We are.
Who is responsible for a Congress which continually fails to advance policies like universal background checks even though 90 percent of us, including gun owners and NRA members, overwhelmingly support these common sense measures? We are.
Who is responsible for re-electing a Congress which ignores majority opinion in favor of standing with the gun lobby? We are. Who is responsible for the myth that one can't get elected if they stand up to the profiteering of gun manufacturers? We are.
In our silence, we have forgotten that we hold the power to save lives.
Our power is our vote -- the power that the majority of Americans don't utilize unless it's a sexy presidential election year. Most Americans have no clue who represents them in state houses (where most gun laws are being passed) or even in Congress, which is exactly how the NRA wants it. On top of that, the NRA knows exactly who votes and who doesn't because voting records are public and available to anyone.
Vote the good guys/gals in, vote the bad guys/gals out. It's simple.
Demand that every candidate say exactly where they stand on removing guns from abusers and restricting guns from criminals and the violent unstable. Ask candidates in every single election, including school board races where many candidates get started in the political pipeline. Make it your responsibility to find out if they back the gun lobby platform or not.
Or get angry enough at the silence and run yourself. That is what happened to me seven years ago. But sadly I'm one of the loners in my state house who is willing to engage in debate and publicly stand up to decrease the number of gun violence victims. We need more.
Our silence on election days is increasing the carnage and suffering. We cannot afford more silence. Please help.
Popular in the Community