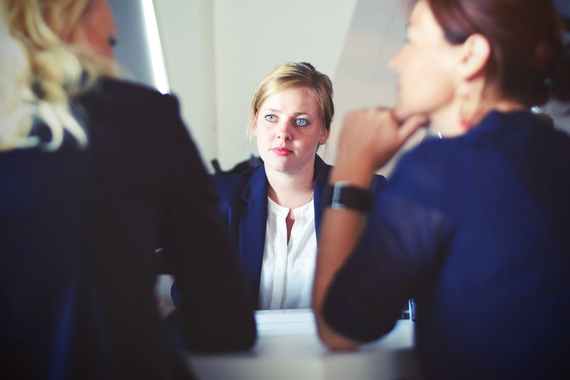 When you think about putting your resume together, the first thing that comes to mind is likely which skills you should include and what job experience will look the most impressive. While the details of your resume are certainly important (and what will ultimately land you the interview), you also need to know how to structure a resume.
Yes, the structure of your resume makes a difference for anyone you send it to. So, before you email that next resume off to your dream job, read through these tips and make sure yours is structured in a way that will be most beneficial for you.
Include your contact information at the top.
Right at the front and center of your resume should be your name (both first and last!) and your contact information. This is one of the most essential resume tips if you want anyone to give you a call back for an interview. If they can't easily find your telephone number, you aren't going to get the call. Make sure it's right there where they will see it and double-check that everything is correct. You don't want to mistakenly send a resume with the wrong phone number.
Open with a strong summary statement to grab their attention.
When you're preparing your resume, you want to keep in mind that these employers are receiving a ton of applications for each open position they have. And odds are, they aren't reading all of the resumes in their entirety. They're most likely scanning them from top to bottom, as opposed to reading them word-for-word. That means it's going to be even trickier to stand out from the crowd, so you need to find ways to make your resume pop.
You can do this by including a strong summary statement as an opener to your resume. It's an opportunity for you to briefly share your top skills and the relevant experience you have that would make you perfect for the job. With this right at the top of your resume, an employer is going to be more likely to see it and actually read it. Don't miss out on this opportunity to grab their attention!
One great tip for writing this section is to look at the listing for the job you're applying to. By reading through it, you'll pick up on which skills are most important to them in a potential candidate. If you have those skills, show them off!
Include your skills and back them up.
It's always a good idea to add some relevant skills to your resume. This is especially a helpful area if you don't have the work experience that an employer is looking for just yet. Even if you haven't gotten the work experience, it doesn't mean you won't stand a chance at the job. You've likely learned skills the employer would find beneficial and this is your chance to show them off.
List 12 or less skills that would be relevant to the job you're applying to. Again, you can figure this out by looking at their job listing and seeing the skills they value the most in an employee. Once you've chosen your featured skills, you should then back them up. By simply listing your skills, you're not telling an employer why you're great at a particular software or that you're a hard worker. They can't just take your word for it. Tell them why it is you've acquired these skills that would be an asset to the job. It's your opportunity to sell the skills you have so they won't be able to resist bringing you in for an interview.
Share your recent work experience.
One section of a resume that is often intimidating is the work experience section. For many people, they might just be starting out and they won't have the work experience an employer is looking for. Don't let that leave you feeling discouraged though! You should be proud of the work experience you do have, so show that off.
List your most recent jobs in reverse chronological order in this section of your resume. However, instead of repeating your job description like many do, use this area to your advantage. You can tell an employer what you accomplished at each of those previous jobs, so they can see just what you're capable of. In the end, they might see this and realize just how valuable you could be to their company and give you a chance with an interview.
It's also important that you don't get too carried away here. If you've been working for the past 20 years and you've held many different jobs, you do not need to list every single one of them. An employer will not look at them all, especially if they aren't really relevant to the job you're currently applying for. Keep this section short, sweet, and to the point!
Show off your educational background.
You worked hard to earn that college degree, so you better make sure you include it on your resume! Much like job history, you can add your educational background in reverse chronological order and showcase your most recently obtained degree first. For example, you should list a Master's Degree, then your Bachelor's Degree. Alternatively, if your degrees are in completely different fields, you can showcase the one that closely applies to the job you're seeking. If you're still in school, you can add that as well and include that you're currently a student and add what kind of degree you're working toward.
If you have taken any classes that directly relate to the job you're applying to, you can add that to your resume as well. It's another way to show an employer that you have experience in the field because you've been formally educated on it via classes.
Keep in mind that your educational background extends beyond just college and high school. In many cases, people have certifications and continuing education as well. You can include those on your resume to bulk it up and to show off what you've learned.
Popular in the Community