Most people get an MBA with one goal: becoming an executive. After graduating from the University of Southern California in 1983, Israeli-American immigrant Adam Milstein decided to become a commercial real estate agent. He worked for several years until his manager gave him a suggestion that changed his life: He told Adam to approach Israeli investor and multi-millionaire David Hager.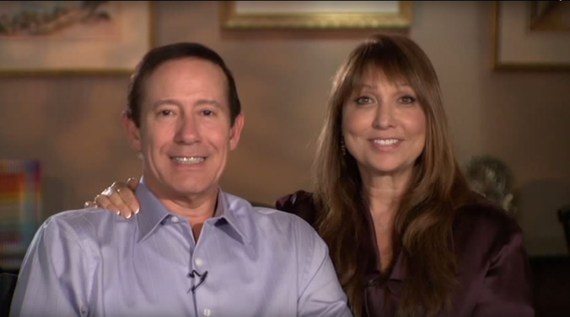 Image Credit: Milstein Family Foundation
At first, Hager wasn't interested in making Adam his sales agent. After a year of pitching and persuading, Adam convinced Hager to launch a 50-50 partnership business. Today, Hager Pacific Properties manages over $1 billion in real estate holdings. Adam is a multi-millionaire, an active commercial real estate developer, and a busy philanthropist.
Millions of entrepreneurs are angling to achieve the American Dream the way Adam Milstein did. He's willing to share his secrets, but fair warning -- some of them will surprise you.
1. Take the Long-Term Approach
Over and over, Americans see one type of entrepreneur portrayed in the media: a male with spiky hair wearing a casual suit and sneakers, probably in his late 20s or early 30s. He had an ingenious idea for a tech startup, got some venture capital, and became a sensation. It's all very shiny and fast-paced... and in most cases, it's a fantasy.
Adam made his fortune launching a business in a traditional industry: real estate. He quietly amassed a portfolio and together with Hager, rehabbed and monetized properties all over the United States. He says success isn't the overnight story we see in the media, and it's not only for the young. The average startup founder is 40, not 25. Also, someone who's 55 years is twice as likely to launch a high-growth startup as someone who's only 35 years old.
2. Make Money for a Reason
Entrepreneurs often assume money is the ticket to a life free of problems -- as well as an open spigot of shiny and expensive things. Adam sees money as a vehicle enabling him to do the things he loves to do. In fact, he spends about half his time working on philanthropic projects through the Adam and Gila Milstein Family Foundation.
"To accumulate wealth just for the purpose of having more and more and more of it is meaningless," he says. "We can get bored, we can enjoy life, and we can die, but I don't think this is the real purpose of us being placed here." He says the key to making a difference is to commit both time and money to succeeding. "I believe we are put here to leave the world in a better condition than we have found it."
3. Don't Be Overconfident
Entrepreneurs are great salespeople, swanky dressers, and they always bring the win. Right? Not necessarily -- at least, not according to Adam Milstein. He says one of the secrets of his success is that he knows not to be overconfident, a lesson he learned as an Israeli soldier on the Sinai Peninsula.
During the Yom Kippur War, Adam watched his country almost lose its sovereignty because its leaders assumed no neighboring country would have the guts to attack Israel. War taught him the importance of never underestimating the competition. "Never get so caught in chasing your own recognition," he told students at a national Alpha Epsilon Pi gathering," that you lose sight of who you are."
4. Keep an Open Mind
Most would-be entrepreneurs surround themselves with yes-men (and women) who believe in their vision. Adam says it's a better idea to surround yourself with people who can teach you something. He says one of his biggest secrets to success has been working with people who challenge his assumptions. "Life," he says, "is a never-ending learning experience."
5. Find a Friend, and Be One
If Adam had never pursued David Hager as a business partner, he wouldn't have built his real estate fortune. The key to succeeding in business partnerships is to find someone likeminded who also does something you can't. "David is a good negotiator and a visionary," Adam told Alpha Epsilon Pi. "I'm detail-oriented, and I execute the plans."
The Ultimate Win: a Rewarding Life
Adam Milstein has accumulated a lot of wealth and business success, but ultimately, his greatest satisfaction comes from his family and from his philanthropic work. "The more charitable we are, the higher the rewards," he says. "And the greater is our ability to give more and more."
REAL LIFE. REAL NEWS. REAL VOICES.
Help us tell more of the stories that matter from voices that too often remain unheard.