A marketer's perspective and tips for getting customer attention, even when you're not a Super Bowl advertiser
The cost of a 30 second commercial for the first Super Bowl in 1967 was $42,000. By 1995, the average cost of a 30 second ad crossed the $1 million barrier, and for Super Bowl LI, the cost is a whopping $5 million. In fact most advertisers will spend another 25% or more of the 30 second ad cost to properly promote the ad leading up to the Super Bowl. This is a major brand investment for just 30 seconds of awareness. How can companies get the most out of their advertising spend when audiences may not be fully tuned in?
The Super Bowl LI is fast approaching, and marketers of all industries are scrambling to put the finishing touches on their campaigns in an attempt to stand out. If you're not advertising in the big game, how can you still stand out?
Here are some tried and true digital engagement best practices to make an impact during one of the noisiest marketing weeks of the year.
1. Develop a Cross-Channel Engagement Strategy
For millions of viewers, the first screen during the Super Bowl is their smartphone or tablet. Previous Super Bowls have shown tens of millions of brand engagements on Twitter and Facebook. 73% of Super Bowl fans said they plan to use at least two devices during the game. TV advertisers must link their ads to social networks in order to maximize audience engagement. Nielsen research indicates that people who engage with Twitter while watching TV have a 157% higher brand favorability, and 88% higher intent to purchase.
Number of conversations about the game and advertisements
Most mentioned terms and hashtags associated with the Super Bowl
Top brands and volume of mentions
Social sentiment of the game and advertisements
We are approaching a million conversations related to the big game already - watch the LIVE INFO-GRAPHIC here.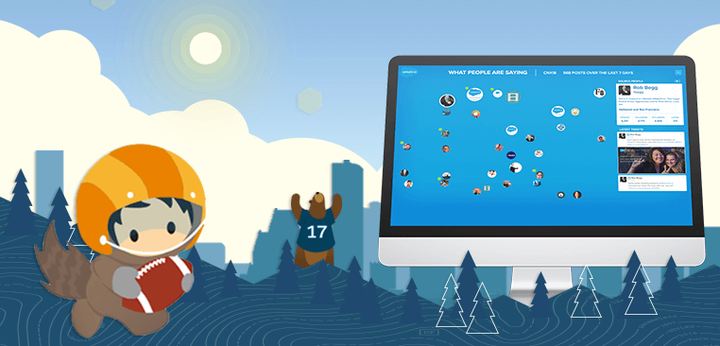 2. Integrate Channels, Make it Personal
In a digital economy, the new currencies are personalization, immediacy and intelligence – according to the Salesforce State of Connected Customer research. Customers expect that every touchpoint with companies is an opportunity to engage. Consumers expect companies to anticipate their needs and interact in real-time. Advertisers who can engage in real-time during the Super Bowl with viewers must have a strong omni-channel service delivery model. Brands that use advance analytics can leverage customer touchpoints sourced from ad CTAs to customize their offerings. Today, only 15% of companies have advanced marketing and sales capabilities – an integrated sales and marketing business process powered by marketing automation and digital customer journey mapping framework.
There is a Super Bowl-sized audience on Facebook and Twitter every day! Are you set up to take advantage? 75% of marketing leaders report that social networking advertising is generating significant ROI. 66% of marketers are boosting budgets for advertising on social platforms, making it the third largest area for increased investments. Knowing your audience means investing in social listening capabilities that are tightly integrated into your CRM platform and mobile applications, giving advertisers that ability to deliver personalized content via journey maps, email and social automation and use of advanced analytics.
4. Social Second-Screen (or First-Screen Now) is the New Battleground
The link between social marketing and revenue increased by 3X from 2015 to 2016. Nearly half of marketers report that social media marketing is directly linked to primary revenue source. 82% of marketers agree that social media advertising is core to their business. In 2016, 39% of marketers report significant ROI generated from social marketing, compared to 9% in 2015. Top marketing teams are 11X more likely than underperformers to be excellent at responding to social interactions in a timely manner. Social listening and publishing go hand in hand for top marketing teams. 80% of high performing marketers publish content at least 2-3 times per week. Your Super Bowl ad campaign must be supported by variety of content (videos, infographics, blogs, tweet-chats, GIFs, etc) that can be delivered to viewers across their channel of choice, during and after the big game.
Here's an example of previous Super Bowl Stats based on Salesforce research – I expect significant increase in these stats for this Sunday's Super Bowl:
1. 66% of Super Bowl viewers will use Facebook while watching Super Bowl XLIX — making it the #1 social channel for usage during the game.
2. Twitter, Instagram, and Snapchat, respectively, were the next most-popular social channels to use while watching the Super Bowl.
3. 11% of Super Bowl viewers will use Snapchat while watching Super Bowl XLIX.
4. 43% of Super Bowl viewers aged 18-24 will use Snapchat while viewing — compared to 11% of viewers overall.
5. 61% of Super Bowl viewers will use a smartphone while watching the Super Bowl.
6. 72% of Super Bowl viewers aged 18-24 will watch the game with a smartphone in hand.
5. Invite Engagement and Keep it Simple
Keep your marketing campaign simple and make sure you have an ask or invite to engage. Our analysis of prior Super Bowls show that most advertisements do not have CTAs. Research shows that 61% of consumers watch the Super Bowl with a smartphone in hand and yet 51% of advertisers elected to run acts with no CTAs. Keep the CTA simple and make sure you give viewers the opportunity to engage with your brand. A simple hashtag, even without a CTA, can bolster engagement across Twitter and other social networks.
6. A Good Story Can Change the World
Stories connect us. Stories are how we make sense of the world. Does your Super Bowl marketing or social campaign tell an inspiring story? Stories give context to information. An authentic story, perhaps featuring your company's employees or customer, can resonate with a large audience. Perhaps your CTAs are tied to an open narrative, where you invite viewers to take part in your cause-driven journey. Using advanced analytics, a brand can measure viewer sentiment and pivot as needed (sharing different points of view of your story) in real-time to maximize viewer engagements.
With over a hundred million live US viewers expected to tune into the Super Bowl LI, brands have a significant opportunity to share their company's story and highlight their products and services. Smart marketers will leverage their digital marketing capabilities to reach their existing and potential new customers in a whole new way – one that is personalized, immediate and intelligent.
Popular in the Community