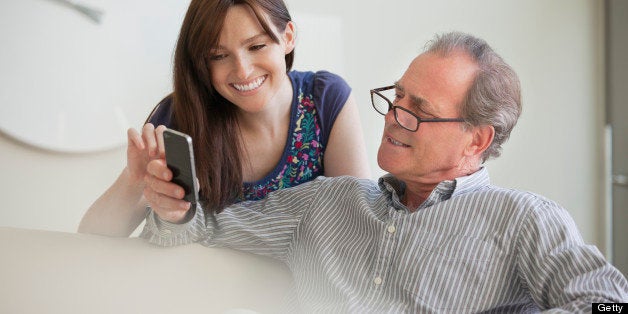 As a British woman who has coached global leaders for over twenty-five years, I've long recognized how daughters who show an affinity for leadership roles at school and college, can change their father's thinking regarding women in positions of power and influence.

As an example, in the popular BBC series Downton Abby, when Lord Grantham's daughter, Edith announced that she'd been offered a job as a journalist to write a column on the issues with which modern women are faced, her father scoffed.
'The editor just wants you for your connections," he ridiculed, not even having read Edith's work.
'Well," Edith replied gently, but firmly, "the editor actually thinks my writing is rather good."

During the First World War, it was unheard of for British upper class women to work outside the home. Yet two of Robert Grantham's three daughters -- Sybil who trained as a nurse, and Edith who moved to London to become a journalist, bucked the trend. His hardline attitude softened as he was challenged by their "revolutionary" views. Lord Robert learned, albeit reluctantly, to value the professional contribution his daughters were making to society.
Nearly a century later, I've observed that the majority of senior leaders I've coached who have daughters are far more accepting of the importance of gender diversity at the top. These fathers have nurtured and encouraged their daughters to strive to achieve their career dreams. They also typically advocate for the importance of women in leadership roles.
Recently, a CEO challenged his board during a debate on the specification for a new board member in the UK:
"Whoever suggested that we shouldn't recruit a woman if she has a family?" he asked scathingly. "My daughter is the head girl at Adcote School in the West Midlands. I don't wish her to be faced with such nonsensical prejudice."
I couldn't help smiling. I knew how proud he was of his three daughters. His oldest had been planning to follow in her father's footsteps. She was studying engineering at Newcastle University and planned to do an MBA thereafter.
"In this organization," he continued, "it's our job to ensure that we have the best talent at the top." He turned to glare at the male HR director. "So let's have none of this gender rubbish around here."
In another organization, where I facilitated a board retreat, the CFO. David F., was attacked by the chairman for hiring too many women:
"What will you do if they all have babies at the same time especially in Europe where women get a mandatory three months' paid leave, and an option of a year off before returning to work?" he asked icily. "How will you run your department then?"
All the oxygen seemed sucked out of the room as people nodded in agreement. Except for the global head of operations.
"Let me tell you about my daughter," William R. cleared his throat. "As most of you know, she's the marketing director for a global logistics company. In that role she's had two babies. Her team of thirty-five around the world ran the division when she had to take time off. This was because she built a strong team, some of them also women." He took in a deep breath. "They were clear about their roles and held accountable even when she wasn't in the office. Surely, it's David's job to build a competent team rather than focus only on gender."
Realizing that everyone was listening, William continued:
"Sheryl Sandberg makes it quite clear that women need to 'Lean In,' but we all need to 'Lean In' too." Some of his colleagues nodded. David loosened his tie and looked relieved.
Why is it that attitudes towards women remain so stubbornly difficult to change? Men and sometimes women who are in positions of power continue to be skeptical about the effectiveness of women in leadership roles, despite impressive financial evidence to the contrary. A report from Catalyst (2010),confirms an astonishing fact that US organizations keep ignoring. Companies with a better gender balance at board level enjoy a 42 percent higher return on sales, a 66 percent higher return on invested capital, and a 53 percent higher return on equity than their rivals. Gender discrimination ignores financial performance and continues to thrive.
"You'll never see as many great women traders as men," hedge fund billionaire Paul Tudor Jones recently stated confidently at a symposium at the University of Virginia. (http://www.huffingtonpost.com/2013/05/23/paul-tudor-jones-female-traders_n_3328293.html). He attributed the problem to women who become mothers. "The emotional experience of having kids is too distracting," he claimed.
(http://www.time.com/time/magazine/article/0,9171,2144548,00.html)
On the contrary, if you look at longer-term investment returns, women are just as good as men, if not better. A study by Hedge Fund Research (2009) shows that since the late '90s, women traders outperformed men over a nine-year period.
As the economy continues to strengthen, women pursue jobs that are rightly theirs. Daughters are educating their fathers that they deserve a seat at the leadership table. Those organizations and business leaders who rate competence, not gender, will attract the most talented professionals. And these businesses will thrive and drive the economy.
Susan Bloch is a global leadership coach and author at KRW International. This is the first of a series of blogs on women and business. http://www.krwinternational.com
1. The Global You English, German (2010)
2. How to Manage in a Flat World (2009)
Popular in the Community