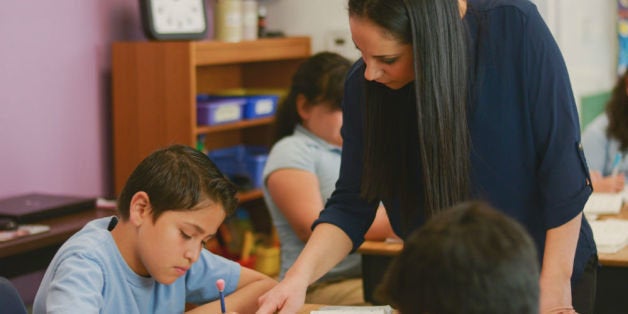 #respect4teachers is needed now more than ever.
Folks, I've been saying this for some time, but teachers across the country are underpaid and under-appreciated.
The deal is, teachers in lots of schools never get a break, and that's often true in schools that serve military families and those with underprivileged kids, too. DonorsChoose.org is about teachers getting the resources they need, and doing it right.
I've teamed up with DonorsChoose.org and some really generous folks who care about the education system in our country to help make every day a #BestSchoolDay for students across the country.
#BestSchoolDay is a call to action for people across America to support classrooms in need. DonorsChoose.org is kicking off #BestSchoolDay with a philanthropic flashmob of entrepreneurs, athletes, artists and philanthropists who are funding every single classroom request that teachers in communities across the U.S. have posted on the site. I'm personally funding all of New Jersey, and at my suggestion craigslist is funding Detroit. The thing is, I spent 10 years of my life in Detroit as a programmer, and after a decade, well, I had a small fraction of a clue what the deal was there. Detroit's an important part of my history. And so, I wanted to help.
Also, important to note that I'm a '50s-style nerd, grew up in Morristown, NJ, playing in one of the neighborhood junkyards. Please take that literally. I only recently realized that my family had been hovering between poverty and lower-middle class.
We need to get behind our teachers-in-need, and access the power and potential of online communities (organized via flash funding/crowdsourcing initiatives and otherwise) to get stuff done.
A seriously good way to give teachers a break is by donating through DonorsChoose.org. They're a great example of how we should all use the Net to help each other out, by pooling a few dollars to give people a break. DonorsChoose.org is something I can understand. It's like microfinance applied to classroom projects; we all can contribute a little to fund a classroom project.
Having the supplies to teach should be a fundamental right, but it's not. It's our job to give back to the people who are educating generation after generation.
Beyond that, I want to spread the message that everyone can make a difference. A nerd's gotta do what a nerd's gotta do...
Can you give back and help make every day a #BestSchoolDay?
This post is part of #BestSchoolDay, a national fundraising movement to ensure students have the supplies and opportunities they need to succeed. Visit here to see a map of all the classroom projects being funded and join more than 50 actors, athletes, entrepreneurs and philanthropists in supporting classrooms across America. To join the conversation on Twitter, use the hashtag #BestSchoolDay.
Calling all HuffPost superfans!
Sign up for membership to become a founding member and help shape HuffPost's next chapter