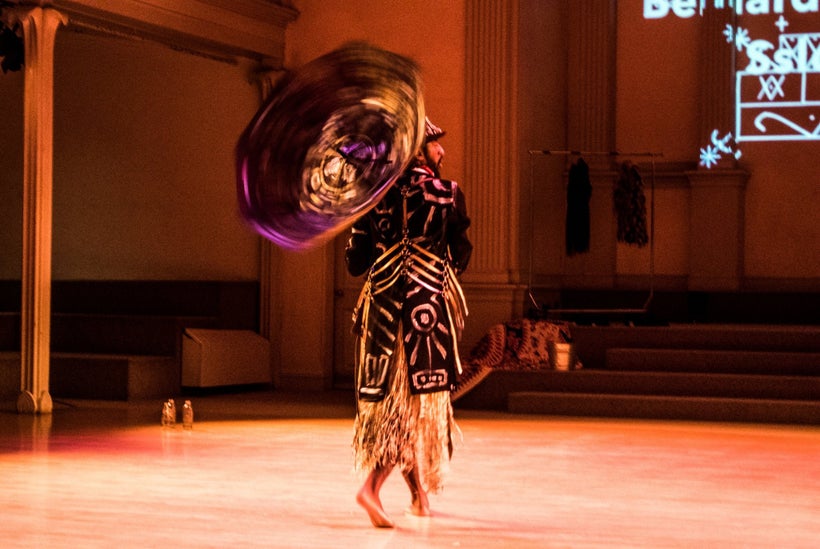 "With a party". That is one answer proffered to the unasked question in how to survive a plague. Created by Brother(hood) Dance!', this look behind the virus that continues to ravage entire communities embraces a life-affirming vision that reconstructs the last days of free love, when people still opened themselves to sex with few thoughts of certain death.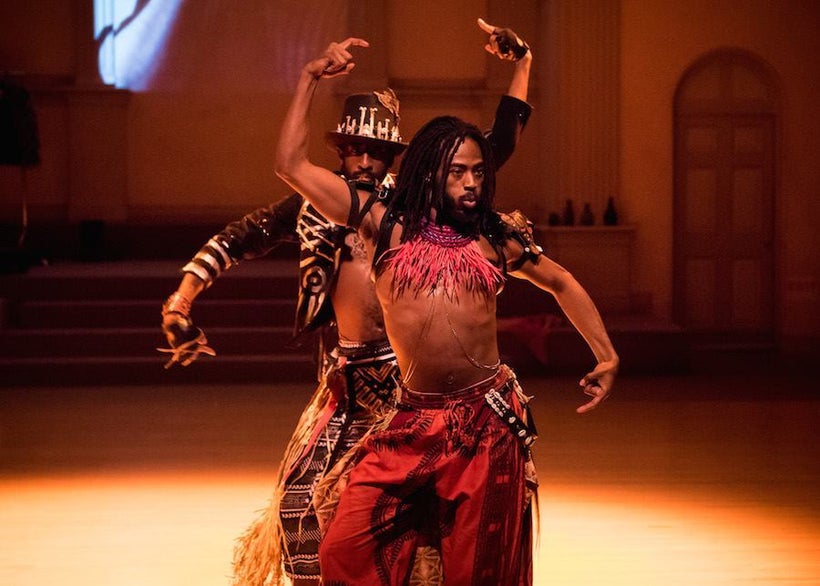 how… unfolds in the tradition of Ivory Coast storytelling - wherein there is little division between singing, dancing, or acting. Orlando Zane Hunter Jr. and Ricarrdo Valentine, both exquisite, have crafted a gripping tale about two Same Gender Loving Black Men who lose themselves in each other as the world falls apart around them. Valentine appears first as a manifestation of Papa Legba, dancing an invocation that opens the doorway for spirits to unveil their stories. Hunter playfully answers this call from the upper balcony of St. Mark's Church with provocative greetings in French, interspersed with bursts of saucy laughter. He is an incubus possessed Houngan attired in red - Shane Ballard designed the fabulous costumes - and happy to tease the wary audience along. Soon he has convinced the entire house to take hold of a red string that links all in what will unfold: the last rites of two men reliving their AIDS induced death.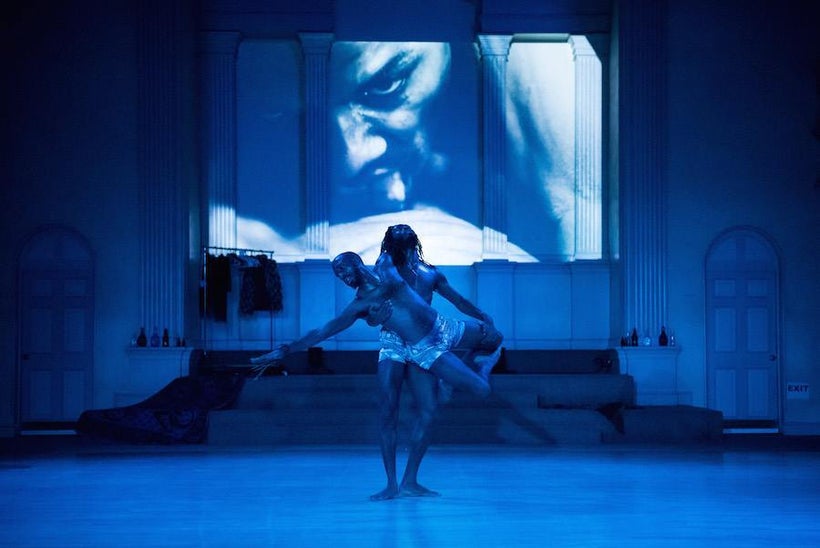 The story begins with remembrances of how these lovers met: at a dance party replete with bumps and grooves. They unite in a sensuous duet where hips never part, even as the two roll over each other to make love upon the dance floor. This sequence flows upstage across the ground, mimicking the passage of time and distance. Rousing, they continue with a galloping dance of great abandon and spiraling leaps: Valentine's dancing is always cool and finely attuned with razor sharp precision that etches in unseen dimensions. Hunter matches him blow for blow with an endless bounty of energy that is more lion than gazelle. It is Hunter who drives Valentine, but it is Valentine who catches him before he falls. A series of jars filled with water are ravenously consumed by this hard partying pair as if to quench an inconsolable thirst; now they are suffocating, and yet neither can stop the consumption. This poetic depiction of addiction is frightening in its acuity; with every gulp they shudder, which gives way to trembling. One wonders, "Was this the point of infection?" Despite their shaky standing, they dance onward until both are reduced to crawling across the floor, mere carcasses of their former glory.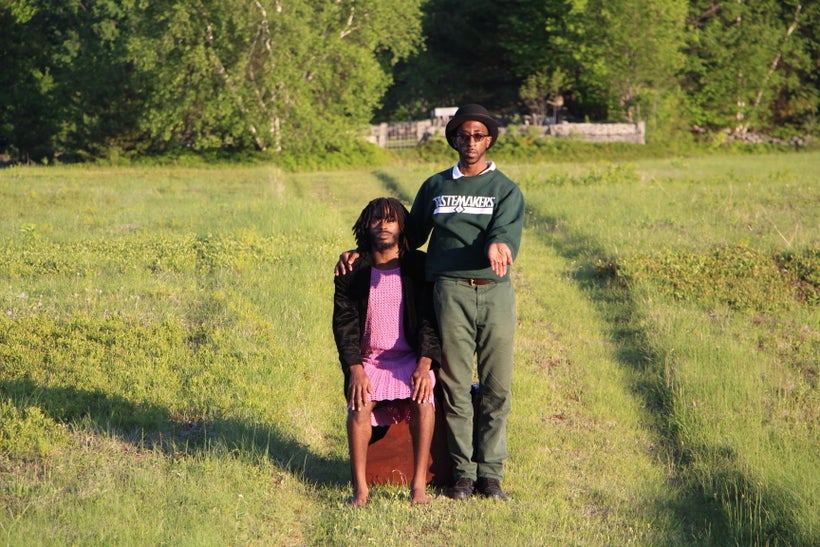 A moment of respite comes from the siren voiced Starr Busby, who materializes as if she were the light of the moon breaking through stormy clouds. She uses her beautifully plush voice and a vocal recorder to construct - in real time - an entrancing tapestry of sound that cleaves past the fever dream with a bridge to the Dreamtime. Her song is a promise that what was lost will not be forgotten; that those who have suffered will transition beyond their pains. It is not a hymn that offers forgiveness or peace; it is a multi-textured prophecy of death and rebirth: those who have died will be reborn, only to die again, though perhaps in better circumstances. This cosmic incantation transports Hunter and Valentine to happier times; perhaps it is the past, though just as likely it is the future. The two transform, into what was once nightclub get-down gear, but is now Afro-punk finery. Soon they are grooving with returned vitality in a sock-it-to-the-rafters soul train line that summons a savoury group of multi-generational dancers - including the always wonderful Cameron McKinney and smooth swinging Tyrone Bevans - and beckons the audience to laugh, cry, and celebrate that they have survived the plague if not intact, then certainly together. Though the sickness continues, at least for one night, all were connected - even if only by a thread of red yarn - and delivered the promise of living to dance again.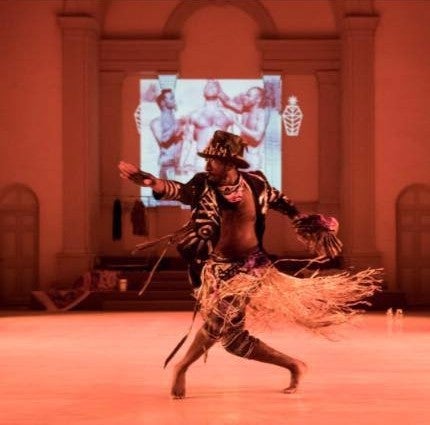 Part of the majesty of this phenomenal paean to life comes from the feeling that anything could happen at anytime and that somehow this duo would make it work. Valentine and Hunter have constructed an uplifting Black Southern funeral and a love letter to an oft-marginalized community. There is an ongoing discussion regarding how to solve the crisis of under-representation; a great start would be by supporting more work like this.
how to survive a plague premiered on October 19th - 21st, 2017 at St. Mark's Church as part of Danspace Project's Fall Season. It was conceived and performed by Brother(hood) Dance! For more information, visit: bhooddance.com
Calling all HuffPost superfans!
Sign up for membership to become a founding member and help shape HuffPost's next chapter
This post was published on the now-closed HuffPost Contributor platform. Contributors control their own work and posted freely to our site. If you need to flag this entry as abusive,
send us an email
.