How to Survive a Trump Presidency.
NASA (and other agencies) confirmed on January 18, 2017 that 2016 was the hottest year on record, breaking the records set in 2015 and 2014. Meanwhile, President Trump has nominated climate "skeptics" with ties to oil to run the Department of Energy (Texas Governor Rick Perry) and the Environmental Protection Agency (Scott Pruitt).
According to the U.S. Energy Information Administration, 80% of U.S. carbon emissions come from the energy sector – namely transportation and electricity. Roughly 10% of total greenhouse gas emissions are from agriculture. According to Professor Carlo Leifert of Newcastle University, "Conventional farming uses approximately 115 million tons of fossil fuel and causes greenhouse gas emissions equivalent of more than 230 million tons of CO2 per annum; organic farming practices are based on nutrient-recycling and do not rely upon synthetic chemical pesticides."
Therefore, if each of us found a way to plant a garden in the back yard, cut our electrical usage dramatically and ride a bike everywhere, we'd be solving up to 90% of the problem. Imagine the savings if you did! Getting to this old-school utopia is easier than you know, without sacrificing your fashionista lifestyle.
10 Ways to Survive a Trump Presidency (and Preserve the Planet)
1. Plant an organic garden. Eat less meat. At home. At school. At church.
2. Shop less. Use less of everything. Reduce, reuse, recycle.
3. Ride a bike or walk to local errands.
4. Drive an electric car, take mass transit or carpool to work.
5. Switch your lighting to LEDs.
6. Air-test and insulate your home.
7. Install a timer on your water heater, and purchase energy efficient appliances.
8. Put your electronic devices on a power strip. Turn them off when not in use (such as when you're sleeping). You don't need to power your computers or your phone 24/7.
9. Power with renewable energy: solar if you live in a sunny state. Look into cooperative, renewable power solutions for your community, like anaerobic digestion, wind, etc., if solar isn't the right answer for you.
10. Save water and energy every way that you can. Xeriscape your yard, and help to remove the blanket of grass at school and church. (Of course, keep a field for sports!) Take the stairs instead of the elevator or escalator. Turn off the heat/cooling when you not there. Turn off the lights when you leave a room.
I've spoken to a lot of people who want to live a lifestyle of health and sustainability, who haven't yet adopted these measures. Below are a few of the excuses that even Greenies use to procrastinate doing the right thing.
1. Don't know whom to trust.
Below are trusted resources, a cost/savings analysis and easy strategies to get the job done now and start reaping the financial gains (no matter who President Trump puts in charge of the U.S. environment and energy).
1. Plant an organic garden. Eat less meat. H.R.H. The Prince of Wales and Professor Carlo Leifert are experts on organic gardening and farming. Organizations like Green Our Planet can help you plant a garden at your school or church, or at an inner city school or church that needs your support to make it happen. Savings: thousands of dollars with the added benefit of healthier food that your kids will eat because they grew it themselves. If this keeps your family from joining the epidemic of obesity, then the healthcare savings will be massive. Over 1/3 of Americans are obese. For additional information on why it's important to eat less meat, check out the WildAid PSA with Governor Arnold Schwarzeneggar and James Cameron.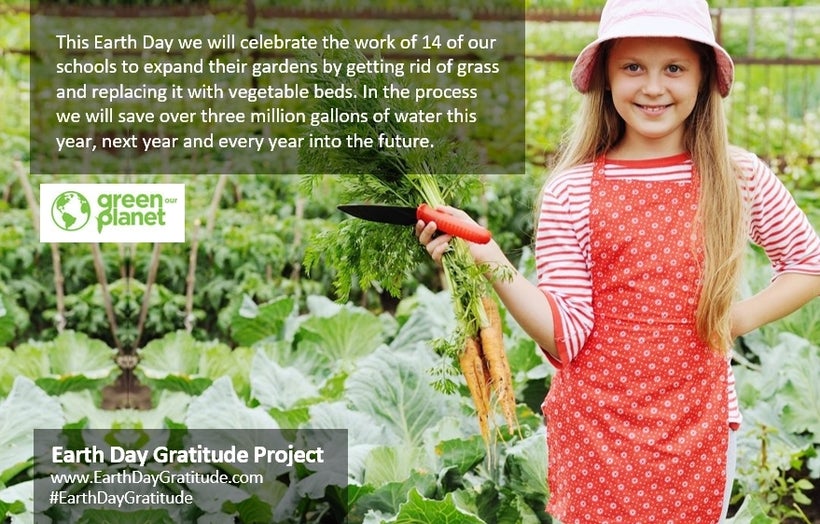 2. Shop less. Reduce, reuse, recycle. Use less of everything. According to the Natural Resources Defense Council, 40% of the food in America is wasted, contributing to a massive problem in our landfills. Shopping smarter, storing food better and eating your leftovers can save the average family $1500 a year. Learn more at SaveTheFood.com. Valuing people and planet more than money means that we might also find the perfect gift in our own home, rather than at the mall.
3. Ride a bike or walk to local errands. Health is wealth! This simple habit can save money in gasoline and health costs, while contributing to a healthier, wealthier, more beautiful you. Get inspired by Poundbury, England, a village designed and built for a post-petroleum world.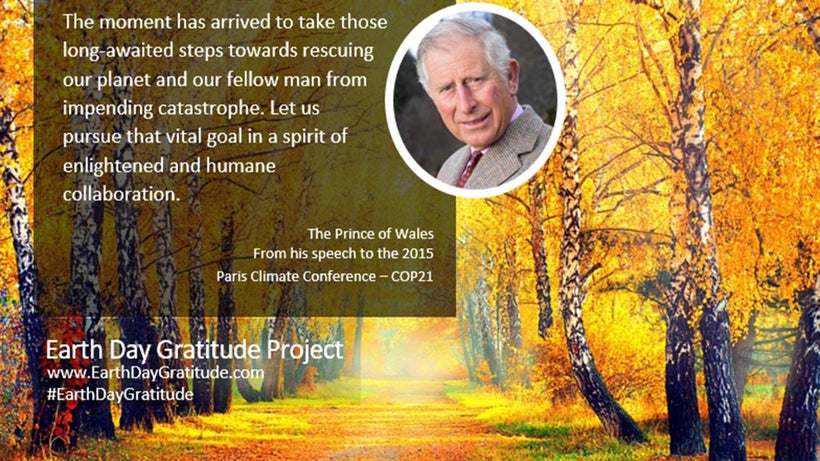 4. Drive an electric car, take mass transit or carpool to work. The average U.S. household spends almost $2000/year on gasoline – more when oil prices are not at their 10-year lows (source: EIA.gov). If you are powering your EV with your own solar, you could take this bill to zero, saving close to $10,000 over a 5-year period on gas savings (on average).
5. Switch your lighting to LEDs. LEDs use 15% of the energy of incandescent bulbs, while producing the same amount of light, and they don't contain mercury like CFLs. Bulbs are now less than $10/each and can last up to 15 years. Remember to factor in the electric bill savings that LEDs offer (85% savings). Don't be penny-wise and pound foolish on the bulb price.
6. Air-test and insulate your home. The Passive House US Institute offers all the resources you need to properly insulate your home and reduce your heating bill by up to 90%. When your home is properly insulated, Matrix energy can heat it!
7. Install a timer on your water heater, and purchase energy efficient appliances. Learn more about how to make smarter energy choices in the "Save on Your Electric Bill," chapter of my book The ABCs of Money. Energy efficient appliances can save up to 30% energy.
8. Put your electronic devices on a power strip. Turn off or unplug your entertainment systems and cell phone/computer chargers when not in use. Energy vampires use far less energy than big appliances. However, when they are being powered 24/7 unnecessarily, the costs and usage can really add up.
9. Power with solar. 30% of the cost of a solar power system is available in a tax credit now through Dec. 31, 2019. The prices of solar panels have dropped dramatically, with a payback time of just five years in sunny states. Solar panels have a 25-year warranty. Buy, don't lease, for the best return on investment.
10. Save water and energy every way that you can. By rethinking your home, garden and workplace, you can live a richer life, have more money and preserve the planet. Once you've done it for yourself, be sure to help your friends, neighbors, workplace and the less affluent schools and communities in your area.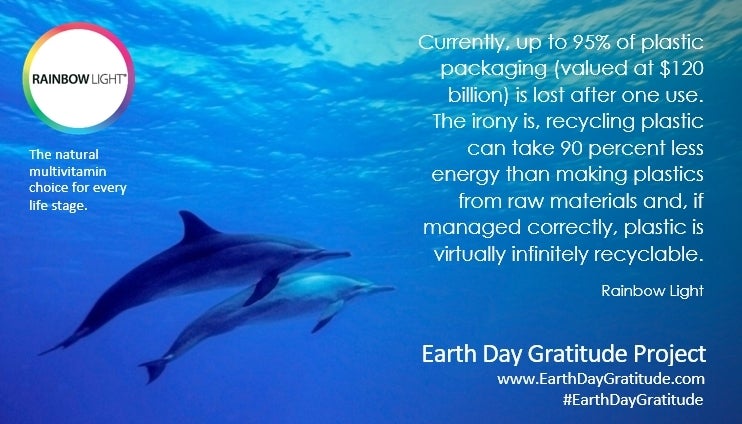 Big governments say they will reduce carbon emissions by XYZ percent by XYZ date. President Trump wants to reverse targets that we've already agreed to. Americans can cut our own energy usage dramatically immediately this year. If everyone in the U.S. did this, we would exceed our current carbon emission reduction targets. (Trump can't change that.)
Bacteria kill off their host without knowing they are destroying their life source. They don't have much of a brain. Humans cannot be that blind. Thinking about today's bills or meals, at the expense of tomorrow, has dire consequences. We're not on Mars yet. We need to preserve the planet we're on.
With oilmen running the energy and environment programs in Washington, it's clear that individuals must take matters into their own hands. The good news is that when we do, we get to the solution faster, and we benefit from saving thousands of dollars each year in our own budget. There are no reasons to procrastinate, and every reason to make bold choices starting today.
The good news about having a planet-hostile government is that each of us should be hyper-motivated to solve the problem ourselves. Go to EarthGratitude.org to download free mini picture ebooks loaded with sustainability information to help you transform your life, save the planet and save a lot of dough in the bargain.
Calling all HuffPost superfans!
Sign up for membership to become a founding member and help shape HuffPost's next chapter
This post was published on the now-closed HuffPost Contributor platform. Contributors control their own work and posted freely to our site. If you need to flag this entry as abusive,
send us an email
.