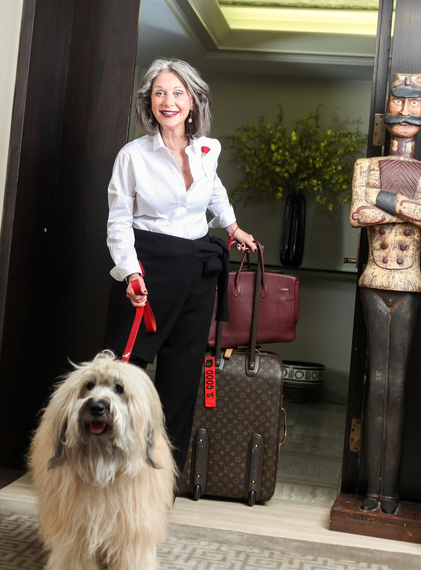 I am a world traveler so you can trust my advice when it comes to packing with ease. Not the laying out of our wardrobe, darlings...that is never easy, though I do have my tips for another time.
We are in the air again! My adrenaline is going full steam. It always is when it comes to the adventure of travel. Orchid, our pooch, is lying at my feet sound asleep without a care, Shelly is next to me reading the novel, Sandstorm, by Alan l. Lee and I am glancing out my window as our American Airline's flight takes off from Palm Springs for Chicago, my kinda town!
Why the travel this time? We are attending our grandson's wedding in Indiana, then back to Chicago for Thanksgiving with part of our family, and then off together...you won't believe where, darlings...to Paris and Brussels!
"My bags are packed and I'm ready to go", sounds so nonchalant but it is not unless you have a well-organized plan. After traveling to over sixty-five countries I know the drill and sharing is caring so here goes...
Rule #1: Do make sure you have well identified luggage. I put my name, address and phone number inside my luggage just in case. If there is a rainstorm, heat wave or you accidentally forgot something...don't sweat the small stuff. Ready cash and a credit card will come to your rescue.
Undies go in separate large zip lock bags. Easy to see, to unpack and to repack. Out of the suitcase and into your hotel drawer never unpacking. No folding or unfolding. What you see is what you got so just reach in when in need.
Separate outfits go on separate hangers. The hangers I use to hang my outfits are wire with wrapped around white cardboard. A plastic bag from the cleaners goes over each outfit. Why? Easy. Out of the suitcase and into the closet of your hotel room. Each outfit is easily identified. And unpacking is fast!
Shoes go into clear zip lock bags, not shoe bags. Making it easy for you to identify.
Bathrobe and slippers: I do not take either if we are staying in a hotel because 99% of hotels accommodate their guests.
T-shirts and caps: I use zippered clear bags. I have had them so long. I do not recall where I purchased them. My advice: Google it!
Make-up: I use a see through compartmentalized hanging make-up bag. I lay the bag flat in my suitcase and pack over my undies bags. NEVER FORGET A LARGE TRAVEL MAGNIFYING MAKE-UP MIRROR.
The order of packing my suitcase
Shoes go on the bottom
Undies are your second layer
Make-up is third
T-shirts, caps, nighties fourth.
Hanging clothes last
Good belts, jewelry and expensive small handbags.
All drugs.
Copies of important papers to include credit cards, passports, etc..
Every Sunday, if you are signed up for my emails, I write a Good Morning Story article. This Sunday I am going to add on more explicit tips on packing, unpacking and what to pack. So, sign up for my email for more info from the travelin' Honey Good.
Do Something GOOD today: Send this on to your traveling friends, to your children, and grandchildren to make their packing less stressful.
For more Travel articles, click here.
Calling all HuffPost superfans!
Sign up for membership to become a founding member and help shape HuffPost's next chapter