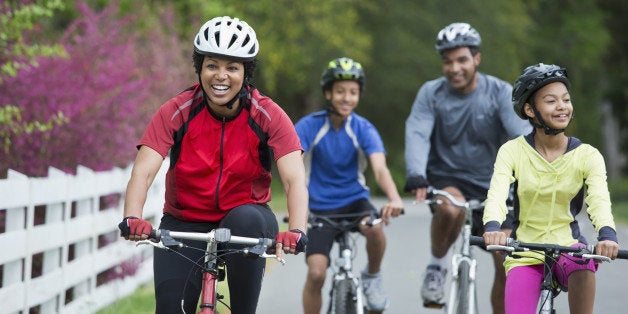 No plans for a family vacation this spring? No worries. Here are five strategies for surviving school-free days at home with the kids this Spring Break and having a fun, memorable time together without venturing far from home.
1. Do good.
As mindful parents, we instill in our children the value of helping others and giving back, but our hectic schedules don't always make it as easy to help as often as we'd like. A day off together with your child is an excellent opportunity to volunteer for a local cause. Take a few minutes to find a charity that speaks to you both or a local need that you are just right to fill. You may choose to clean up a favorite park, help feed the hungry at a food bank or visit with someone at a nursing home who could use a bit of company. There's nothing quite like putting your hearts in the right place and your energies to good use.
2. Pretend you are somewhere else.
Even if a beach or ski jaunt isn't in the cards for your family this spring, you can still get away together. Play tourist in your own city. Visit a local attraction your kids have never seen, such as a little known or new museum, an amusement park the kids are finally old enough to tackle, a park across town or even a different library branch or children's bookshop. If you'd really rather be poolside, make like you're at the beach and go for a swim. Pull the pool toys out of the closet and head to an indoor pool for a day spent in your swimsuits.
3. Create special family time together.
Your child won't feel envious of her BFF who's at Disney for the week if you surprise her with an out-of-the-ordinary family day at home. How about creating a day where no one in the house goes to work or school, everyone eats dessert for dinner, there's no bedtime and the whole family abandons their beds and piles together in sleeping bags for a special family movie or game night and a sleepover? If spring has truly arrived in your town, forego the television and pitch a tent in the backyard or on the back deck and have a family night under the stars.
4. Catch up with old friends and build relationships with new ones.
What better time to throw a party? Think of all the old friends you haven't had the time to see or the parents of your child's new friends who you would like to get to know. Invite a few classmates and their parents over for a play date in the backyard, celebrate the arrival of spring or host an Easter or Passover brunch. You can hire a sitter or two to entertain the kids while the adults enjoy a break together after a long week at home with the kids!
5. Take advantage of Daylight Savings Time.
Outlaw screen time and get your family outside to celebrate free time and a long-awaited end to winter. Get moving with a family hike or bike ride through a familiar or waiting-to-be-discovered part of town. If you don't already have one, think of investing in a quality baby seat for your bike. You'll open up tons of opportunities for getting fresh air and exercise with baby in tow. No bike? Head to the park to throw a ball, take your preschooler to a track with his scooter, or organize a neighborhood game of kickball. Being outside for the day is a great reminder that you're truly on vacation from your usual responsibilities and routines.
Here's hoping these five strategies help somewhat ordinary activities feel special enough for a vacation week with your family. We're betting that they keep you or the sitter and your kids happily entertained and happy to be together.
Popular in the Community