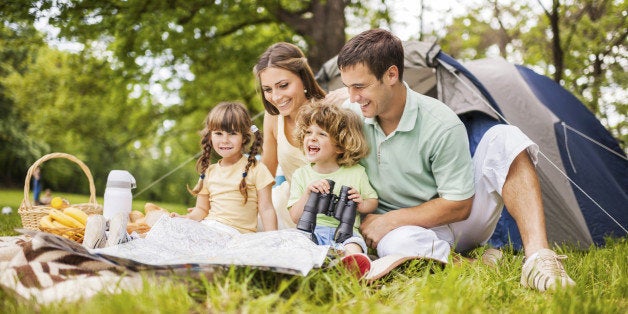 It's summertime and if you are like most parents in America your children have probably officially caught cabin fever. They have been in the house long enough to drive each other crazy but not long enough to go back to school but in any case it's time for them to get out the house.
Many families resort to sending their kids to overnight camps but for those other families who can't afford camps going camping is a safe and inexpensive alternative. So if your family is experiencing its' first camping trip or has been going camping for years here are a few tips to help you survive your family's camping trip:
In a world where technology is becoming more and more prevalent it may be a disappointment to your kids when they discover they don't have cell phone reception in the woods. Plan fun activities to keep your kids active so that they will forget about the use of technology.
Have Appropriate Fishing Gear
One of the most exciting things about camping trips for me is being able to go out and catch your own food. If you are planning to go fishing, make sure you are equipped with the right gear. One of the newest pieces of technology on the market is a handheld GPS for fishing which helps you when you are fishing in unfamiliar territory.
While camping can be fun you must also be sure to think smart. Thinking smart means picking well light campgrounds and also staying away from places known to be danger zone to campers.
Remember Amenities are Rare
Not many campgrounds are surrounded by the luxury of a bathrooms. Because of this you must make sure to plan a camping trip with the mindset that you may have to use the bathroom outside. Consider possibly renting a portable bathroom if you aren't comfortable with being one with nature
Pitch Your Tent BEFORE Your Trip

If you have never pitched a tent before it may be a bad idea to wait until the trip to pitch one. Practice putting up your tent at home to avoid mishaps once you arrive to the scene of the campground. Not only will this save time but it will also save embarrassment once your trip begins.
Did you have to learn the hard way about surviving your camping trip? Leave tips below of the things you wish you had known before you went camping.