Your family is coming for holidays? Hooray!
But how should you make sure the "hooray" remains for the duration of their visit?
We may have dreamed about this daily (or maybe weekly). We want to catch up; show them how we live; ensure they like our new country; we want to make the most of this meeting.
Sometimes it all works out splendidly, but more often we end up caught in a trap that might be called the New Year's Eve effect. We want it to be perfect so badly, that instead of having great fun we end up with – shhh, it is better not to even talk about it.
I went through this myself when my family came for their first visit. And I will fully admit I did not feel all that great about it. Luckily, after their visit, I read some books about expats and I felt a little better. I now understood I am not the only one dealing with this challenge.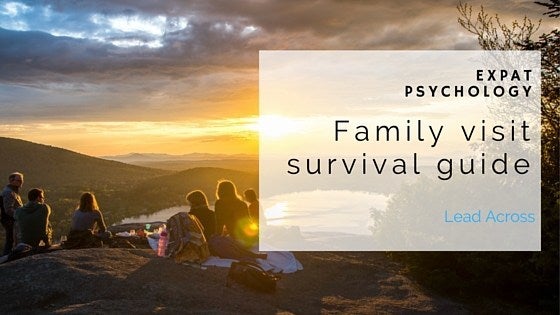 Here is some advice to make your family's visit in the US smoother:
1) Have your psychotherapy later.
Every family has some unexplained issues and it might happen that after a long time apart those issues will come back with a vengeance. This has a feedback effect – the longer you do not see a loved one, the more removed you are from those problems you once regularly dealt with, and so when you finally see that person after a long time you may find yourself ill-equipped to handle those problems. Indeed, many immigrants say that when they go back to their families, they feel the burden of such issues that used to not be so obvious. If your life does not depend on resolving these issues, maybe "let sleeping dogs lie" (an idiom meaning "allow inactive problems to remain so" - a hint bc I know English is your 2nd language :-)) during that week-long family visit. Especially if your family history shows that dealing with those matters results in nothing but fights. After all, you never know when you will see each other next. If you follow this non-quarrelling route, take a deep breath and…
2) Be together as much as possible.
Especially if you see your family once a year and you live on opposite sides of the world. You will look back on this time fondly. But give yourself some breathing space. Go for a run. Send your parents on a walk. After all, you have grown accustomed to not having each other around.
3) If you find yourself stressed and overwhelmed by your many expectations for this visit, most likely, your guests do to.
Remember that. It will make things easier for you all.
4) Remember that travel changes people.
You have changed. Maybe you view your family differently. Maybe your family sees the change in you. Consider this.
5) If the situation becomes unbearable, a conversation about all of the above, i.e., the New Year's Eve effect, may help alleviate the pressure.
6) Give your family dates that are most convenient for you.
Check your calendar and suggest the best time for a visit. This should limit the extra stress that can occur when you have to stay late at work, while your parents wait angrily at your place over a cold dinner.
7) Plan some trips and check what is worth seeing in the area.
Make an effort – your family will be grateful. But do not overdo it. Seeing ten attractions a day plus the added stress of falling behind while trying to finding a parking space (this is the USA after all) may ruin the whole visit. Unless, of course, your family loves this type of sightseeing.
8) Give several options and ask them to pick what they really like.
For one relative, I planned a trip to national parks that included camping and listening to coyotes. This did not end well, as the guest did not really feel comfortable out in the nature. His ideal trip involved seeing malls and buying American things.
Do not expect them to know what clothes they should bring, and what the weather will be like. You might avoid the situation I put my family in once, when all they had were flip-flops because they thought it is always sunny in California. We went to the mountains ... during a snowstorm.
10) Find something to do that is exotic by your family's standards.
They will go back with great stories to tell. For me an example of such exoticism is when I took my family to a country music venue. There was a free line dancing lesson at seven, then people gathered on the dance floor, in their jeans and cowboy hats, and started do-si-do. Terrific. Another example of exoticism is the surfer district near me, where everyone lives by the beach, like in a commune. They have hamburgers in Poland, even organic ones, but this kind of living experience they do not have.
11) You went through culture shock? Spare your guests the worst of it.
For example, do not let them walk to a store, if you know it is two hours away and they would need to cross a highway. Etc., etc.
11) And, of course, take as many pictures as you can.
Not just because family pictures are obligatory, but also because you will have a nice keepsake.
Popular in the Community