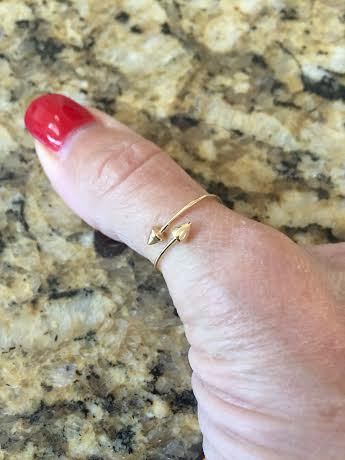 When my husband goes back to the hospital for another ten hour back surgery, as my son Sam wryly notes, "It's not our first rodeo." We know what to expect. My job is to be my husband's advocate. To keep him as comfortable as possible. Allay his pain, fear, and anxiety - as best I can. Take care of his every non-medical need - willingly and with mighty compassion, humor and patience.
At all of the above, I am not so great. Even though I have had a ton of practice.
Recognizing how little control I actually possess, I put certain things in place to keep myself sane. I stock up on Advil, chewing gum and packets of salt. Advil for the headache pain sure to descend on both sides of my temples, taking up permanent residence for days on end. Wads of gum to satisfy my stress induced craving for sugar and more sugar. And salt packets because no food is every salty enough for me.
I am very good at self-care.
But on post-surgery prompting - aka nagging - I am a champ. I am relentlessly instructing my husband to get up and walk. Use the breathing apparatus to prevent pneumonia. Eat more protein. Stay hydrated. Don't attempt to get out of bed unaided. Stop turning in his left foot when walking......
I am also proficient - highly proficient - on binge watching while keeping a watchful eye on my hubby. My newest craze is HGTV. I am totally captivated by the dynamics of the house seekers and the personalities of the TV hosts. My favorite show features identical twin brothers, Jonathan and Drew, aka "The Property Brothers." Their expertise in transforming run down spaces into wonderlands keeps me glued to the screen. Oblivious to the hospital sounds, smells and constant interruptions, my imagination roams wildly with potential make-over plans for our house.
Another HGTV favorite is "Love It or List It" featuring Hilary Farr and David Visentin - the dueling duo. Hilary renovates a family's existing home; David shows the family listings in their price range and then the family decides to stay put or move on. One thing I have noticed about the show - women almost always seem to get their way in home owning decisions, utilizing the plaintive plea that "it's good for the kids." I also noticed wives will favor properties close to their families - men don't even consider that factor.
In addition to binge watching, bookstore runs during his convalescence are frequent. My prickly conscience pushes me to lofty literature - A Little Life by Hanya Yanagihara. And Purity by Jonathan Franzen. I settle instead for X, Sue Grafton's newest release, and even then have trouble following the plot twists and line-up of characters. Clearly, hospital stays jumpstart my attention deficit disorder.
Another indulgence while my husband battles through back surgery and recuperation: Adult coloring books - the newest craze - and a jumbo container of markers in a rainbow of colors. Filled with intricate drawings, interwoven mottos to live by - each page is perforated for easy pull-out. I finish one, rip it out carefully and tape up to the wall beside my husband. It's my megaphone of choice.
Eating everything in sight also occupies a good part of my days at the hospital. Chocolate-laced bobka is my dessert of choice - a slice of two every hour or so quickly diminishes its size and adds to mine.
One afternoon a friend comes by, cajoling me into boutique shopping. Trying on scarves, hats, necklaces, bracelets and rings, I realize I need something to cheer me up. A ring for my thumb - a little frivolous - but hey, I deserve it after being cooped up a week in the hospital with my husband - playing Florence Nightingale.
Of course, I spend more than I should, but every time I look at the ring, I feel soothed. Fashionable. Funky. Not exhausted, dissipated and depleted. Unfortunately, I hopelessly mangle the ring, while knitting, just two days after buying it.
Poor me. No wearable ring. Expanding hips. Tight jeans. Temporarily disabled husband.

The morning after the ring debacle, I find out via the CaringBridge app that my favorite California cousin has just been operated on for pancreatic cancer.
I will willingly take the added hip girth straining my already too tight jeans. I will - with determination - approach the boutique owner about the possibility of replacing my ring. I will continue offering care, compassion and concern in helping my husband work through his post-op surgery issues - on his way back to renewed health and vigor. Gladly. Happily. Joyfully. Even, if still, imperfectly.
If you would like more of Iris Ruth Pastor and her musings, sign up for her newsletter at www.irisruthpastor.com
REAL LIFE. REAL NEWS. REAL VOICES.
Help us tell more of the stories that matter from voices that too often remain unheard.