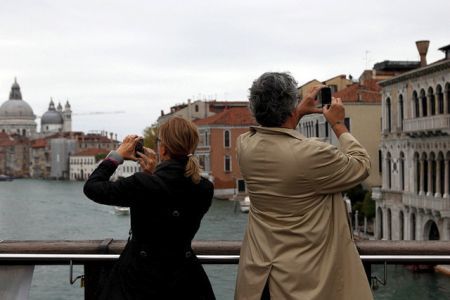 Roberto Trm / Flickr

There may be no better travel companion than your smartphone. Beyond putting useful information at your fingertips, these devices allow you to take detailed, high-quality images on the fly, often replacing bulky digital SLR cameras. While the smartphone camera's point-and-shoot feature makes it easy to use, choosing the right image-enhancing app can prove more difficult.
That's where U.S. News comes in. To help you tap into the best of the bunch, we combed the Web for the latest innovations in image shooting, editing and sharing. With these six apps (all less than $5) and pro tips, snapping sharp shots on vacation is a cinch.
Hipstamatic
Price: $1.99
Best for: Shooting
Compatible with: iPhone; iOS 6 or later required
For creative types, this tool allows users to take square photos (mimicking pre-digital photography) and enhance them with a myriad of filters and films for an edgy, vintage-inspired look. Among other features, you can choose from hundreds of effects, ranging from ultra-saturated tones, flashes and vignettes to retro-style borders that help capture travel experiences through an artistic lens. Aside from its old-fashioned, pre-digital appeal, Hipstamatic stands apart from competitors by enabling users to apply their preferred lens and setting prior to shooting. The caveat, of course, is that you can't manipulate images you've already taken. But with the app's "SnapPak" add-ons, you can choose from a variety of filters and flash categories (some for an extra $0.99 to $1.99 fee) that let you capture your subject through themed films and lenses, meaning you won't need to touch up after you snap. Take the Photojournalism SnapPak for instance, which includes lenses specifically designed for capturing crisp images and a film that allows for additional contrast and precision.
Pro Tip: Lay the groundwork. Before you shoot, set your viewfinder to the fullest frame to ensure your subject fills the entire screen. For added control and precision, take advantage of the app's self-timer feature.
Afterlight
Price: $0.99
Best for: Editing photos
Compatible with: Android; iPhone; iOS 6 or later required
This easy-to-use editing app allows you to sift through 59 filters, 128 frames and 66 textures for natural-looking, 35 mm light leaks. Along with the filters and frames, Afterlight allows you to pick from a handful of customizable wallpapers and shapes. With its abundance of filters -- including screens categorized by season -- the app is best used by travelers looking for distinct, detailed filter and texture options that many popular photo editing devices, like Instagram, lack.
Pro Tip: Reconsider your composition. When lining up your shot, you don't always need to adhere to the rule of thirds (placing an imaginary tick-tack-toe board over the scene, with your focus on where the lines cross). For a more imaginative effect, pivot your camera toward a new direction, such as the sun, to capture more light.
Camera+
Price: $1.99
Best for: Shooting and editing
Compatible with: iPhone; iOS 8 or later required
Camera+ allows you to point and shoot pictures with unique digital zooming, composition and stabilization tools -- ideal for capturing crisp action shots. The real "wow" factor is the app's wide spectrum of editing tools. Take the "Clarity" tool for instance, which allows you to intensify the definition of your shots by eliminating blurry backgrounds and correcting underexposed or washed-out images. Similar to digital cameras, the app also offers scene categories (such as "Sunset," "Food," "Night") to automatically enhance your photos without further adjustment. Once you've tweaked your image to your liking, you can upload it to a bevy of social platforms like Twitter and Facebook.
Pro Tip: Stay steady. The best digital photos are typically still shots. And Camera+ excels at maximizing exposure and focus thanks to its "Touch Exposure" tool, which allows users to simultaneously select focus and exposure points with two fingers on their touchscreens.
Snapseed
Price: Free
Best for: Shooting and editing
Compatible with: Android; iPhone; iOS 5.1 or later required
Beyond standard editing tools, such as cropping and auto-correcting, this savvy app enables you to adjust poor lighting in specific areas, providing added control throughout the editing process. The app has become so popular that Google purchased it, putting it in the running to compete with Facebook's Instagram. But unlike Instagram, the app doesn't offer 18 filters to browse through; instead, it keeps the original picture and modifies its appearance through customized creative enhancements, such as "Drama" and "Retrolux." These features allow you to adjust the image lighting and saturation, sharpen specific areas and apply a grainy, vintage effect through the scratches tool.
Pro Tip: Play with depth and focus features. Using an iPhone's Auto-Exposure/Auto-Focus Lock tool (available by touching and holding a particular area of your image until a yellow square appears), you can take a close, high-speed shot without having to switch your exposure or focus.
ProCamera
Price: $3.99
Best for: Shooting
Compatible with: iPhone; iOS 8 or later required
Like other high-tech apps on this list, ProCamera enables you to quickly crop, filter and edit photos. And with tools like "AntiShake" and "6x Foto Zoom," you can boost your camera's clarity and depth. But ProCamera's main draw is its controllable exposure feature, which allows you to shoot rich, detailed high dynamic range (or HDR) motion shots that enhance precision and overall quality. After you've taken your photo, you can fine-tune it in just a few quick taps thanks to the app's ProLab capability, which allows you to adjust your image's saturation, brightness and background. Plus, ProCamera is synced to popular social media platforms like Twitter and Instagram, so you can upload your creations with just a few slides on your touchscreen.
Pro Tip: Time it right. Since smartphone cameras offer different shutter release speeds (some are more delayed than others), you'll want to familiarize yourself with your phone's timing capabilities to avoid missing a memorable moment.
VSCO Cam
Price: Free
Best for: Shooting and editing
Compatible with: iPhone; Android
If you enjoy browsing through photo-editing features (clarity, saturation, exposure), VSCO Cam offers a wide spectrum of user-friendly tools on an easy-to-use interface. Once you pick your ideal filter, you can play around with the photo's sharpness, vibrancy and fade to add more artsy effects. Only 10 of the filter options are free, but additional filter packs are available for $5.99. And with VSCO Grid -- a collection of socially shared images on the platform -- you can find plenty of travel inspiration, from portraits to landscapes.
Pro Tip: Step closer. Avoid overcrowding your background by snapping your subject up close. This is an especially useful if the lighting is dim and the background is chaotic, or if you're looking to hone in on a specific subject detail, such as a facade or fresco work in architecture shots.
Related