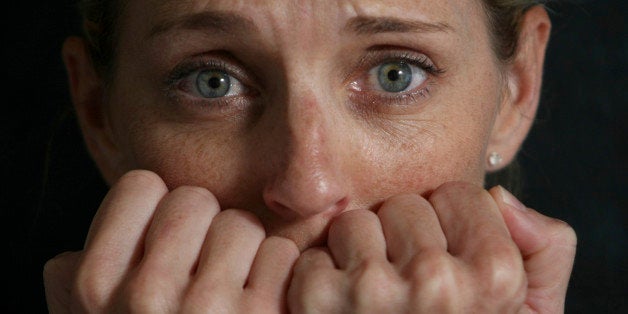 Feel like anxious thoughts are overriding your day and don't know what to do? If so, read my interview with Christine Hassler sought after life coach and author of the book Expectation Hangover. She teaches people how to leverage personal and professional disappointment. Hear her nuggets of wisdom on controlling your anxiety.
Q: In your last book Expectation Hangover, you explain how to overcome disappointment and manage the anxiety that often comes with it. Please share what exactly an expectation hangover is and why they bring up so much anxiety?

A: Let's first define what an expectation hangover is. An expectation hangover is when one of three things happens: either a desired result is not met, the result is met, but you don't have the feelings that you thought you would have from it--like you did land that great job, but you still don't feel a sense of purpose or fulfillment you thought you would. Or life just throws you an unexpected curve ball such as a layoff, getting dumped, or a diagnosis of an illness.
Whenever life does not match our expectations, it produces a lot of anxiety, because we are thinking, "Oh no, what do I need now?" This was the plan, this plan didn't work. I don't know what to do. I thought this would make me feel a certain way, but it doesn't. Now what do I do?
This kind of uncertainty creates anxiety because we loose that feeling of control so many of us love and rely on. When things do not go according to plan it can be very unsettling so we start to worry and get anxious about the future.

Q: What are your tips for reducing anxiety?

A: Being in the present moment. We really cannot feel anxiety when we are in the present moment. Plan for the future, but don't be anxious about it. Indulging in worry and anxiety is a poor use of your imagination! If you are worrying about the future, that is making up undesirable scenarios in your head - which is not an effective or anxiety free way to plan for the future. So if you are going to future trip, go to a desirable destination. Imagine best case scenarios instead!
Also, watch your internal self-talk. Practice thinking in a calming, soothing way. Think about a loving parent. When a child gets scared or feels anxious, they reassure them, comfort them, and love them. When we have anxiety or fear come up, we need to be just as loving and comforting with ourselves.

Q: What would you say for someone who hasn't done that before? Where would be the best place to start?

A: To start, bring to mind someone or a pet you love. Think about the compassion you feel for them when they are suffering, when they are hurt, or when they are in pain. Feel how your heart is so there and so open and so available. All of us can generate that feeling of compassion and love. We usually do it better for others than ourselves. It is important we turn that feeling of loving compassion on ourselves.
People consistently ask me, "How do I get rid of anxiety?" I say, "Practice." It's not as simple of a fix like saying: "Just drop 3 drops of peppermint oil in your water and voilà, no more anxiety!" If that were true, I would make millions on peppermint oil.
You have to intentionally be willing to practice changing your reaction patterns. We all have programmed responses based on repetitive behavior. If we want to shift something like the pattern of anxiety, we have to be willing to shift how we respond to the uncertainty and disappointment expectation hangovers can trigger. So if your habituated response is anxiety, when you realize it is happening, practice saying to yourself, "This is not the direction I want to go," take a very deep breath, get present and then speak to yourself in a compassionate, soothing way.