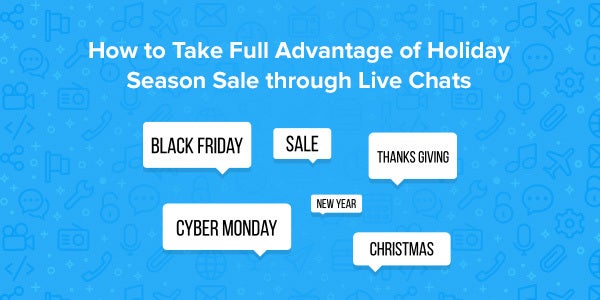 The business world is getting ready for another holiday season which is expected to bring up to 100% more sales in just last 2 months of the year than the rest of the year.
According to Phil Wahba at Fortune, the ecommerce sales is expected to hit more than $94 billion, through which the online business share will hit the 10% of the total holiday season sales for the first time. This will mark a major milestone for ecommerce industry. Washington Post article also seconds this forecast since Data Analysts Companies such as Deloitte and AlixPartners have already forecasted 3.3% to 4% increase in sales as compared to last season.
According to a recent report by Live Chat Inc., there is an average 63% more website visits in the holiday season as compared to usual day of the year. Black Friday and Cyber Monday are the top 2 days with 120.4% and 104.3% more visits respectively.
Holiday Season Live Chat Challenges
This huge boom and the increase in website visitors bring more chats due to which below possible challenges rises:
The queue waiting increases by 204.3% on Black Friday and 264.9% on Cyber Monday.
There is an increase in number of support tickets by 138.4% on Black Friday and 142.8% on Cyber Monday.
Chat duration increases on average to 11min 11sec and 11min 23sec on Black Friday and Cyber Monday, respectively.
Unavailability of Live Chat agents during a time of day.
Heavy traffic load on website may cause website/server downtime
Possible DDOS attack by hackers for ransom or by competitors on website/server/database
The businesses that ignore such statistics end up with low customer satisfaction, low quality of agents' performance, loss of potential customers due to long wait in queue, bad word of mouth and negative reviews by impatient or angry customers, excessive team workload and mismanagement, poor website performance and above all financial loses.
How Should Businesses Respond to this Challenge?
The increase in website traffic can give 63.5% more chances to sell via chat on Black Friday and a staggering 80.6% more on Cyber Monday. And I think no online business will let this opportunity skip.
To get the most of this information and the holiday season, you, as a business owner, ecommerce manager or marketing specialist, should take some steps to get prepared not only for wonderful expected revenue but also to avoid any potential threats to business.
1. Increase the number of sales & support agents
The main objective for any ecommerce business in the holiday season should be to decrease the queue size, waiting time and the number of tickets. This will automatically lead to increased conversion rate and thus the Holiday Season revenue. If you are unable to hire and train new staff in this short time period, get support from other departments, such as marketing, content etc. Marketing and content team can do wonderful work to minimize the queue waiting time or solve the ticket issues. I have seen many companies doing it and I can bet these guys can do it well.
2. Create a shift schedule to increase the customer service hours
Yes this is important. You can keep your team happy with continuous long hours. Create a shift schedule with more agents at the peak time of the day. If you operate globally or in several countries, provide 24/7 customer service with main scope on your major markets.
3. Introduce multiple channels for customer service
The New York Times bestselling author Shep Hyken says "Shoppers will expect more information and they want it quicker. For the customers, time is precious, so keep hold and wait times to a minimum. Technologies that can help are automatic call backs, chat bots for instant chat and self-help service options. YouTube videos are great for answering "how to" types of questions."
If you find it difficult to control the heavy influx of chats, emails or calls etc, go for self-help channels, such as knowledge base, social media and how-to videos etc. Make sure these are easy to find on your website. Agents can refer them to customers for quick solutions.
4. Ask the team to close chats in minimum possible time
Yes, customers come first and they should be delighted, but when you have dozens of customers waiting in line, deviate your aim to be time specific. In the peak rush time, agents should close the chat quickly but without rushing. It is better to provide something to everyone than nothing to someone.
5. Use authentic live chat tools
The performance of your chat team also depends on the software you use. All your above efforts will be wasted if you are using low quality chat software. I will suggest you to try out few best ones, their services, data monitoring, quality and features etc and then decide on one which is most suitable to your needs. There are many live chat tools available online including LiveChat, LivePerson and LiveAgent and many more. Check out the customer feedback and testimonials before trying them.
6. Make sure your website can handle it
Your website should be properly maintained and optimized before the holiday season. Perform website stress-test & speed test and consult your hosting/datacenter providers for optimum service. As Kavitha Mariappan, VP Marketing at Databricks rightly said "Web performance expectations have evolved and users are demanding much more. A one-second performance delay can be the difference between a profitable and unprofitable year."
Cloudways has provided some wonderful tips to boost speed of ecommerce store. It is very important that your website works without a glitch in all perspectives including, UI, order processing, payment procedure etc. It would be a big shameful loss, if your customer service is all set but you lose all those potential customers due to some website flaw.
7. Use security tools to avoid hacking attempts and DDOS attacks
The holiday season is not only a long awaited time for online business but cyber criminals too. Hackers start looking for opportunities. To avoid them, keep yourself protected with SSL Certificate and if you already have it check its validity and expiration date. It provides cryptographic security needed to protect your customer communications.
The most vulnerable security risk to business is DDOS Attack. It can stop and make your operations unavailable to undefined period of time. Use software such as DDOS Protected VPN to avoid any attacks on your ecommerce business.
Also keep a recovery plan ready with you and perform regular data backups. It is recommended to use cloud-based services such as Cloudways for secured and managed cloud hosting of your apps and website.
There is a lot of untapped potential in the holiday season ecommerce sales. If you are prepared for this year's holiday season, then I hope you will explore something more and exciting to open up new horizons for your business. Share you experiences, suggestions and feedback in the comments below.