The long hot days of summer are upon us and that leaves people looking for one thing after a busy 9-5 day. A big, cold, drink. Going home to pick out an outfit between work and play? "Ain't nobody got time for that." It's easy enough to wear something work appropriate during the day and then bring a couple of essentials to make a quick change from office gal to night time chic. The key is to have one stunning piece that is an "either-wayer"; something you would pick out to wear to work or to go out at night, then accessorize that piece both ways for an easy transformation. Now, where's that drink?
Here are some tips on how to take a look from work to play: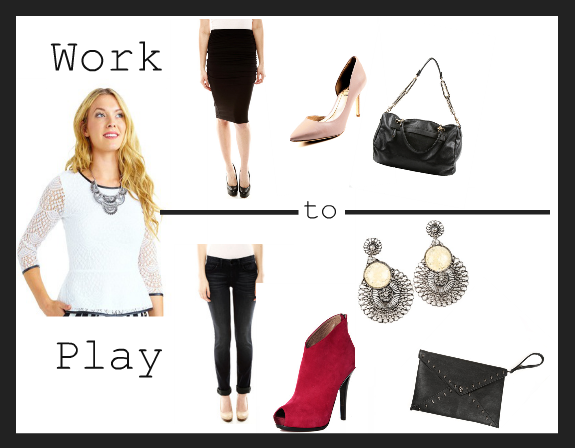 Main Piece: Peplum Top. (from Langford Market)
The peplum trend doesn't seem to be going anywhere, anytime soon, it is a trend that has been around since the 1800's, and we can see why. Who loves a top that accentuates the women with the curves and adds some to the women without 'em? This girl. Peplums are a magic garment, and the perfect piece to take from day to night. Peplum tops are an "either-wayer". When worn with the right accessories, they can look like they belong at the office or at a nice restaurant. Be sure to stick with narrow bottoms to really play up the peplum, and to avoid any confusion of bodyshape.
Work: For a put together look at the office, pair your peplum with a knee length skirt that stays slim the whole way down. This will create a beautiful shape à
la 1940's vixen . A chic, low heel in a subtle color will give you a fashion forward pop, and give that booty a lift in the mid-length skirt.
Play: Now that you're off the clock, say goodbye to low heels, and "hello" to a sexy colored bootie (this time forget the subtlety). A skinny jean looks great with a peplum. It, again, creates a vixen shape and will leave your legs looking sky high. Throw your hair up to show off your gorgeous face, and your favorite statement earrings. As far as bags go, ditch the hobo for the envelope clutch, big enough to hold the essentials. Which way is the bar?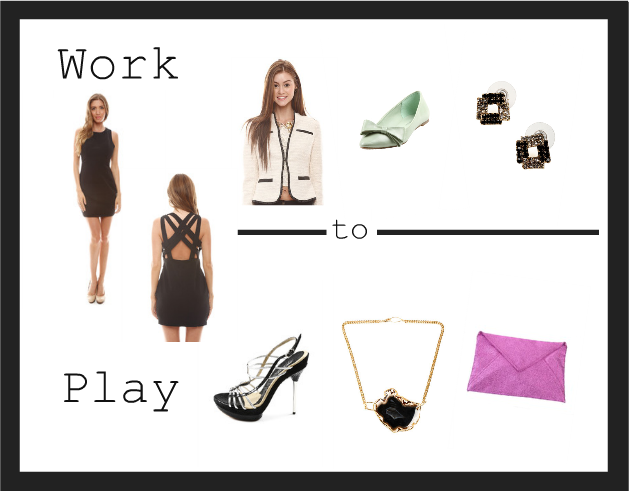 Main Piece: Little Black Dress. (from Fawn Boutique)
Ah, the infamous Little Black Dress. Most say you can never go wrong with a LBD. I think you can easily make a style slip up. The LBD can often come off as too sexy for work, but if worn with the right companions, it is the single best piece to take from day to night. Look for a dress with a fun back, this can be easily covered up for daytime, and make for a sexy statement at night. The hemline is also always a worry for women at work, we say, stop in the middle. Wearing flats during the day and heels at night allows for that mid length.
Work: A gorgeous "Chanel-style" blazer in a light color can do just the job to make your LBD appropriate for the office, and can cover up a sexy back. A cute flat in a pastel will also keep it classy while allowing for that middle hemline. Paired with a gorgeous pair of studs, you will evoke a Princess Di feel, ready to take on the world, or maybe just one client.
Play: Now it's time to drink champagne and dance on the tables...well, maybe not quite yet. Getting ready for a night out while wearing a black dress is as easy as 1, 2, 3. 1. Sexy heels, 2. Statement necklace, 3. Pop of color clutch. The world is your oyster when it comes to a LBD. Wear something that makes you feel confident, and when it comes to colors, go crazy. The black dress is a canvas, ready to be covered in baubles and colors galore. I'd like a Dirty Martini, please.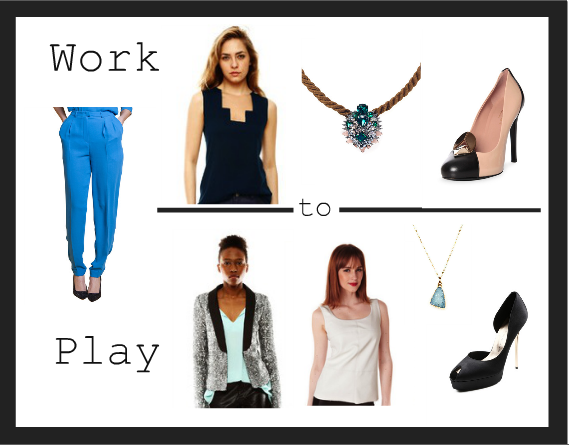 Main Piece:Colorful Trousers (from CanCan Boutique)
Hold on to your trousers, gentlemen; we want them, and frankly, we think we look better in them too. Menswear inspired trousers are effortlessly cool, and in a bright color, they are great for the office and for a night out. Adding feminine touches like stilettos, beautiful jewels and flowy blouses, create the perfect mixture for a hot androgynous look. So, eat your heart out big, boss man.
Day: Trousers are obviously very work appropriate. We understand that for some occupations, doing them in a brighter color can be a bit risky. Wearing a very subtle white or black blouse with a feminine neck is a great way to add girly touches while toning down the brightness of the pants. To finish the look add a small statement necklace to enhance the femininity. And, to play up the old school menswear, we love the idea of pairing the trousers with a two tone heel!
Night: Nothing screams "it's party time" quite like a sequin blazer, and that is one party I will be sure to attend. Pairing your colorful trouser with a black, gold, or silver sequin blazer creates a suited up look in a sexy way. Make sure to wear a simple and sleek tank or camisole underneath so you don't over do it. A simple killer stiletto and a long stone necklace, pulls the whole look together that can't go wrong.
Pop, fizz, clink... I hear champagne.
Shoptiques.com is your online destination for boutiques from Paris to New York.