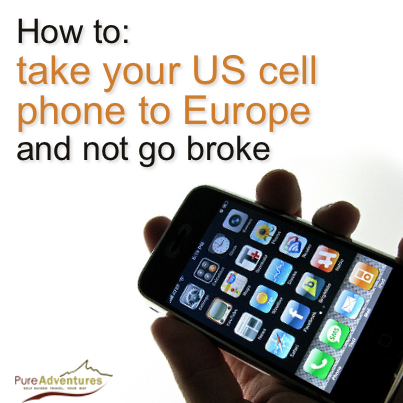 Whether you've picked Spain, Portugal or Italy for your self guided cycling tour , chances are you'd like to stay connected with friends or family using email or social media. You may also want to use GPS or other navigation apps on your smartphone. However, how much you pay for wireless or 3G service while away can vary depending on where you are and how much you use. Generally, it is quite expensive to use roaming charges or services outside your home country. We've all heard stories about a U.S. traveller going to Europe and forgetting to turn off roaming, or even just posting one Instagram photo and then receiving an enormously expensive cell phone bill. And with public phones all but disappearing from Europe, you can't rely on being able to find a phone when you need one.
So how can you take your U.S. phone to Europe and not go broke, yet still stay in touch with your friends and family via social media ? You have a few options.
Use the hotel's wireless service
First, check you see if your accommodations offer free wireless service. The staff should offer instructions on how to access the wireless connection. If wireless service is available, you can use your smartphone device, tablet, or laptop to access the internet to contact family and friends by email or Skype, or access social media sites such as Facebook. In some cases, travelers are happy with just having wireless at their hotel. However, this limits when you can connect and rules out using your smart phone while out cycling.
Buy a SIM card at your destination and use in your own phone
Another great way of saving money on wireless services while out on the road or between vacation destinations is to buy a prepaid SIM card at a local wireless store within the country. You can easily install the SIM card into your wireless smartphone or tablet and use the card until it expires or until you leave the country. The SIM card also enables your GPS and other navigation applications in your smartphone or tablet, just in case you get lost or need to find the closest restaurant. Recent Pure Adventures travellers in Spain spent 19 euros for a SIM card for 1 GB of data, which is plenty of data if you're in the country for vacation.
Ask your cell phone provider for advice
If you really want to take your own phone on vacation but not buy an international SIM card, talk to your cell carrier about international data and roaming plans. While this may not be the cheapest route, it is an option you can explore.
Rent or buy a cell phone in Europe
If you'd prefer to leave your own phone at home, renting a cell phone or buying a low cost international phone is a low-cost alternative. Pure Adventures offers a phone via a partnership via Telestial for under $20. It works in 180 countries, plus offers free incoming calls in Spain, France, Italy and the UK. You can't load navigation apps as you could on a smart phone, but if you're looking to keep costs down and only need a phone to use in case of emergencies, this is the more affordable option.
We can't stress how important it is to plan ahead when is comes to deciding on an international cell phone plan or SIM card for your travels in Europe. It's essential that cyclists have a cell phone to contact our local guides in case of emergency, but the convenience of people able to load GPS trip maps into your smart phone can't be beat and a data plan will be needed. For many travelers, sharing their journey with friends and family via social media is an important part of their vacation. By planning ahead, you eliminate the worry of trying to find a wireless service or the risk of expensive data and cell phone bills.