For my recent TEDx talk, I chose the topic of pediatric anxiety. I wanted to educate people about the condition and help them understand how devastating it can be when it reaches the level of clinical diagnosis. Because I'm passionate about treating youth with anxiety disorders, I also wanted to show that there is hope for children with severe anxiety through promising new approaches to treatment.
I initially approached it as an academic exercise, and my first draft included many facts and statistics. But I quickly realized that I needed to tell a story of an actual young person struggling with severe anxiety to illustrate the depth of the problem and the need for innovative solutions.
Fortunately, I received permission to tell the story of Kim, a patient of ours at McLean Hospital who had displayed an anxious temperament since she was a small girl. By the time Kim was a teenager, she had had numerous panic attacks when she entered public places, developed social anxiety and disordered eating, and was depressed. Because of her anxiety, Kim had stopped going to school and had closed herself off from most social interactions. When I met her, she had been housebound for two years.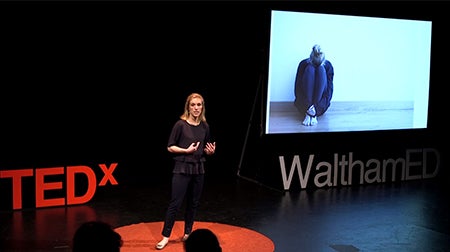 In my talk, I explained that, for children like Kim, the solution has long been cognitive behavioral therapy (CBT) delivered in the form of weekly, 50-minute office visits. Considered the gold standard therapy for anxiety, CBT is a structured form of therapy that helps individuals learn to modify their thoughts, feelings, and behaviors. Central to the approach is "exposure," which means gradually exposing an individual to a particular fear or fears to show that worst-case scenarios are unlikely or at least manageable.
But studies show that nearly half of children with anxiety who take part in weekly CBT do not get better. Clearly, we need something different for children, like Kim, who don't respond to weekly CBT.
So, what is the solution? I believe one potential answer lies in increasing the "dosage" of treatment and in getting children outside the office to engage with their real life fears. A few years ago, my colleagues and I developed the McLean Anxiety Mastery Program (MAMP) at McLean Hospital. By increasing the length and frequency of CBT sessions and by having many of the exposures take place in the community, MAMP is designed to help children confront their fears and regain control of their lives more quickly.
I'm happy to report that MAMP helped Kim gain the skills and tools to manage her anxiety. She learned relaxation and mindfulness techniques to calm her body and to help her feel more centered, and she learned cognitive reappraisal skills in order to manage her anxious thoughts. By taking part in group sessions, she gained experience interacting with other children, a challenging and powerful experience for someone who had been so socially isolated. Importantly, we gradually exposed her to life outside of her home—riding on subways and buses, going to restaurants, walking through busy city squares. Through this intensive treatment approach, Kim was able to get unstuck.
Receiving permission from Kim to tell her story helped me to put the story into focus. It guided me to think about what I wanted the audience to understand about her journey, as well as those of the other children in our program. It also allowed me to show that outside-the-box solutions like MAMP hold hope for children with extreme anxiety.
As a side note, I faced a bit of anxiety myself during my TEDx experience. Five minutes after giving the TEDx talk, while I was decompressing backstage, I learned that I would have to give the talk all over again because of an equipment malfunction. This had been one of the anxiety-provoking "worst-case scenarios" that I had thought of while preparing for the talk, and I had the opportunity to live it and see that it wasn't as awful as I had thought it would be. A true exposure for me!
Watch Dr. Boger's presentation to learn more about how the McLean Anxiety Mastery Program is working to help children and adolescents with anxiety and similar conditions.
Related