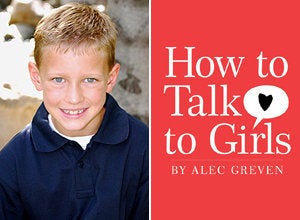 Twentieth Century Fox has purchased the options to nine-year-old Alec Greven's book, "How to Talk To Girls." THR's Borys Kit reports that the studio will adapt the book, which was published by News Corp. cousin Harper Collins, into a movie:
Fox is ready to take advice from a 9-year-old.

The studio has acquired the film rights to "How to Talk to Girls," a cute 46-page self-help tome written by Alex [sic] Greven, a 9-year-old in the fourth grade.

Greven, who attends school in Castle Rock, Colorado, wrote "Girls" as a handwritten, $3 pamphlet sold at his school book fair; he wrote it after he noticed his peers were having some trouble talking to the ladies, though the book is geared for all ages. Among this advice: Comb your hair and don't wear sweats; control your hyperness and cut down on sugar if necessary; a crush is like a love disease that can drive you mad; it is easy to spot pretty girls because they have big earrings, fancy dresses and all the jewelry but are like cars that need a lot of oil.
REAL LIFE. REAL NEWS. REAL VOICES.
Help us tell more of the stories that matter from voices that too often remain unheard.