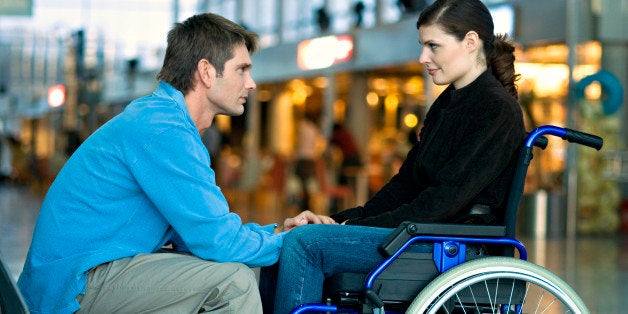 Discussing disabilities may feel like trying to avoid metaphorical tripwires.
One innocent misstep and an able-bodied person may receive a tongue lashing just for saying "handicap vehicle" instead of "wheelchair accessible vehicle."
To help you sidestep situations like the one above, note the following tips when discussing disabilities.
1) Realize wheelchairs enable.
"Wheelchair-bound," how often do you see that phrase and other similar ones in the mainstream media? Such word choice represents a popular misconception.
Don't feel bad though, mainstream media. I used to deploy said words, at least until I really started to with my writing delve into the disability niche. Companies like Disaboom and The Mobility Resource educated me on the truth. Wheelchairs enable. A wheelchair increases accessibility and therefore opportunities. Quite the opposite from binding.
Another pet peeve of mine is when the mainstream media calls someone with a disability a "sufferer" or "victim." I live with cerebral palsy (CP) but I don't consider myself suffering. Instead as I write in my article 5 Ways Cerebral Palsy Benefits Me my CP ended up an empowering force in my life.
3) Different people prefer different terminology.
Certain principles like the two aforementioned reside universally within the disability community. However, different people prefer different terminology. Personally I consider "disability" and "handicap" acceptable. I will use them interchangeably too. Yet others adamantly refuse to use "handicap." Heck, many hate "disability" and prefer the politically correct phrase "differently-abled." To overcome these different preferences requires an open mind and patience. Open your mind to different opinions and stay patient.
4) Maintain a person-first narrative.
Maintaining a person-first narrative offers another critical tip. No matter the word you use, aim to showcase the person. Ideally a person's name will always come before his or her condition. So I'm Zachary Fenell, an author with cerebral palsy. Not, an author with cerebral palsy, Zachary Fenell. Introducing name first, condition second will maintain a person-first narrative.
5) Individuality matters.
A person-first narrative gives way to the final tip today, individuality matters. Labels always contain inefficiencies. Take the classifications "differently-abled" and "able-bodied." Doesn't calling people with disabilities "differently-abled" infer people without disabilities don't differ from each other?
Disability or not each person holds a characteristic marking him or her exclusively unique. Ultimately, individuality transcends any possible label you could choose.
Related
Popular in the Community