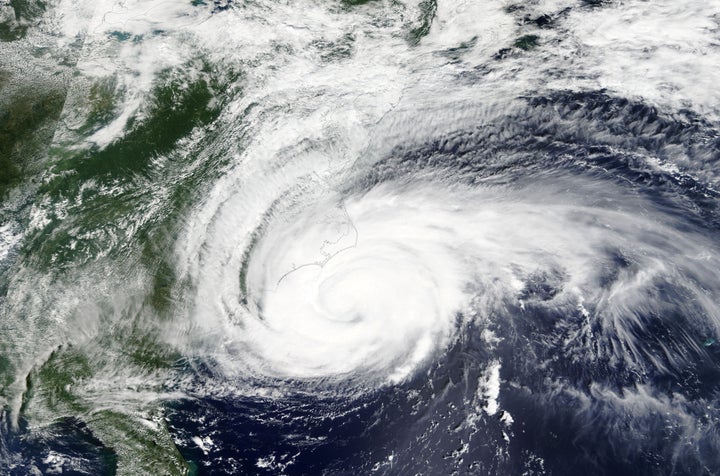 From hurricanes and tornadoes to earthquakes, mudslides and even extreme blizzards and flooding, families around the world have faced the trauma of natural disasters.
As these often deadly incidents make headlines, parents living in and outside the disaster zones face questions about them from their children. HuffPost spoke to experts in child and adolescent psychiatry about the best ways to talk to kids about natural disasters.
Here are 10 things to keep in mind when discussing natural disasters with children at different developmental stages. While the advice is geared toward families directly affected by a particular disaster, many of these guidelines can apply to children outside the disaster zone, as well as those who have faced disasters in the past and may be feeling triggered by the latest news.
Remain Calm
"Kids do best if their parents are calm and measured," Gene Beresin, Harvard Medical School psychiatry professor and executive director of the Clay Center for Young Healthy Minds at Massachusetts General Hospital, told HuffPost. "Anxiety is contagious, and when parents are fearful or bent out of shape, kids of all ages are going to pick up on that."
Beresin recommends parents follow the principle of an airplane oxygen mask: Secure your own mask before attending to the child next to you. In times of natural disasters, parents should first calm themselves down ― perhaps by talking to a partner or friend ― before trying to reassure their children. This will set a better tone for the conversation and allow them to focus on providing safety in a time of chaos.
"Little kids have big ears, and if the parents are talking about roofs blowing off or trees smashing into houses, they hear that stuff and worry about it."
With younger kids, parents should also be mindful of the conversations they're having in their children's presence. "Little kids have big ears, and if the parents are talking about roofs blowing off or trees smashing into houses, they hear that stuff and worry about it," Beresin said.
Limit Media Exposure
Similarly, it's best to be mindful of what kids are picking up from media.
"Under these circumstances, adults and older kids have a tendency to stay glued to the TV or radio," Steven Berkowitz, co-chair of disaster and trauma issues at the American Academy of Child and Adolescent Psychiatry, told HuffPost. "But that's not really helpful for young kids because they don't understand everything, and it just becomes overwhelming."
Turning off the TV can help keep their worries at bay. Older kids and teenagers have steady access to information as they engage with social media, but Beresin suggested that parents watch the news with their adolescents so they can answer questions and talk to them about what's happening.
Find Out What They Want To Know
"Don't assume you know what your child is thinking about and what their concerns are," said Allan Chrisman, a Duke University associate professor emeritus of psychiatry and behavioral sciences and AACAP disaster and trauma program co-chair. "There's always a tendency for parents to over-explain or bring in information that is at a higher level than the child is at, so try to understand what exactly the child's questions are really about in terms of their own thinking and feelings."
Kids may not be forthright with their concerns, so parents should ask them open-ended questions first, like "How are you feeling?" "What have you seen or heard?" or "What are you worried about?"
"Kids need the reassurance that they're going to be safe, but you want to address their specific fears. And you can't know what their fears are without asking them," Beresin said. "They might ask, 'Is our dog going to be OK? What about our goldfish? Can we take our goldfish?'" Even if they aren't in the direct storm path, kids might be worried about family members who are, and children who have lived through natural disasters in the past might be worried for other little kids.
Keep It Age-Appropriate
According to Beresin, kids of all ages want to know three fundamental things: "Am I safe?" "Are my caregivers safe?" and "How is this disaster going to affect my daily life?"
How parents answer these questions and the amount of detail they should offer depends on a child's developmental age. "Parents know their child best and how much information they can take in," said Melissa Brymer, the director of terrorism and disaster programs at the UCLA-Duke University National Center for Child Traumatic Stress.
"Kids of all ages want to know three fundamental things: "Am I safe?" "Are my caregivers safe?" and "How is this disaster going to affect my daily life?""
Little kids are more easily confused and overwhelmed, and may even think that they played some part in causing a disaster, or blame themselves. School-aged children are better at processing information and are able to absorb factual explanations. Adolescents are the most aware of what's happening, and are likely taking in up-to-date news from social media and other sources.
"Preschoolers need to know, 'This is not something that anybody has control over, and what we need to be able to do is be prepared,'" Berkowitz said. "They should know it's up to their parents or family to keep them safe, so that's what they're going to do."
Depending on the situation, it's also important to let little kids know roughly what the plan is, Berkowitz said ― but beyond that, the details of the disaster may get too confusing or increase their anxiety. A little extra TLC, like hugging or cuddling time, can also go a long way.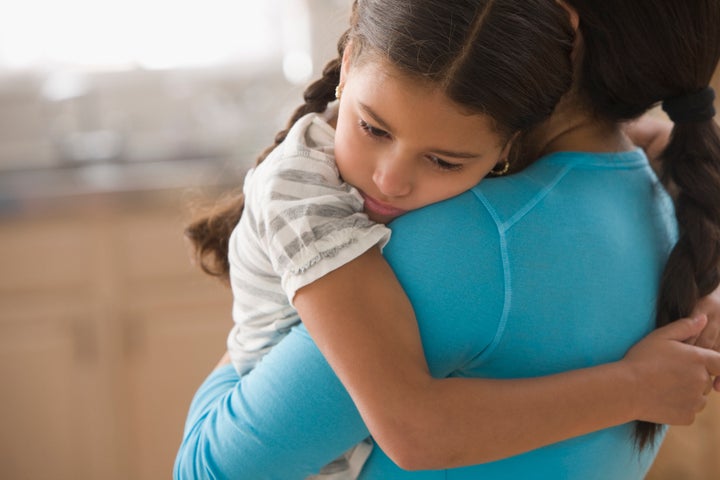 Brymer suggests using analogies to help kids understand what's going on. If school-aged kids ask what exactly a hurricane is, for example, one way to help them think about it is to compare it to baking a cake. "You have to have all the right ingredients to make a good cake, and there are certain ingredients that form a hurricane too, like warm water and big, steady winds," she explained. Brymer also compared it to a top spinning on a table that's suddenly knocked down by big wind rotating harder or in a different direction.
With adolescents, parents can be direct and treat them more like peers in the situation, letting them know everything they've learned and discussing the family's action plan.
Be Honest
While it's important to remain calm and keep your conversations age-appropriate, parents can be honest about their uncertainty, even while reassuring their children.
"Be open to responding to questions you may not know the answer to," Berkowitz said. "It's OK to say you don't know. If you can find out the answer, say, 'I'm gonna try to find out,' and if not, be able to say, 'Hmm, let's see, I really don't know, but here's the plan.'"
Kids may want to know if their room or toys will be OK, and parents shouldn't offer false promises, but rather emphasize that they'll fix it or replace it if something bad happens.
"Kids are reassured by honesty and calmness."
Parents can also be open about their feelings, Beresin said.
"If you're nervous or afraid that the house will be messed up, you can tell them, 'Yeah, I'm worried that there may be some damage, because we put a lot of effort into our house, and we may have to spend some time taking care of it, but we'll fix it. We'll be safe and together and just do what we have to do,'" he said. "Kids are reassured by honesty and calmness."
Focus On Preparedness
A great way to assuage fears about natural disasters is to focus on things you can control, like your preparations for an expected or unexpected event. "It's very important that you are making the plan more concrete for them: 'This is what it means. This is what we're doing,'" Berkowitz said. Outlining the family's plan with age-appropriate details is incredibly helpful.
Sometimes kids outside the zone of a particular disaster may ask their parents, "Can this happen here?" It's crucial to offer concrete steps and plans in those instances too.
"The short answer is, 'Something can happen here, and here are some things that have happened to this area in the past. But we're going to make sure that we're prepared,'" Berkowitz said.
Sudden events like a tornado or an earthquake generally don't offer as much time to prepare as a hurricane, but there are still steps you can take, and it's important to share those plans with kids. For school-aged kids, that may involve telling them which phone numbers to call or text, or which adults to contact if the disaster strikes while the family isn't together, Brymer said. For teenagers, that may also involve telling them what to do if they're out driving and a tornado forms.
Include Them In The Process
"Older children in particular are at the point in their development where a conversation can be viewed as an opportunity to help them feel that they're an effective agent in being able to mitigate the damage of the threat," Chrisman said, suggesting that parents give their children roles in the preparation.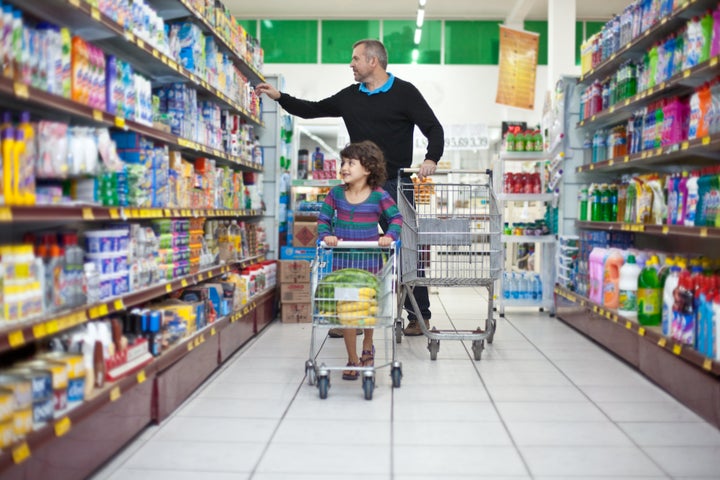 "I have a friend who had to make sure his boat was secure ahead of Hurricane Florence, and he took his adolescent son with him," Chrisman said. "His son was quite excited to not only help secure the boat and items that could potentially be lost, but also when he came back, to explain to the other kids at his Boy Scout troop meeting, 'This is how you prepare for a disaster if you have a boat.'"
Berkowitz recommends getting school-aged kids actively involved in the preparation process at their appropriate developmental level.
"Whether it's putting together their backpacks or knowing how to map out the evacuation, the more they can feel they have some sort of input or involvement makes them feel more in control in an uncontrollable situation," he said.
Teenagers can participate more actively by brainstorming with their parents and offering their own problem-solving skills, Beresin said. Chrisman noted that kids outside a disaster zone can also help affected family members by sending them messages of support, offering shelter or gathering supplies.
Pay Attention To Nonverbal Cues
Children may not always express their feelings verbally, especially if they are very young or have developmental disabilities. Beresin noted that a child's emotional distress may manifest in aggression, sleeping issues, bed-wetting, fear of the dark, anxiety, irritability, picky eating and a whole host of other ways. Parents should pay attention to these cues.
"The other thing is they may express their feelings by drawing, or playing with dolls or action figures," he said. "I would encourage them to play, and just watch them play, whether they're playing with little houses or buildings being knocked down ― that's their way of grappling with the issues."
"They may express their feelings by drawing, or playing with dolls or action figures."
"We have workbooks at the Red Cross shelters here that use storytelling to relate what's going on to kids, and offer an activity at the same time," Chrisman said. "The family can create a scrapbook for a natural disaster, for instance, and people can get school-aged kids to cut out articles from a newspaper or pictures and put them in a scrapbook. That kind of thing can be helpful ― something simple and concrete that relates to the event and gives them the opportunity to express themselves."
Use Resources
Brymer noted that the National Child Traumatic Stress Network has a free app called Help Kids Cope, which helps answers questions about what to do in different disaster situations and how to explain these events to preschool, elementary school and adolescent kids. The app also offers general preparedness tips and guidance for helping kids heal in the aftermath of such events.
Talk About Community
"Community is really important," Beresin said. "Whether it's a spiritual community or friends and neighbors, it's a helpful way to feel that you're OK and secure."
Talking to your kids about community and the good people out there who will help them is very reassuring, he added. "Tell them, 'We may have to leave home and go to a safe place, but folks are coming in from other states to help make everything OK.'"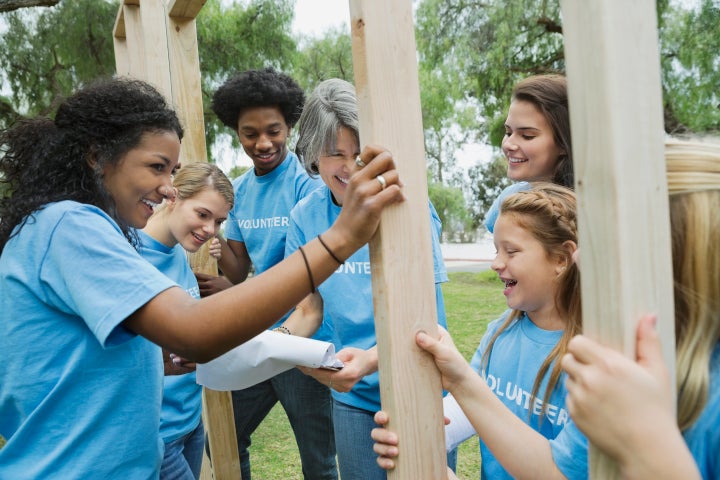 Another thing to keep in mind when discussing adversity, community and resilience is culture.
"This might be a good time to introduce how other kids in their school might be coping differently because they may have different cultural backgrounds, religious beliefs, things like that," Chrisman said. "So you're not giving them the impression that there's only one way to cope, but that you respect and value other points of view."
In the aftermath of a disaster, school-aged kids and teenagers can participate in efforts to help rebuild their community. Kids outside the disaster zone can also participate in donation drives or take community service trips to affected areas.
"Let them get involved in picking things up or helping others," Beresin said, adding that it's helpful to channel anxiety into pro-social activity. "When kids help get a community back on its feet, it's therapeutic for everyone."
Parenting is harder than ever, and there's no one way to do it right. So on Nov. 2, HuffPost Life will convene a community of people trying to figure it out together at our inaugural HuffPost Parents conference, HOW TO RAISE A KID. In advance of the event, HuffPost Parents will publish stories on topics that matter deeply to parents of children who are starting to navigate the world on their own: bullying; sex, consent and gender; money; their digital lives; and how to raise compassionate, self-sufficient, creative, emotionally intelligent children. In short — kids who aren't assholes. View the event site here and be sure to follow HuffPost Parents on Facebook, Twitter, and Instagram, and subscribe to our newsletter, How Not To Raise A Jerk.