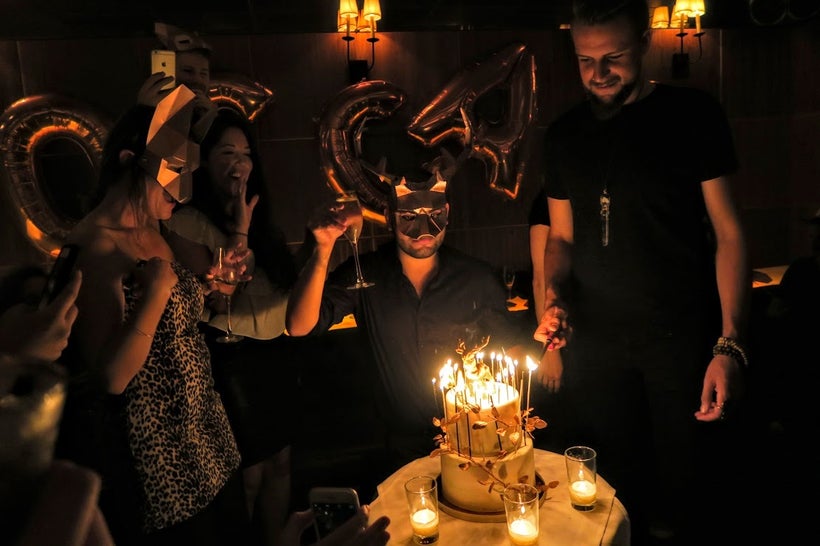 Turning 30 is the perfect time in your life to throw a party – especially a birthday party. You've spent a few years developing close friendships, you've explored and discovered what you love most about where you live, and perhaps most importantly, you have a better sense of who you are as a person and where you want to go from here.
For me, throwing a birthday party gave me the rare chance to lure all my friends to come together for one night and under one roof. This included friends from far away and those hard-to-pinned-down friends who are too busy to even RSVP to a just another run-of-the-mill Facebook event.
But remember, this is your birthday. So, before you find yourself biting more cake than you can chew, it's important to realize that at the end of the day, when all the balloons are left deflated, this is all about what makes you happy. Because #YOTTO (You Only Turn Thirty Once), and saying you're throwing a super-fab 31st birthday party just doesn't have the same ring to it.
Plan ahead. As we get older, our social calendars start to fill up fast. From destination weddings to bachelor party extravaganzas, chances are that your friends are constantly getting bombarded by invitations to other events besides your birthday. You need to have a solid idea of what you want to do so that you can start looking into venues and sending the invitations, especially if you want to give your friends from out of town the chance to make it work.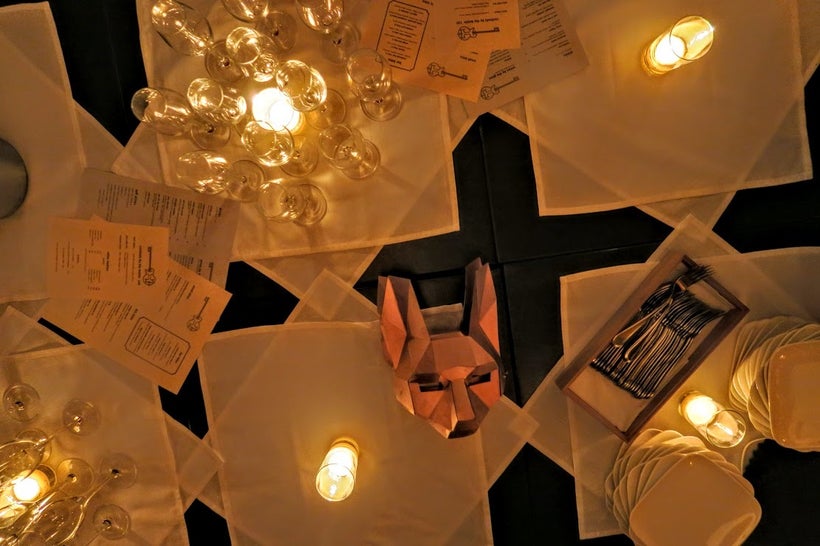 Give yourself three to six months to plan, with invitations going out at least a month in advance. Friends from out of town should get a heads-up three months in advance. As the date approaches, you can send your friends a reminder via email or text, but don't make them feel bad if they can't make it. It's a birthday party, not a pity party.
Go creative with the theme. Everyone loves a theme party, especially as we get older. A good theme gives you some cohesion to help you decide on the other aspects of your party, and it helps guests figure out what to wear. But remember, you're turning 30 – not twelve. So, go for something that's a little more high-concept than Roaring Twenties or Studio 54.­ Give your guests the opportunity to think outside the box, be imaginative, get creative and take a risk.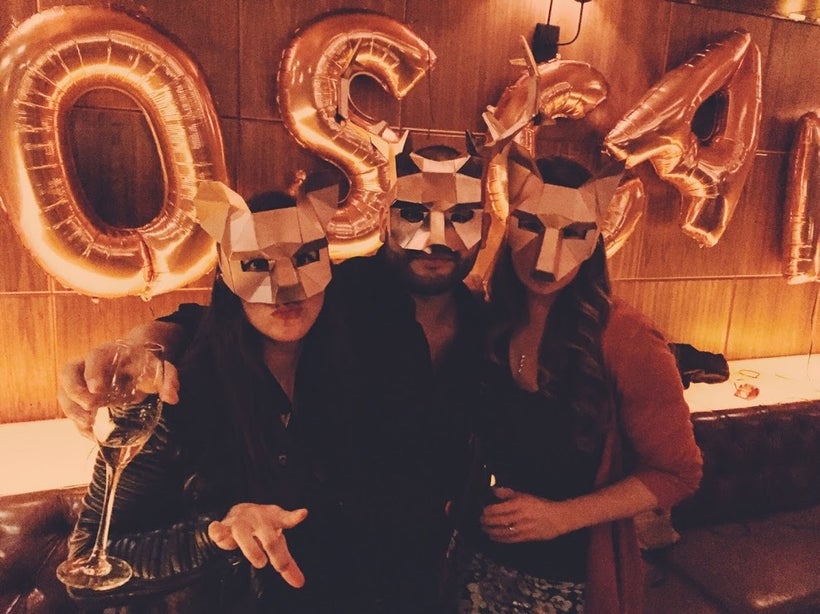 The theme doesn't have to be obvious, you don't even have to say what it is necessarily. It can whisper through the combined elements of your party. My theme was "Ever Wilde," a modern take on an enchanted forest like an Oscar Wilde fairy tale set in the Gilded Age. And its color was rose gold. See, I took a risk. DIY animal masks by Wintercroft for all the guests and decorations from Paperboy really helped my vision come to life.
Send an invitation that wows. Most of your guests will first learn of your birthday party from the invitation, and that first impression will be a deciding factor in whether they'll attend or not. People will come to a party if it has a good invitation. So, in a sense, the invitation is the most important part of this entire ordeal. It sets the tone – so make it an exciting one and forget about a Facebook invite.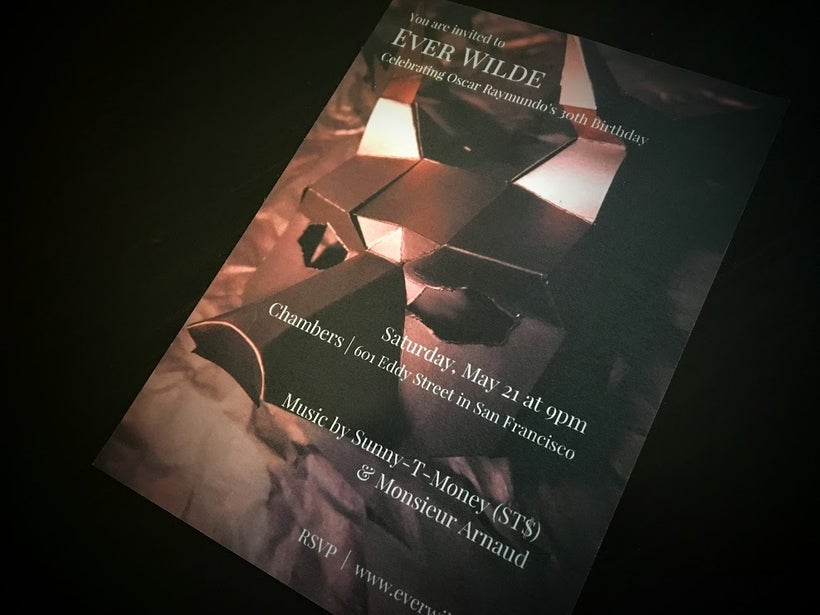 Send a printed invitation with Postable. After uploading your designed invitation and collecting your friends' addresses, Postable will print them out, put them in a fancy envelope and mail them for you. I remember getting a bunch of text messages from my friends the day Postable delivered my invitations, and people still tell me how legit it was to have sent paper invites. In the age of Insta-likes and email overload, turns out there's nothing as exciting as getting something in the mail.
Pick your party spot. Now that you have a theme, it's time to start looking for a venue. San Francisco is blessed with endless options when it comes to party spots – from a sunny picnic in Dolores Park to a roller disco party inside an abandoned church. I had my birthday party at Chambers, the restaurant lounge inside the iconic Phoenix Hotel, where David Bowie and Kurt Cobain once stayed. This shabby-chic hotel in the Tenderloin has been described as the most sexually, intellectually and culturally stimulating hotel in San Francisco, and its Chambers lounge has the fun-loving style to match.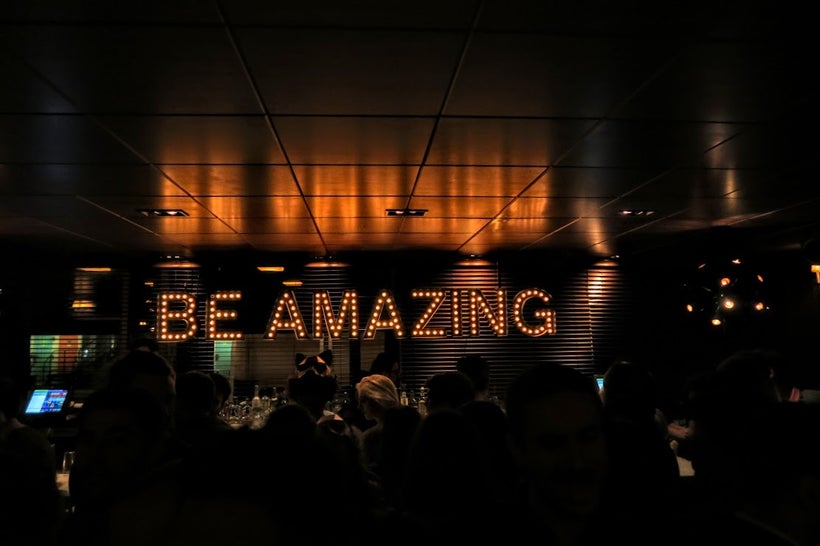 This venue was my top choice for a few reasons: 1.) The staff proved to be super helpful and responsive from the beginning. 2.) My friend, DJ SNDRLND, was able to play music for most of the night. 3.) They were able to cater the event with grade-A appetizers from Zoe's Cured Meats and Cowgirl Creamery Cheeses. Plus, the fact that Chambers is connected to a hotel made it possible to take a dip in the pool before the party and stumble to my bed at the end of the night. I booked the Headliner Suite at the Phoenix, which came complete with a vinyl record player and enough room to host an intimate pre-party with Moët Chandon and Bite-Rite sandwiches.
Let them eat cake. It wouldn't be a birthday without a birthday cake. And for my 30th birthday, I had dreams of a gorgeous statement cake. In San Francisco, the place to go for a statement cake is Pretty Please Bakeshop in the Inner Richmond District. The owner, herself, Alison Okabayashi sat down with me for a consultation and tasting so that she could turn my cake-fantasies into a reality. It was only $25 to do a tasting at Pretty Please, and that money was applied to the final cost of the cake.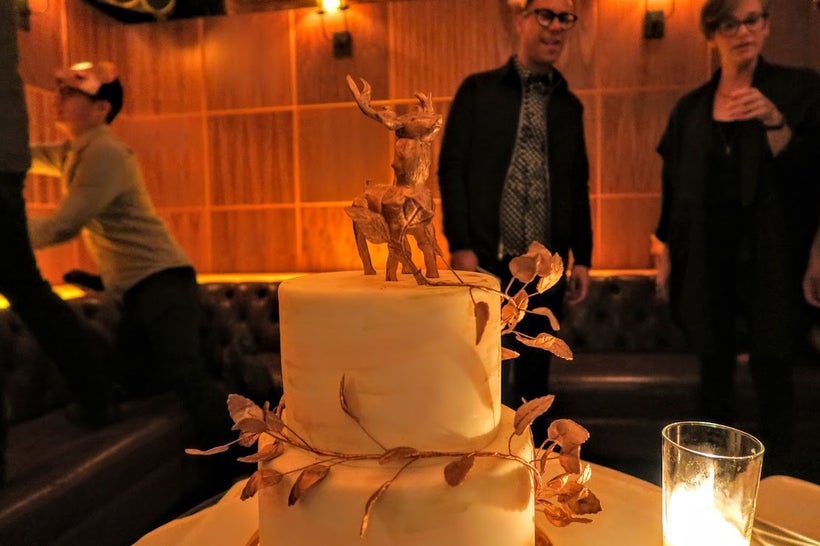 I decided on a two-tier cake because three tiers was verging on wedding cake territory. Problem was that I couldn't decide on a cake flavor, so Alison gave me the brilliant idea of doing two: Banana chocolate chip with peanut butter Swiss meringue buttercream on the top and carrot cake with pineapple, coconut and vanilla bean cream cheese frosting on the bottom. Alison then followed up with me with preliminary sketches, and what she came up with was simply to die-for. The day of the party, Pretty Please was able to deliver the cake to Chambers. The staff then kept it safe until it was brought out all lit up with sparkler candles, the final beacon of my twenties.
Calling all HuffPost superfans!
Sign up for membership to become a founding member and help shape HuffPost's next chapter
This post was published on the now-closed HuffPost Contributor platform. Contributors control their own work and posted freely to our site. If you need to flag this entry as abusive,
send us an email
.