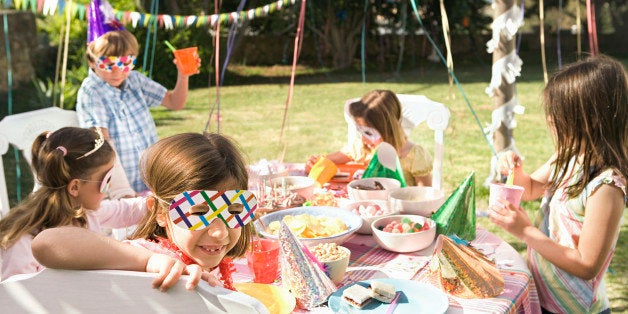 If a sense of rising panic tinged with imminent doom accompanies the thought of planning your child's next birthday party, you are not alone. Today, the Joneses are scurrying to keep up with the professional bloggers and crafty moms flooding social media with pics of birthday events styled on a scale typically reserved for major milestones or Blue Ivy. But don't despair, mums and dads -- some of the hottest and most photogenic trends in kids' birthday parties are surprisingly doable.
Food-Focused Party Themes. The beauty of this particular strategy is that the food can double as decor as well as inspire your color scheme. Case in point: An ice cream social is packed with eye candy, from a buffet of homemade ice cream sandwiches (another big trend right now) to a build-your-own-sundae bar. Luscious colors are built right in, and you can even rent an old school ice cream cart if you really want to blow it up. Plus, how photogenic is a root beer float bar? (Answer: very.) You can draw on the season for inspiration (July is national ice cream month!) or just build around your favorite dessert or menu item.
Event-themed Parties. North West's recent "Kidchella"-themed shindig may have set a very high bar, but event-flavored parties can be achieved simply by associating some key party elements with the event type. One of my favorite examples: a carnival-themed party a friend hosted for her son. Guests gathered at a local carousel where they were treated to rides on the merry-go-round, a couple of concessions (fresh popcorn and cotton candy), and face painting. A backdrop that spelled out "Archer's Carnival" underlined the theme, and the rest of the shindig was standard birthday fare -- pizza, juice boxes, birthday cake, and balloons. (Calliope music came courtesy of the carousel.)
Costumes and Dress-up. Speaking of face painting, the aforementioned Blue Ivy enjoyed this activity as well as princess garb at her own first birthday soiree, and both trends are within reach of the average spending limit. Film and fairy tale-themed parties practically beg for the birthday boy or girl to make an entrance in full regalia, and affordable costume accessories such as tiaras, hard hats, wands and wings can be purchased online for guests to don during the party then take home as favors. Also, basic face painting can be learned via video tutorials if you'd rather not spring for a professional. Create a backdrop with paper fans or a shiny Mylar curtain and let the photo opps begin. Which brings us to...
Professional Photography. Hiring a professional may sound indulgent and spendy, but quality photography is often the secret behind those dazzling party pics that mock you from the blogosphere. You're going to have your hands full just hosting the party, whereas a photographer knows how to master the light, has a much better camera than you do, and captures beautiful moments for a living. The cost to book a couple of hours of time can be quite reasonable, so don't write off this trend without first considering the advantages (and the amazing memories you'll be able to look back on for decades to come).