Halloween is just a few weeks away, but this year I'm not into the typical orange décor full of candy corn and trick-or-treaters. No thanks. This year, I want to spice things up with an adult dinner party -- vampire style. We're talking dark, chic and hauntingly fabulous. With a few of these tips and tricks up your sleeve, you'll be able to impress all your friends at your own Vampire Dinner Party.
For starters, scavenge around your house for decorative items that can easily double as table décor. I was able to find an old black tablecloth, black picture frame and a few black candlesticks. Almost anything in your house can be put to good use for a party. Have extra white or red candles lying around from last holiday season? Pull them out to make "blood-drooling candles." That fancy silver wine bucket? Grab it for the table. Mix and match items you already have before hitting up the craft store.

Pair red napkins against your black tablecloth for a dark yet glam look. Red chargers left over from Christmas made the perfect base for a simple, black plate (surprisingly, found at the dollar store). Scatter a variety of votive and taper candles throughout your tablescape to add a bit of spooky ambiance to the setting. To make the red dripped candles, I dripped a red candle on top of a white candle -- and done! Placing mirrors down the center of the table created a ghastly reflection and a steady base for our candle sticks.

Using my home printer, I created simple menus and printed wine bottle labels. These free printable bottle labels from Hostess With The Mostess are fabulous for easy decoration. Check the seasonal aisle of your craft store for Martha Stewart wine bottle labels in ghastly motifs to fit the vampire theme.

Now, on to the food! Your guests will surely want to sink their teeth into some tantalizing treats, so be sure to create a menu full of devilish delights. (Be sure to omit the garlic!) Using the Vampire Lovers' Cookbook as my inspiration, I made dishes like "Steak Through the Heart" and "Devil Hair Pasta." Mini chocolate ganache cupcakes with red "blood" dripped detail were the sweet ending to a "suckulent" dinner. Choose your favorite dinner party dishes and jazz up the names for your own menu. For cocktails, use drink-safe food coloring to die drinks red or black for a ghastly look. Bon Appetit!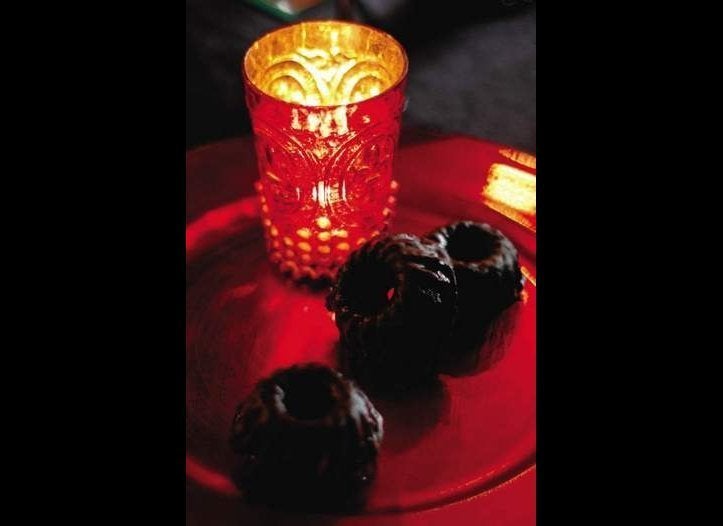 Related