My family's thrown an annual holiday party for at least a decade. I can't quite remember how it started, except that it was once small. Now as many as 200 people will pass through our front hallway -- and half as many will pass out in our front hallway. Because we're Jewish, the holiday theme is "Hanukkah" -- but our guest list is not limited to those lighting menorahs. I'd like to pretend to you that our yearly festivities are truly elegant affairs, like a Jewish version of the opening of the Nutcracker. The truth is, each year's party seems more raucous than the last. We've had at least two guests catch on fire (more on that in a moment). The police arrive like clockwork at midnight to shut things down (and again an hour later, and an hour after that). One year a couple made use of our dining room table in, uh, a way it was not intended to be used.
By the time the last guests stagger out, usually around two a.m (often forcibly, with their coats being wrapped around their shoulders by my tired husband and ushered in the direction of their taxis), they'll unfailingly slur, "That wash the besht party ever."
The idea of hosting such a party probably sounds nightmarish to most of you -- a sure way to wreck your house and raise your homeowner's insurance. And yet when I wake up woozily the next day to survey the carnage, it's never too bad -- and always worth the night before. These days many people shy away from entertaining, especially a crowd. This is a shame. Holiday parties end up being held at the office, which is no fun for anyone. The Chrismukkah holiday season is a wonderful excuse to bring together friends. Everyone is in a festive mood. It doesn't matter whether your home is big or small: by following these few tips for a successful and awesome party, you can enjoy the experience rather than stressing out.

#1: Don't Be Afraid to Mix Up Your Guest List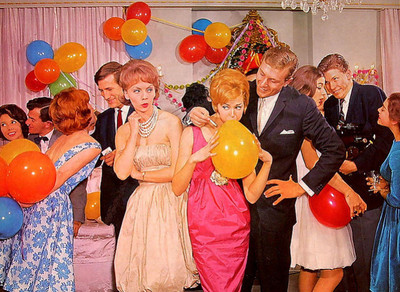 When you first start thinking of whom you'd like to invite, don't get hung up on "groups." Many potential party givers fear that their "artistic" friends might not mix so well with their work colleagues, or so-and-so can't be in the same room as so-and-so. The gift of a large party is the fact that it's large. You'll be surprised at how many people enjoy meeting types they are NOT used to hanging out with -- and the unexpected friendships that result. Most feuding grown-ups can avoid each other in a big setting (although of course use your judgment. We once made the mistake of inviting two feisty guests who were, very publicly, on the opposite sides of the political spectrum. A loud fight ensued. As my husband remarked afterwards, "I guess we tried to broaden the coalition too far." Still, it was memorable.)
And don't hesitate to mix-up age groups -- especially at a holiday party. It's a natural occasion to celebrate with multiple generations. My two twentysomething children invite some of their friends, and our teenage daughter invites some of her friends too. The youthful energy definitely livens up the atmosphere, and the intergenerational mix produces interesting conversations and connections. The other benefit is that everyone in the family becomes a participating host of the party, so it's not you alone being stuck with making sure everyone is having a good time.
#2: Party Proof Your House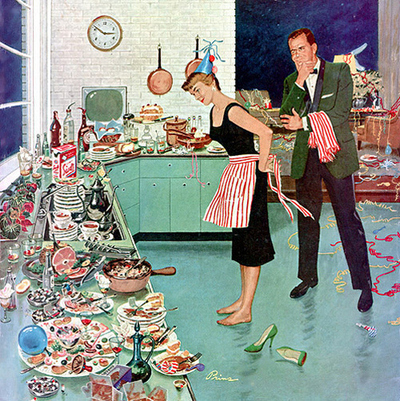 If you're really worried about your collection of Herend figurines getting damaged, put them away. Ditto any delicate antique furniture or cherished rugs -- otherwise you will be putting yourself in the position of policing every stray elbow and sloshed drink. If you can afford to, rent all the glassware and cocktail plates so if a piece gets broken you don't care. Party proof your powder room by stocking it with lots of extra rolls of toilet paper, and use elegant paper napkins instead of towels, which are more sanitary and don't get soggy and gross. Plan to light a scented candle in there. Then think carefully about where people are most likely to gather -- or rather, where you would most LIKE them to gather, and make those areas enticing. (See "creating a party atmosphere," below.) We have a screened-in porch that, while freezing at this time of year, is also indestructible. We put heat lamps and a shots bar out there: after a few vodkas, no one is feeling the cold.
(First guest-on-fire story: One year a friend of ours brought a date whose hair was styled in what I guess you'd call a very tall weave. At one point the woman stood a little to close to a heat lamp and, unbeknownst to her, her hair began to smoke. An alert waiter immediately doused her head with a pitcher of cold water, saving the woman's life but ruining the weave.)
So many parties get a lot of things right -- interesting mixes of people, interesting mixes of drinks -- but fall flat when no one has paid attention to creating the right vibe. You sense this the minute you walk in the door. The lights are shining brightly, with all the nuance of a Wal Mart. Most of the noise is emanating from the kitchen where you find everyone awkwardly gathered amidst a chaos of disorganization. The host or hostess are frantically doing last minute things rather than being able to focus on the party or their guests. Small children in bathrobes are complaining loudly about having to go to bed. Your eyes scan the room, wondering who you know or where you can get a drink. And it goes down from there.
Contrast this to walking into a house where the lighting is low, candles and flowers are everywhere, holiday jazz or a mood-inducing soundtrack is playing, and the hosts are at ease introducing everyone to each other. Guests appreciate, and notice, when you've gone to some effort to create a welcoming and fun atmosphere. They respond to it, too, by making it a fun party.
As mentioned in #2, take time to create different gathering areas -- even if you are only working with a small space. Put out a shots or Scotch tasting bar in one corner; a floor pillow seating area in another. If room allows, carve out a dancing area (and be prepared to start the dancing yourself). The goal is to get your guests flowing through your home by spreading out treats, as it were, so they don't collect massively in one spot, such as around a kitchen counter.

#4: Keep the Food Simple and the Booze Flowing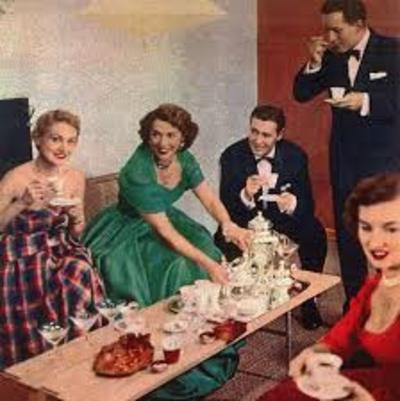 A lot of stress and expense is wasted on providing a variety of passed hors d'oeuvres or a banquet table trying to cover the map from meats and vegetables to cakes. Before you decide on food, decide whether you are hosting a cocktail party (usually 6-8 p.m., before dinner) or a dessert party (8 or 9 p.m. onwards, after dinner). We always choose the latter for two reasons: First, we prefer the later start, which allows more time to get ready; second, there is no obligation to provide a quasi-meal to starving guests who might otherwise start chewing on your dining table. They arrive fed and ready to party. Fortunately Hanukkah -- with its emphasis on chocolates, donuts and cakes -- lends itself perfectly to a dessert party theme. Create a buffet in your dining room or kitchen. Pile it high with all kinds of desserts, sweets, and fruits -- and let people help themselves. Ditto with the bar: have at least one countertop or table well-stocked with glassware and the liquor and wine you're serving -- and add to it any bottles the guests bring with them. If you're hiring help, keep their focus on passing and refilling drinks, and collecting empty glasses. Depending on the size of your party, definitely hire a bartender or two. A good bartender is worth his weight in gelt.
#5: Make Sure You are Able to Relax and Enjoy Yourself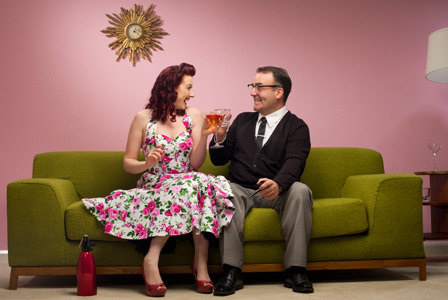 Have everything ready at least half an hour before you expect the first guest. If you're still running around and arranging stuff seconds before guests arrive, you're going to begin the party stressed out -- and your stress will convey itself to your guests. Get dressed early. Light the candles. Check the food and bar. Choose the music. Pour yourself a glass of wine, settle yourself on the sofa, and admire your work. Remember to breathe.

#6: Last and Most Important: The Blue Drink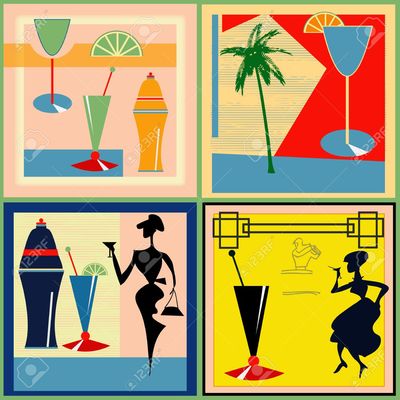 Ok so it doesn't have to be blue. But because it's Hanukkah, we've always tried to come up with some sort of signature blue cocktail that we call a Maccabee Martini (even if none of the ingredients amount to a martini). The only way you can make a blue drink, aside from food coloring, is to add Curacao. After experimenting with our first cocktail, we discovered that Curacao was more relevant to the holiday than we knew. The Caribbean island of Curacao -- where its namesake liqueur is produced -- has a rich Jewish history. Sephardic Jews began landing there in the mid-17th century, when the Dutch conquered the island from the Spanish; Ashkenazy Jews followed after WWII. It maintains the oldest surviving synagogue in the Americas (still in use) -- and it was a Jewish family by the name of Senior that invented the citrus-based Curacao liqueur.

Admittedly, Curacao is not a liqueur that mixes easily with other alcohols. For several years we struggled to come up with a good cocktail. Our first tries were pretty disgusting. Even a professional bartender couldn't do much with it. Still, a tray of bright blue martini glasses would be passed at every party along with the wine and champagne. Strangely, most hands went for the blue drink. Indeed the demand grew so high that we began making pitchers of it in advance. Then one year we decided not to serve the blue drink -- we couldn't quite believe anyone found it really palatable. Disappointment was immediately evident. As guests arrived we heard, over and over, "Hey where is the blue drink?" The next day, I realized, that while the party had gone fine, it hadn't taken off as quickly as others -- nor did it ever achieve the legendary moments of previous ones (I'm getting to the second guest-on-fire story). The secret lay in the absence of the blue drink. So the next year it was back. Another guest caught on fire (by standing too close to a low-lying candle. The tails on his blazer went up). Witnesses allege that I told the cops that my husband had lept out the back window at the first knock, and then invited the constables in for a drink. And then there was that couple on the dining room table.
So my advice is, even if you do nothing else, serve a special cocktail and your party will be a hit.
For more content like this, and beautiful artisanal Jewish products, please visit Fig Tree & Vine, a new and stylish destination for contemporary Jewish living. Follow us on Instagram @figtreevine and Facebook, or subscribe to our newsletter.