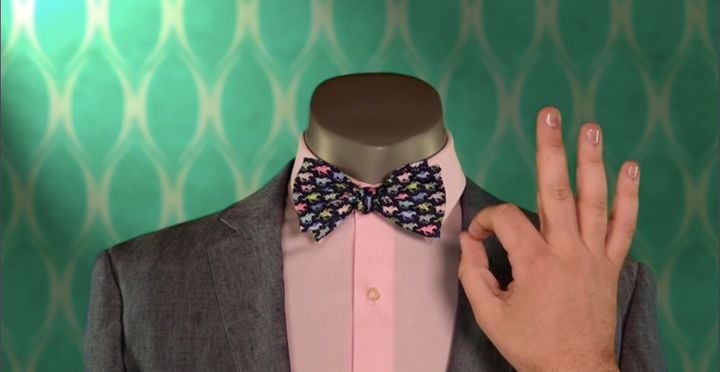 This Saturday marks the 143rd running of the Kentucky Derby at the famous Churchill Downs. But, beyond being known as the "two greatest minutes in sports," the Derby has become one of the most coveted events in the world of fashion. Everyone talks about the over-the-top hats the female attendees don, but the men have to make a fashion statement too. How? With a bow tie.
"Bow ties were becoming a menswear staple in 1875, the year of the first running of the Kentucky Derby," Sara Brown Meehan, Director of Lifestyle Communications at Churchill Downs Racetrack & The Kentucky Derby, told me. "While they've been in and out of fashion since then, they've always been one of the most iconic symbols of Southern culture."
She added, "Since the Kentucky Derby is a celebration of the best of Southern tradition, the bow-tie is a natural fit for men's Derby attire and helps take their outfits up a notch. We've seen the bow tie become more popular in recent years as it experiences a renaissance not just at the Derby, but across the nation as young men embrace it as an American fashion icon."
While the bow tie might be fashion statement, they're also a little tricky to put on correctly. And whether you're heading down to Kentucky for the actual race or just to a local party, you'll want to make sure your neckwear is on point. So, here is a step-by-step video tutorial on how to tie the perfect bow tie, creating the ultimate finishing touch for any Derby outfit and letting you channel your inner Southern gent.
How to Tie the Perfect Bow Tie
1. Place bow tie face up around neck. Adjust bow tie so right side (B) is shorter than left (A)
3. Bring (A) under (B) and up through neck loop. Toss (A) over neck
4. Use (B) to create the bow tie shape
5. Bring (A) straight down over middle of side (B)
7. Take side (A), fold under and through loop creating by pinching (B)
8. Pull both sides until knot is taut
9. Adjust until bow tie is balanced