We built our first kit sukkah many years ago, when our eldest two children (now grown) were attending a Jewish nursery school. Up to that point, my husband and I had been unaware of pre-fab sukkahs, or really sukkahs at all -- maybe because building a transient field laborer's tent was not something it occurred to us to do on an apartment balcony or in an urban backyard.
The school, however, built its own big communal sukkah every year -- and encouraged parents to do the same at home. Even still we might not have succumbed had it not been for the enthusiasm of our kids. It's not often -- and let's admit, rare -- for children to jump up and down at the prospect of religious rituals. But this one called for a tent you build in your backyard, decorate, and then eat in!
Thus we were introduced to our first "kit" sukkah: a mass-produced, snap-together unit consisting of metal poles and canvas that arrives in a cardboard box. While my husband and I laid out the parts on the lawn, having bad Ikea flashbacks, our son and daughter began making and cutting out paper decorations for the sukkah.
It turned out to be much easier to assemble than a Swedish bookcase. We unfurled the canvas siding that you hung from the poles. It was ... ugly. The top half was militia gray, the bottom a dull blue. We dutifully tied it on and then struggled to fix a row of 1X2" rafters across the roof from which the "schach" -- an enclosed bamboo mat -- would rest atop (it actually sagged through the gaps and fell down numerous times).
The result was not what you'd call magical -- but to the kids, it was as if we'd built a Disney castle in the backyard. We moved in a small outdoor table, some chairs, and hung the paper decorations. We found a place to display the lulav and etrog, and on the first night of Sukkot, managed to eat most of a meal out there before being driven in by bugs. But it was, as the kids enthused, great. Maybe made greater by the incongruous urban setting: a snug little tent amidst the sound of passing cars and distant sirens. The strange structure attracted a few inquiries from the neighbors. Were we bringing in livestock next? The holiday was explained to puzzled reactions -- but soon the kids next door were joining in and playing in our sukkah.
Over the years I've wondered why we need to stick with the dismal trappings of the kit sukkah. The metal structure itself is sturdy, comes in several sizes, and as noted, is easy to assemble. But why continue with the homely canvas cover? Why not use twine to weave an overhead web from which to hang things, rather than ungainly wood rafters? Why drape the unstable bamboo mat over the top when you can use real branches and foliage? All of this is permitted (remember: there were no kit sukkahs in Biblical times. You can read the rules here).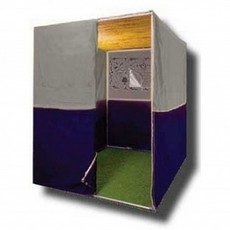 Typical kit sukkah. Image from sukka.com.
So I began to experiment: One year I hung white Sunbrella outdoor curtains from the frame, and secured them with ties along the bottom (there is a stern anti-billowing rule). It looked fabulous -- like an elegant cabana. I collected lanterns of all colors and types to glow above our heads. Some years I used corn stalks for the schach, on other years, willow branches -- both readily available from my local garden store. Another year I brought in a tea table I'd found in the Istanbul market, and we sat on pillows, eating Turkish appetizers.
This year I imagined something more elaborate -- a Moroccan-themed tent: something luxurious, with kilim rugs covering the grass and cushions strewn about -- a fantasy of an oasis in the desert, down to the beautiful vessels of steaming mint tea.
When I was last in Jerusalem, I met with Bilal Abu Khalaf, one of the most famous vendors of fabrics in the ancient Christian Quarter. Bilal, of Kurdish descent, makes robes for both Christian priests and Orthodox rabbis, (the latter whom rely upon him not to mix wool and linen). Could he create panels that would fit a typical kit sukkah?
It turns out Bilal has made many sukkahs, and could easily make one for me. He led me to the folded stacks of Moroccan-patterns and I chose a fabric with vivid orange, gold and red stripes. I gave him the measurements of my sukkah and my mailing address -- and three weeks later, a brown-paper parcel arrived in the mail. My sukkah!!! And in that wonderful Israeli-market way, Bilal included "no charge" the cases for three matching floor pillows.
Of course, you needn't travel all the way to the Jerusalem shuk to get a sukkah kit. The panels can be made reasonably simply -- by you, if you're handy that way, or by a tailor with direction. You will need to figure out how many panels you need depending on the height and width of your sukkah, and the width of your fabric. Then it's just a matter of cutting and adding seams. Make sure the top panel pocket that slides onto the kit frame is at least 4-inches deep, to accommodate the maximum depth of the interlocking bars. Include at least two simple ties on along the bottom of each panel, so you can secure them to the frame and prevent them from billowing. Bilal made sure I had two panels of even width for the front of my sukkah, to serve as doors.
The finished kit will serve you year after year. I've been collecting lanterns and small tables and all kinds of other things that I store the way Christians store their Christmas ornaments. With every passing holiday they become that much more sentimental and valued -- the kids' paper decorations too. Our Jewish friends invite us to visit their sukkahs and vice versa -- making for a merry week of drinks and canapes under the stars.
For all of you celebrating, have a lovely Sukkot!
For more content like this, and beautiful modern products for Jewish lifestyles, please visit www.figtreeandvine.com. Fig Tree & Vine is a new, stylish destination for contemporary Jewish living. Follow us on Instagram @figtreevine and Facebook, or subscribe to our newsletter.

Related
Popular in the Community