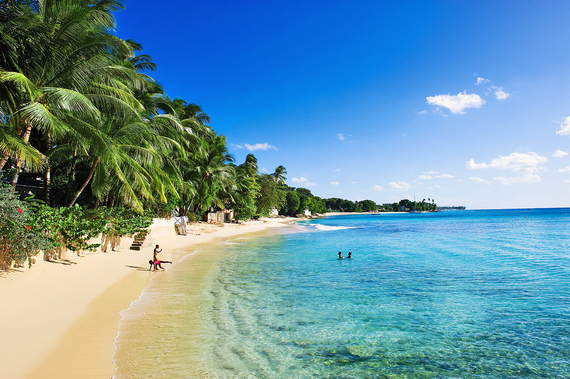 When I say Barbados, I probably don't need to tell you about the dozens of white-sand beaches, the friendly Bajans, the rum. I could tell you that there are 70 square miles of beaches (in a country measuring only 166). I could tell you that the word Bajan comes from the British pronunciation of Barbadian which made the "d" sound more like a "j" and easily morphs to Bajan when said quickly. I could tell you that Mount Gay is the world's oldest, continually operating rum distillery (since 1703). But, I'll leave you to the guidebooks for more factoids and instead tell you what I wish someone told me before my first stay on island:
Taste everything: I remember the look on my dad's face when he was offered dolphin -- a common word for mahi mahi, not the Flipper variety -- at our first Oistins Fish Fry. This great mix of tourists and locals, young and old, is a collection of shacks serving up the day's catch alongside incredible sides like Mac Pie, a macaroni and cheese-type dish with the consistency of baked ziti. It's possible to get a liter of fresh coconut water served on the spot for a few dollars from streetside vendors to wash it down and grab local fruits like ackee and dunks right off the tree. The island has a ton of incredible, Zagat-rated eateries -- Cariba being my current favorite -- but it can be the most unassuming spot that serves the most impressive meal.
Think outside the car and cab: The price of a car hire (rental) or taxi quickly adds up. There are three types of buses in Barbados -- government-operated (blue with a yellow stripe), privately operated (yellow with a blue stripe) and, my favorite, the Zed-R. These white-and-maroon, van-sized buses with ZR license plates are known for loud music and creative driving. They'll honk, stop and even back up if they see you coming, and travel along the main South Coast roads to "Town," the capital city of Bridgetown. I'd also recommend taking one of the larger buses from the southern depot in Oistins up to the last northern stop of Speightstown, a quiet, fishing village with a completely differently flair compared to the capital. It's like a personal island tour about an hour each way, passing up the West Coast. Hop off at any time by ringing the doorbell-type buzzer -- all rides are US1, no matter how far.
Have a lime (but suspend all judgment in destination): Not a fruit, a lime is a party and liming is a term for hanging out. Two of my favorite spots to lime are in a parking lot (Hal's Car Park) and in a mall (Lime Bar at Limegrove) ... two nighttime destinations that wouldn't top my list stateside. Head to The Gap, another name for the popular South Coast strip of bars and restaurants, St. Lawrence Gap, or up to the West Coast for parties that often spill out onto First and Second streets in Holetown. Hang with locals at a roadside rum shop where you'll likely catch people slam uh dom (playing dominos) or maybe find yourself in a game of road tennis (with wooden paddles and a tennis ball on the street) while sipping Banks beer and making new friends, too.
It's easy to stay connected: On my first trip, I dutifully turned off data roaming and only used my phone when I was able to find a Wi-Fi signal, which is surprisingly easy on this technologically advanced island. But, for about US10, you can buy a SIM card from Digicel with a local number and minutes already loaded and swap it in your GSM phone. It's possible to add top-ups and even pre-paid data plans in increments from one day to a month. For the price of a few nights of Wi-Fi in some U.S. hotels, you can also buy a wireless hot spot to hook up multiple devices and stream Netflix and Spotify to your heart's content.
Getting off-the-beaten path souvenirs are an adventure in themselves: Although there are plenty of places to find local handicrafts near beaches and duty-free shopping in Town, I love bringing guests to the collection of shops in Edgehill Heights in the parish of St. Thomas. It'd require a car as it's far from hotels and major bus routes but shows off a residential area and the green hilly terrain found in the middle of the island. Here, watch potters at work creating the popular ceramics at Earthworks, browse prints and originals at On the Wall gallery, and visit HP Batik Studio, where you can often catch the artist at work for an original signature, if you're lucky.
All beaches are public: It didn't take me long to passionately argue about my favorite Barbados beach (Enterprise, affectionately called Miami Beach) and I'd bet even a week's stay can result in a favorite. With the Atlantic on the east -- better for surfing -- and the Caribbean on the west -- calm, aqua waters and sea turtles -- the ocean is your oyster as all beaches are public. Unlike places where luxury hotels restrict access to guests, you may need a reservation to pass through the gates of a 5-star resort like Sandy Lane, but there's no stopping you from walking down from a nearby public entrance in hopes of spotting a celebrity, if that's your thing. If not, don't worry, there are more than 60 options to choose from on this island where life's truly a beach.
Morgan Ashley Parker is a deal expert at Travelzoo and is based in New York City. Travelzoo has 250 deal experts from around the world who rigorously research, evaluate and test thousands of deals to find those with true value.
Support HuffPost
A No-B.S. Guide To Life
Related
Popular in the Community