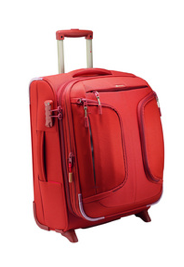 Don't feel like paying the airline to check your bag? Neither do I. The solution? Pack less and carry it all on board. Trust me, it's doable. I've been everywhere from Alaska to Asia and Texas to Tahiti on trips anywhere from three days to two weeks, taking only a carry-on wheelie plus a tote bag. You can, too.
First, purchase the largest carry-on bag possible -- one that doesn't exceed overall dimensions of 45 inches (length + width + height) which, as a rule is: 22" long x 14" wide x 9" tall or 114cm (56 x 35 x 23 cm). I prefer a wheelie because inevitably, I have to transfer from Terminal A to Terminal Farthest-Away. Consider a super light bag such as Briggs & Riley's Ultra Lite 7.5-pound wheeled carry-on with quick-access outside pockets for liquids and laptop and Delsey's Helium SuperLite.
Besides your carry-on for the overhead bin, you may take a personal item which must fit under the seat, and its length+width+ height may not exceed 36 inches. I prefer a tote (I put a small purse inside which will take me from day to night). For a really durable tote (which can double as a beach or shopping bag) try Le Sportsak or Baggalini.
And while we're on the subject of suitcases, don't rely on your baggage tags to identify you -- they could fall off. Tape your name, address, and contact info inside your suitcase, and tuck away a Xerox of the first page of your passport -- you never know!
1. Liquids: all your liquids, gels, creams, pastes & aerosols must be in 3-ounce containers or smaller and fit into a quart-size, clear plastic, zip-top bag. Not difficult, even for a two-week trip. Purchase clear plastic 3-ounce containers (most drugstores carry them) and transfer everything. Cut out labels and scotch tape them on. Take two small toothpaste tubes instead of one large one.
2. Clothes: lay out everything you plan to take on your bed. Do you really need five T-shirts or will three do? Must you have two dress-up outfits (or two dress shirts?) Who's looking? Dump half of what you've laid out on the bed. Think of the "three" rule: three tops, three bottoms, underwear for less than half the days (you can always wash them at night, roll them in a towel, and they'll be dry by morning).
3. Workout gear: I always pack a leotard and pair of shorts (the shorts double as a swimsuit cover-up), plus a sleeveless T-shirt or two -- they take up no room -- and wool socks. If I'm going to run outside, the jacket I take on the plane (planes can be freezing) doubles as my work-out jacket -- it's black, so it always looks dressy, goes with everything, and doesn't get dirty. I prefer a spandex zip jacket with pockets -- available at any sporting goods or workout clothing store.
4. Shoes: Unless you're Imelda Marcos, you don't need to change your shoes to match your outfit. Take one pair of walking shoes (could be sneakers), one pair of sandals, and one pair of dress shoes. If you prefer a dressier walking shoe, then wear your sneakers on the plane because they take up so much room (If you're going hiking, wear your hiking boots on the flight, even though it's a pain to have to unlace them and take them off when going through security).
5. Electronics: I'd love to travel with a small notebook and pen, but unfortunately, I need my laptop, cell phone, ipad (I bought one so I wouldn't have to schlep too many books on long trips), camera (compact), digital tape recorder (tiny), Flip (same size as tape recorder), and batteries, chargers, and, depending on the country, various plugs.
6. Plugs: If you're leaving America, don't drag an entire set of foreign plugs with you. Go to www.kropla.com/electric2.htm and find out exactly what you need.
7. All the extra stuff: Don't forget a hat, sunglasses, jewelry, ties, sunscreen and insect repellent (gets transferred to a three-ounce jar, labeled, and packed with the liquids. Lay all that stuff (the things you might forget) out on your bed, also.
8. Pack it: I am not a believer of the rolling method (even though it saves room), because I always want to see what I have. My method is to divide clothes into four folders (I like Eagle Creek's). In one, I pack all my tops, in the second, my pants/shorts/capris; in a third, my underwear and socks; and in a forth, m workout clothes. Sometimes, if my trip involves a lot of fancy dinners, I'll pack a fifth with my dressy outfit and any accessories.
9. Don't forget: Throw in a few plastic bags for dirty laundry, wet bathing suits, or sandy shoes. I always throw in a cheap watch, because that's the one thing I don't want to be without if I lose it. (I travel with a very small alarm clock, which fits, into my toiletries case). Remember, smaller is better if you're limiting your luggage.
10.Cheat Sheet: If you're traveling to a foreign country and you don't feel like doing money conversion in your head or relying on a calculator, go to www.oanda.com/convert/cheatsheet and print out a cheat sheet of whatever currency you will need.
Popular in the Community