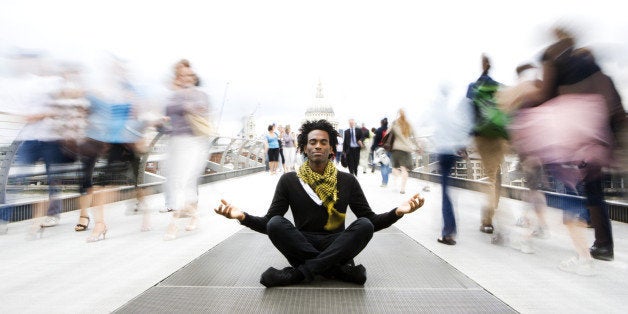 By Amy Tatsumi, MA, LPC, ATR-BC, Psychotherapist
As ambitious women, one of the biggest struggles we face is the battle with our inner critic or the voice of "should." This battle complicates, blocks or derails some of our most important roles as a partner, parent, friend, daughter, and breadwinner.
Many clients I see tell me stories of failures in their personal lives despite huge successes at work. Over and over these stories echo with concerns that as far as intimate relationships go, my clients are afraid they "will never figure it out."
One of my goals is to share key strategies for letting go of the inner critic and reconnecting with our sense of deeper knowing in order to overcome this fear, in order to allow professionally successful women to be equally successful in their most important personal relationships, too.
Particularly, I support powerhouse women by offering alternatives to being bullied by the inner critic. I guide them into sitting comfortably in own hearts in their most important relationships. I teach them to tune into the deep whispers that never steer a woman wrong, and paradoxically also reassure the inner critic.
Breadwinning women know many things without question because the process of rising to the top and shining in our brilliance involves some combination of laser beam focus, killer instincts, persistence, sacrifice, being strong, having it all together (and making it look effortless), and perhaps even leaning in.
While a woman's career path may be complex, professionally successful women know that if we set a goal, we will reach it. There is a sense of certainty in knowing that you can do just about anything at work when you set your mind to it. And when you trust your instincts at work, you know how to make things happen and how too quickly make mid course correction when needed.
This leads to a capital T sense of TRUTH about yourself, your work and your professional world.
So why does it feel next to impossible to tune out the voice of "should" or your inner critic when it comes to our personal lives? The inner critic may not speak to our professional identity because we are reaching goals and getting the feedback that "everything's fine here."
At home, in social settings or when we are alone, however, many successful women are caught off-guard by the onslaught of nagging, berating and painful comments from the inner critic around being too much to handle, or not being enough for a partner or as a parent, because that same external positive reinforcement isn't present in the way it is on the job.
This blindsides us. We are faced with the elusive and seemingly repetitive inner critic driven thoughts, such as "Why can't I figure out what's not working in my marriage? Why can't I make my relationship work as well as my job? Why can't I figure out how to be a better, more present mom?" When the strategies that we've used to rise to the top professionally can't be successfully applied in our personal relationships, we often face anxiety, resentment, anger, sadness or overwhelm.
I share practices and strategies to support exploring and integrating your inner knowing, rather than dreading the feelings of being out of control in overwhelm, numbing or anger, to help women get more grounded in their intimate relationships from the inside out.
So what strategies can we employ to tune into our deeper sense of knowing? Here are a few to consider:
Explore your fears of being seen as too much or not enough. Dig into the outdated belief(s) by writing up your worst fears: If I'm seen as __________, then ______________.
Explore the stories that you have told yourself most of your life about your capacity in relationships or what you deserve. Once you've identified them, you can begin to overcome them by using grounding phrase, "The story I'm telling now is..." This will support you into living into and trusting that the new story is the true story.
Employ curiosity rather than judgment. When the old stories come up or you feel safer by not fully showing up, sit with the experience of what it would be like to claim all of who you are in the trusted personal relationships in your life. Acknowledge that you no longer need to overcomplicate your present relationships with your old story even if you don't have models or evidence to support this for now.
What does it feel like to be in the present to you? Trust in the knowledge that you don't have to do everything - you can't follow the deep wisdom when your brain is managing or thinking mind takes the lead. The deeper part of you knows that the more we force, the less we move towards our longing and desires in our personal relationships.
Trust your innate wisdom by choosing to surrender your current challenge to something bigger than yourself, and open to receive guidance toward the next steps to take.
When you integrate new stories and open to your highest self, those around you will benefit from you being all of who you really are. Your relationships will begin to shift because you are showing up as you.
Let go of the old stories. Begin listening to the deep whispers. Surrender. Open to receive. And reap the benefits.
Amy Tatsumi is a Soul Therapist who supports women who've walked through the dark night of the soul to tune into the the deep whispers within to live into deep peace and expansive joy. She is honored to work with women who don't feel ok, but on the surface have it all together (or at least look like they do from the outside). Women who have met the darkest places of their soul are deeply seeking so many things, relationships and parts of themselves. She sherpas them on their paths in Washington, DC and beyond. You can learn more about her work at amytatsumi.com.
Related